The Picture Ranch 39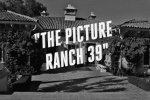 Wed, 09 Aug 2017
The drive from the San Simeon Ranch entrance to the castle on the hill would have made a long hike. When I mentioned that, Eleanor Gräfenberg laughed,
'That's why he built it there. He got sick of camping out.'
Hearst Castle looked like an architect had travelled all of Spain and Europe and used poured concrete to make a mixture of every single building they saw. Churches, old mosques, castles: hell, viaducts and who knew what else too. To me it looked the work of someone with a client who had more money than sense - and I said so.
'He had so much money then, so he probably did. Did you know Marion wrote him a cheque for a million dollars, not so long ago?'
I didn't. As I pulled the car up right in front of the entrance to the Castle drive, I looked over at Miss G,
''Course, if you've got an awful lot of money, you might not be so dumb, even if your sense don't quite match it.'
'You'll bear that in mind, Fisher, I'm sure.'
Hearst Castle was, and is, no more a castle than the San Francisco Bridge is. It was a complex of 4 houses, Casa Grande, Casa del Sol, Casa del Mar and Casa del Monte. Mis Casas son tus casas, as they say. The towers of Casa Grande looked like they'd been transferred from some grand church in Mediaeval Spain. I drove through the entrance, past a guy in a uniform that might have fit someone he used to be 30 years ago.
'Left here, we're not going up to Casa Grande. The staff will be… arranging things.'
'For what?' There hasn't been a big shindig up here for years, I heard.'
'Millicent's due up tomorrow. The place has to look like Marion doesn't live here.'
'So she's staying in one of the smaller houses? '
'Don't be stupid, Micawber, she could have left today and gone straight to the Ocean House or even Wyntoon.'
'I don't get it.'
'If she leaves tomorrow morning she can pass Milly's car on the way down.'
We knocked at the door of Casa del Monte. Marion Davies answered it herself. I saw a woman past forty and not-quite-past caring, but almost.
'Eleanor!' She gave a girlish squeal, the kind of noise she'd have made in one of those King Vidor comedies. She noticed me, batted her eyelashes as if I was Bill Holden,
'Who are you, Sugar?'
'I'm the chauffeur.'
She arched her eyebrows, 'I could do with a change of driver myself.'
Her laugh sounded like a bell, but one that might crack soon.
'Well, come in, both.'
We followed her in. Eleanor whispered,
'Milly wouldn't let people like us through the ranch gate. And that is Croesus-rich, Fisher. They say her mom ran a brothel for Tammany Hall, once upon a time.'
We went into a dining room, there were three places set at a table that would have sat thirty.
'Are you hungry, young man?'
'No, Ma'am.'
'Silly boy, I'm not married. Everyone knows that.'
Some kind of butler came in with a trolley of hot food. My watch told me it was past eleven. My stomach finally realised it was too long since I'd last eaten. He served us all rib-eye, greens and potatoes. Miss Davies ate a square inch of meat and leaned back. She poured the drinks, though her glass was empty more often than ours were. She asked me to hand out Turkish cigarettes from a silver box on the walnut sideboard. We all lit up.
'What can I do for you, Eleanor?'
'A couple of things, Marion.'
'Spit 'em out.'
'Who is collecting chinoiserie?'
'Not W.R. He can't afford everything he wants, not now.'
'It won't be Mulvaney. It's got to be fairly old money, maybe not one of… you know.'
'Jewish? People like Selznick and Tharlberg aren't interested in art! They make movies.'
A highball can sting when it shoots out of a nostril. I picked up a napkin the size of some motel towels and wiped my face. I thought it was a strange thing for a woman who'd been friends with both to say.
'No, I meant…'
Marion Davies laughed, it came from her belly and she looked like someone happy.
'I know what you meant. Maybe Dean. He likes to stay out of the papers. Your old boss lets him.'
She looked up at the bare bulbs in the chandelier. ' 'Course I don't say he's interested in Chinese art…'
'Who says it's art? It's rare coins.'
'Well that's money, that's different.'
'You know him? Or W.R.?'
'He came to a couple of the parties, in the good old days. Like I said, he likes to stay out of the papers.'
'Thanks, Marion.' Miss Gräfenberg made to get up.
'Sit down, Eleanor. You said a couple of things.'
Miss G's shoulders slumped.
'It's the boy. He got in contact, then someone kidnapped him.'
'So? I'm sorry but…'
'I only told you. An exchange of secrets, so you would tell me about Patricia.'
'But…' The Mistress Of Hearst Castle sniffed. 'That silly old man. Most times, when he starts jawing, he bores me stiff. And certainly not because he's so wonderful behind the barn. Why, I could find a million better lays any Wednesday. I didn't think was listening, any more 'n' I ever listen to him. You think he told… someone? He must have. Oh, Eleanor! I'm so sorry.'
Miss G's jaw worked a little. Maybe she had something stuck in her craw.
'What about this Dean? Is he a guy might be involved in that too? No, of course not, why would he?'
Marion Davies' face turned the colour of a watermelon slice.
'Ah… Dean isn't married. I heard he buys special movies. It's not just the audience that's stag only.'
I watched Eleanor nod twice.
Miss Davies waved an arm around gesturing at the whole room. 'You'll stay overnight, won't you?'
'What about…'
'Milly? Sometimes a grand exit trumps a grand entrance, every actress knows that.'