The Picture Ranch 42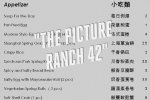 Fri, 08 Sep 2017
'That would surprise me a great deal,' Dean examined nails that looked like they'd had a french polish.
It was clear that Dean knew Miss Gräfenberg at least as well as I did.
' It's a particular boy. I've seen photographs. I'm sure you'll have come across him. Maybe one of your movies?'
Of course, Dean was entirely unembarrassed. Perhaps the pancake make-up hid his blushes. More likely it was his money which kept shame at bay.
'My collection is extensive. I cannot say without some …'
'Guidance?' Miss G produced a photograph of the boy from her handbag, maybe it was bigger on the inside than the outside.
Dean flicked his eyes over it, keeping the photograph at arm's length.
'I don't think so.'
Eleanor brandished the photo, "Look at him!"
The man took the photo by the corner as if it had just come out of the developing fluid.
He squinted, still keeping the photograph, and Miss G's touch, at arm's length; too vain to put on a pair of cheaters in front of gumshoe and a woman.
'Ah, maybe. How old is the picture?'
I would have hit him but Miss G put a gloved hand on my arm. The picture was the Polack pornographer's work. I'd have thought he'd change the backgrounds and the furniture from time to time, but it seemed he never did.
'It's no older than 6 months.'
'I don't know, I would remember him… You know.'
'You could look… ask around. I'd be very grateful.'
Dean recoiled at that, Miss Gräfenberg let out a bitter laugh and lifted the Chinese puzzle-box.
'You can have this, as a sign of good faith. We think we can find the coins. Li's coins.'
Which was news to me.
Dean took the box from her hands. Turned it over, ran those french-tipped fingernails over the surfaces, a distant look on his face.
'Those coins are unlucky,' he said. 'I don't want them.'
'They are priceless. I thought collectors never stopped - couldn't stop – collecting.'
'Their price is too high.'
'I can understand that, ' I said. 'Cost Li and some Dzherzhinsky muscle their lives so far.'
Dean rolled his eyes at Miss G.
'You do not pay him for his brains, evidently.'
I wasn't sure how to take my employer's reply that I had my uses.
Dean stood up, 'I'll look for the boy. This box is enough.'
I wondered why someone like Dean was afraid to look for some old coins and whether I wanted to help my client find them.