The Picture Ranch 44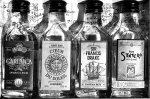 Wed, 19 Jun 2019
The bar was deserted. Most people preferred the restaurant. The bartender called me Mac and asked me what would it be. I said it would be nice if he poured me a rum.
'Rum and what?'
'I'll take a rum and whatever.'
'I could pour a rum and pep, but you don't look like the kind of guy who would like that at all.'
'You don't know what I like, Buddy.'
'Cuba Libre?'
'I'm not political, just gimme the rum.'
He banged some heavy crystal on the bar and filled it. It must have been the first time any hooch had been spilled on that shiny bar-top in a long while. I put five dollars on the bar and told him to leave it there until the money ran out.
The bartender sneered 'that'll be about three drinks.'
'Pretty steep, chum, even for somewhere that sells a bottle of champagne for fifteen dollars.'
'It's cheaper for guests.'
I laid another fin on the bar.
'I guess that'll take care of it, seein' as I'll be pourin'.'
I swivelled on the high stool in time to see Billy W come out of the elevator. He checked, looked over my shoulder at the liquor ranked on the shelves behind the bar and then he nodded at me. He didn't sit down at the bar.
'A short visit, Mr Wilder.'
'A short meeting.'
'I'll say. '
'Writers are lucky to get an invite to any meeting.'
'I can understand that. Room 413, was it?.'
'What? No? You were with Miss Grafenburg, weren't you?'
'I was gonna say that.'
He laughed, 'Not me, Pal. I've seen her around. She's over at The Picture Ranch.'
'She's on furlough right now.'
Wilder raised his eyebrows, 'A military man, hey?'
I nodded, 'Semper Fi'.
'You know, I can't think of anything less like the military than the movie business.'
'So you haven't been with my client?'
'That's unlikely, isn't it? I mean you know...'
'Nobody's perfect.'