The Picture Ranch 48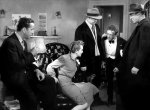 Thu, 29 Aug 2019
She looked up at Mulvaney. It was a good job he didn't have a mirror with him.
'Nevertheless,' she hissed.
He held out a hand to me, since I was still carrying the japanned box. I handed it over. Mulvaney opened it, there was no lock, just a lip on the tin to hold the lid closed. There were just two coins inside, mounted in velvet, one showing the reverse and the other the obverse. They were about the size of quarters. Mulvaney, put them in his coat pocket and dropped the tin to the floor. It dented a corner on the marble. The noise made me flinch, but not Eleanor Gräfenberg.
'Say I do have the boys, what then?' Mulvaney grinned, showing bad teeth for a rich man.
Miss G started. I was about to speak myself, when she held up a hand.
'Thank you for confirming my suspicions, Mr Mulvaney.'
'You would have made a good hack, Eleanor, I should have kept you on.'
'I have principles, Mr Mulvaney.'
'Principles, like religion, are for the naïve. Do you have the deeds?'
'We do.'
'May I see them?'
'Not until we have my b...'
'Your brother?' Mulvaney smirked, and I thought he really did not have the teeth for any kind of smile at all.
Eleanor gave a short nod and stood up. The doorbell sounded. I pocketed my gat. Mulvaney just waited. Burberry/Barrymore had a little stumble as he came into the vast lobby on his way to the entrance. He fell over after he opened it when Schultz and Lipowitz bowled in guns out. Schultz looked at Eleanor,
'Has he got my boy?'
'He has.'
'But not here,' Mulvaney said, with his teeth showing.
Schultz said 'let's go,' and fired off a round at the floor by Mulvaney's feet, which put an end to the tin box for holding anything.
'You will follow in your car, Fisher. Miss Gräfenberg will come with us, as will Mr Mulvaney.'
For half a second I thought Mulvaney was going to argue the point, but Lipowitz took a step towards him and he changed his mind. We set off for the cars, I caught sight of Burberry picking up the phone and hoped he was calling the cops and not some goons for hire, though in LA that often amounted to the same thing.