The Picture Ranch 52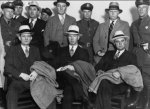 Wed, 18 Sep 2019
The Admiral's office was as we'd left it, including the sour, game-y smell that I recognised and that Miss Gräfenberg noted by holding the back of a gloved hand to her nose. I told Mulvaney to open a window and Fulbright to stand in front of his vanity wall full of pictures of the great and not so good. My client stepped towards the Admiral but I held up a hand and told her,
'Mulvaney's going to get it out of him.'
Mulvaney raised an eyebrow and moved towards the Admiral, who was arms up and cowering before Mulvaney got within three feet of him,
'You said I could… he didn't matter… you didn't care...'
The Admiral broke off from his gabbling as the pain in his crotch demanded his full attention. Mulvaney started speaking,
'Where is the boy?'
'He's safe, they told me he'd be safe, they'd look after him, they-'
The back of Mulvaney's hand made the sound of a bear-snapped branch when it hit Fulbright's cheek.
'Who are they?' I said, holding my hand up towards Eleanor Gräfenberg again as I saw her fists clench.
'I don't know,' Mulvaney said.
'Youdidyoudidyoudid -' Fulbright's shrill protests were cut short by Mulvaney giving him the carny's kiss. From the sound Mulvaney's forehead had broken the Admiral's nose. At least he was quiet, whether he'd fainted or been knocked unconscious, I didn't much care.
I pointed the gat at Mulvaney, 'Who are they?'
Mulvaney sighed,
'I don't actually know – No, seriously, I don't know. But I think he might have sold him to some people we're all acquainted with.'
'Who, dammit?' I flinched as my client's mouth was right next to my left ear.
'He means Dean. Dean and his friends.' I said.
For two pins I'd have shot the both of them right then and there. It turned out I needed two pins for Eleanor, as she drilled them both with yet another lady's purse pistol. Lord alone only knew how many guns she carried around with her.