Put Out More Flags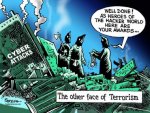 Mon, 27 Mar 2017
It's a phoney war;
the enemy in plain sight,
hiding behind a flat screen.
We tell ourselves
atrocities are faked and finessed
on youtube and facebook.
Some rave of Lex Talonis,
forgetting that this
is what we fight over.
A man's end in pixels,
zeroes and ones
flashed by wire
and without.
One million likes
for a snuff movie
with political motivation.
It's a funny war,
we delegate a strange fight,
typing behind our flat screen.
We tell them tales,
propaganda half-baked and possessed
on theytube and fakebook.
Put out more flags.