Radiation from a Dead Star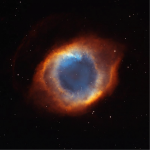 Sat, 26 Nov 2016
The year is waning,
the stooped figure looms:
little more than a moon-span
before we bid it a less than fond farewell.
Too soon, too soon,
a starman dies and we howl at the moon.
And shall we come to our bitter end?
No more than a footnote or someone's friend?
This year is straining,
the great burden weighs
little more than the lifetime
of those who've taken the path well travelled.
Too young, too young,
a poet dies and our hearts are wrung.
And have we lost more than our closest friend?
A man we don't know has met his end.
A year remaining:
if they promised this,
little more than a twelve-month
and you will forfeit the spark so vital?
Too much, too much,
grief from lives they barely touch.
We do not know them, don't call them friend.
Look to their art and their legacy tend.
A year so draining,
the great vanish: 'So!'
little more than a pan flash
and the latest star is past remembrance.
Too true, too true,
it is not them, but what they do.
Not our lover, no more our friend,
let what he did never come to an end.