Self-Help for the Selfish*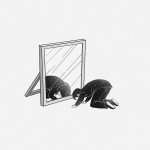 Wed, 13 Oct 2021
1 likes
We seek meaning inside ourselves,
and are disappointed
with what we find there.
Our mental images are selfies:
no-one uses a word
like extraspective.
Look outwards now, or fall headlong
into the emptiness
awaiting within.
Just take a look, through your window:
somewhere, behind the clouds,
the sky is still blue.
[* I mean me]