These You Have Loved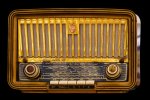 Mon, 19 Feb 2018
1 likes
Baker's boy,
son of a plasterer,
RP plums in mouth,
this voice soothes
like honeyed tea.
The wireless is on,
Hilversum, Oslo and Helsinki are
displayed between two dials;
tuning and volume.
This is the sound of Britain,
the country of slippered feet
and knitted waistcoats:
excerpts from operetta
and the music from that advert on
the monochrome telly in the corner.
Radio still trumps TV, just,
just while teenagerdom
hides a couple of months away.
In London, Davey Jones has a dress
and makeup in his locker:
your Dad mis-quotes the lyrics
of a song avant la lettre
when Dave turns up on TOTP.
"Is that a boy or a girl?"
This is the sound of Britain;
Glam, fey boys, in spandex
and sequins, singing space songs,
tuning up before the DIY
revolution of three chords or less
of snarling and saliva.
Satie's tinkling drivel
crawls from the cone
hidden behind the woven
front of the radiogram.
Your dad mispronounces
the title as if he thinks
a gymenopédie is
some kind of insect...
This is the sound of Britain,
badly accented French
words because it doesn't
matter it's only foreign
and the music isn't
Elgar is it now, son?
Now, while you're still
hesitating on puberty's
threshold, with both hands empty,
you seethe at music
by and for dead people.
Later, you'll wish you
could have the radio
back, at least.