Waiting for George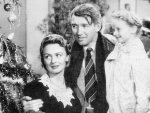 Thu, 06 Dec 2018
Folksy, friendly. The common touch;
a touching belief in your fellow man.
Cousin to Mr Deeds,
only brother to Everymanjack
of a working stiff.
Except the stiffs aren't working.
It's all Potters in the Parliamentary
Buildings and Loan
and even Jimmy S
couldn't convince them,
those fools whose only connection
to principle is called Peter.
 
Brother can you spare a coin?
A hat full of laundromat slugs
and promises to pay
on shares in a North Sea Bubble
is the day's takings.
The only living boy in Green Park
is a broken toy soldier.
Maybe we'll all move to Hooverville
They'd better move on.
The only travelling they do is
along Sullivan's route
to the corner of Skid Row and Hell
without getting the girl
at the end.
Thanks Frank,
but no thanks,
sometimes being funny
just isn't enough
when the only comedy is divine
and only part III, at that.