Winds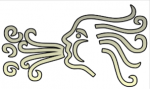 Thu, 12 May 2022
1 likes
           there are changes in the wind,
or the wind will change:
           it will blow cold
              whether it comes as Boreas
or Zephyrus.
                      PUFF! BLOW!
                                          andtheleavesandthelitterwillblowalongthestreets
                                          whiletherainishorizontalandstingstheeyesofbirds
                      MOAN! HOWL!
            there is meaning in the wind
or the wind will mean
           new clothes for old:
             weather will come as Euros
but Not Us.