"You Can Keep The Scissors"[Mister Martínez part twenty-four]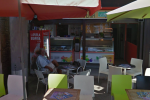 Thu, 10 Sep 2020
Martínez headed north-east along the Passeg Maretim: Paseo Maritimo for the visitors from the rest of Spain, boardwalk or promenade for the Anglos who came to Sitges. People who didn't like the Fire Island vibe of Gran Canaria's Playa del Ingles. He'd made a 'deliverance' in the Yumbo Centrum years ago. A local traficante; Romanian teenagers, not drugs. He'd made it look like La Canaria had missed Mrs Goodbar by a country mile, but he'd made sure she was dead first.
He kept walking until he found a suitable cafetería. 'Catacracpimpam' stood up a side-street where the ground rent would be cheaper by half. The sign over the entrance was longer than its frontage. It had four tables on the sidewalk masquerading as a terrace. La acera only ran on one side of the road. You could have passed someone at the outer two tables a wrap of coke out of the passenger window of a car and someone did, just as Martínez arrived. He nodded at the woman who'd taken delivery of her afternoon's fun. She had a wide-brimmed floppy hat and too much flesh on show for the time of day and her age: her skin was as wrinkled and brown as an autumn leaf. The hat was too late by twenty five years.
Martínez sat down. He opened his rucksack and placed the cell Margarita had given him on the table, still in its envoltorio plastico. He waited. Ten minutes went by. The woman finished her coffee, stood up, wrap in hand and said,
'¿Que necesitas?'
'Un espresso, y unas tijeras.' He pointed at the still-wrapped cell on the table.
'You think we have scissors here? I'll get you something sharp.' She shoved the coke into the back pocket of her shorts and went inside.
A further ten minutes later his coffee arrived, some of it was still in the cup by the time the saucer hit the table top. The woman dropped a rusted pair of tailor's shears by the side of his drink.
'Found some. In the lost property box. Not a drop of blood on 'em. That'll be ten euros.'
Martinez raised his eyebrows.
'You can keep the scissors.'
He handed over a ten note. The woman waited for a tip, but not for long.
He freed the phone from its plastic prison without too much effort. The scissors were sharper than they looked. Martinez stowed them in the ruck-sack. You never knew when a sharp object might come in handy. The burner was a dumb-ish phone. He found 'Rita's number and dialled. It went to the provider's answer service.
'Call today or go away,' he said. She would call or she wouldn't. People wouldn't be looking for a couple. They could play those parts. He figured 'Rita would do it if she was offered enough money. He wondered how she'd feel about taking her 'bike on the night-ferry out of Barçelona.
He finished his coffee. It was time to move. Whilst you were moving, you were still living.