A Journey To The Buffers Ch 1 (3)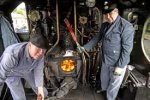 Fri, 17 May 2019
I visited a preserved railway recently and was slightly bemused to see the individual break all the pipes but not replace them and then proceed to struggle with the screw coupling of the diesel Loco until he could unscrew it and loose off the coupling.  I don't recommend trying it, as a 117 ton loco and its train are hard to separate when tightly coupled.  I questioned the method with my mate who works with the society to be told it was health & safety… You've got me there. Yanking and pulling to release a coupling, stood on the track and possibly a greasy sleeper…hmmm. At least in my day, we replaced the brake pipe and officially had to get back on the platform, hand-signal the driver to 'squeeze up', observe him destroy the vacuum/air break ensuring he could not move the train and inform him he could not move until we instructed him that the procedure was complete.  Still these enthusiasts know what they are doing I suppose!
Geoff Lomas
The railways were full of 'characters' in those days.  I shall return to some of these in a later chapter, but for now let me recall one in particular and the practised art of attaching to a train.  Geoff Lomas was one of those legends that endured and filled many a mess room with laughter as his exploits were recalled.  I was later to become a Signalman in Cheshire and Lancashire and his name resurfaced in an unlikely setting.
So, back to Geoff in London.  Geoff was at Liverpool Street with his driver and had been charged with coupling a Type 31 to an empty coaching stock bound for Thornton Fields.  Geoff burst into the cab and said something like: "Cum on then, lets fook off!"  Now Sid, his driver had apparently felt rather suspicious at the speed at which the normally docile Geoff had performed his task, but for once, chose to believe Geoff rather than check.  So when the signal was cleared and the wave from the guard received, Sid applied power and set off.  Have you ever pulled the plug out when you've ventured too far with the hoover and all things come to a stand so to speak?  Well, that is probably how Sid felt, as his loco pulled a few feet of vacuum hose from the train before tearing in half and applying the brakes to both loco and train.  Geoff had forgotten to put the coupling on! How, I do not know, but as this walking disaster that was known as Geoff Lomas was concerned, it was one of many tales at which Geoff was the centre of.
The practice of pairing up driver to fireman (later Secondman) continued into the days of dieselisation and beyond. For most of the trains we moved in those days, two people were still required.  However, something called 'The Penzance Agreement' which was introduced in 1968, had begun to erode this practice and some trains began to move around with only the Driver and the Guard, but for most of the jobs, trains had two men at the front.  Geoff was paired with a Driver called Sid, a died-in-the wool Cockney.  I followed Geoff as Sid's mate and I passed many an hour hearing about Geoff and his time with Sid.
Well, I can assure those who might still perceive London as a vibrant and exciting place.  Well forget it.  It was bloody boring at night.  Well, at least when we were trundling around visiting the many railway sidings that existed back then.  I can assure you and it's many sidings were tediously boring.  So to this end, I actively encouraged Sid to regale me with yet another hard- to believe tale about Geoff and his exploits; much like the eager child at bedtime trying to postpone the 'putting out of the light moment'. 
What is more amusing about Geoff, like another character called K P Dees (more on him later), is that his name cropped up, even after I left the footplate and in a place I had not expected.  In 1977, having moved over to become a signalman in the Northwest, I moved to a place called Kearsley Junction, between Bolton and Manchester and it was there his name reappeared. It was during one of the many chats that signalmen had on the old circuit telephones. In fact I think we predated social media sites by some thirty years.  If we had nothing to talk about, we talked about nothing if you get my drift.  Many a driver used to joke that signalmen eventually had to enter hospital to have the telephone receiver removed from their ears.   Anyway, back to Geoff.  He had been a 'cabin lad' at the neighbouring Burnden Junction (neighbouring the old Burnden Park, the then home of Bolton Wanderers)  and his job was to keep the train register up to date and operate the circuit telephone.  I'm told that his capacity to stuff his face with all the crap food imaginable, like an over-eager pelican, was the stuff of legends. He would enter the signal cabin laden with bags bulging as if he'd just done his weekly shop.  Apparently it was not wise to address him; well, not if you didn't want showering in food and spit.  Sid, my driver in Stratford experienced the self-same thing and actually took his bait bag from him and banned him to the back cab when he finally allowed him to eat.   They had many 'verbals' I am led to believe and it would always end with Sid offering Geoff some insistent biological instructions and end with the same stock reply from Geoff "I'll get our chap onto you!" Along the lines of 'my dad's bigger than your dad' I suppose (the stock reply was 'yeah, but our mam can't half fight').
Now, the old diesels of the 70s all had something called AWS (Automatic Warning System) and it was basically a warning system of bells and horns.  Many drivers would isolate them just to shut out the bloody noise.  I know we shouldn't have, but we did and the horn was particularly annoying as not only did it make an awful noise, on the Type 37 loco but it seemed to fill the cab with a smell of methylated spirit for some reason. Well, Sid had decided on this occasion not to perform this illegal function and allow the AWS to operate at its annoying best, just to wake Geoff up.  You're thinking 'he shouldn't have been asleep' aren't you! Yes, he shouldn't have been and that withstanding most drivers understood the tedium of staring out into the dark and having nothing to do save look ahead, but with Geoff it was a signal to break out the slippers, dressing-gown and Wee Willy Winky nightcap metaphorically speaking.  Most of the freight lines around London did not have AWS in those days and it was not unusual to go weeks without hearing it blasting or ringing out it's already known message.  Going on the main line was a different story and on this particular day, Sid and Geoff had to travel light engine to Southend at some ungodly hour to collect a local freight and bring it back to Temple Mills.  As they moved onto the first green light, a shrill, deafening bell declared its presence. Startled by this Geoff eloquently enquired: "What the fook was that!" Sid, sensing the welcome opportunity to take the piss, said casually "Oh, that. Well, if it rings three times on the trot, Control want us on the 'phone."
Geoff was one of those hapless idiots who swallowed anything he was told. Kind of fun really, in a cruel sort of way and this occasion was no different.  Sid could see him scanning the gloomily lit cab for a telephone and clearly being too embarrassed to ask, kept looking.  So the second green on the trot rang out. Like Linford Christie, Geoff rose in his blocks.  Not being able to make the link with the bells and the colour of the signal, despite what he had supposedly learnt in the Training School, he tensely awaited the all-important third bell.  Now, let me tell you now, green lights were as rare as rocking-horse shit to a local freight driver.  At the speeds we operated at, a carrier pigeon would have sufficed to warn us; either that or a second class stamp.  So to get three green signals… Well, it didn't happen and the yellow signal ahead, triggered the much-loathed horn and the accompanying smell of what smelt like paraffin (why that was in the system I never found out) would fill the cab.  Geoff settled back uneasily into his seat and waited.  Unbeknown to him, the loco, clearing the junction was now being propelled along a rare stretch of straight track we affectionately nick-named 'The Rainham Sprint' and Sid 'gave her the gun' by pulling the regulator open to maximum and the loco rapidly gathered speed. First one bell and then the second announced the obvious clear track ahead. With the third, the usually docile Geoff sprang from his perch like a striking cobra.  Only one problem, he couldn't find the non-existent telephone… He bounced around the cab like an over-exited pinball.  Finally, like a misbehaving puppy, Sid had to point at the Secondman's chair and yell: "Sit!"
Another occasion saw Sid having to physically restrain Geoff from leaping from the cab of a Class 08 Shunting Loco as it trundled its way to the Silvertown Sidings.  To get there, you had to collect the token from Custom House (a huge key that any oversized castle would have been proud to own) and enter the tunnel which ran under the Royal Albert Dock.  Now in the absence of light, it was a scary place for the uninitiated and the sudden shaft of light from the ventilation shaft gave rise to the 'floodgate' wind-up.    Sid tried it on me, but I had grown wise to his humour and learnt the lessons Geoff never did.
"We get £5 a day danger money for this trip" he casually declared.
"Why?" I queried, disbelievingly.
"Well, if the Dock above leaks into the tunnel, they have to put the floodgate down with no warning!"
Now I was listening.  Despite Sid's propensity for wind ups… I knew enough by then to understand the force of impact a loco or train would have on stationary objects and began to listen.  I didn't understand the physics, but I knew a fifty ton loco would take some stopping. So I obediently traversed to Sid's side of the loco to peer into the darkness beyond the nose of the 08.  As we rounded a bend the shaft of light came into view and all you could see was a wall.  A wall that we passed by, but if you'd never seen it before, looked just as though you were about to smash into it.
"The Gate's down!" shouted Sid in mock panic.  I waited, trusting that he was having me on but still apprehensive enough to be a bit scared and sure enough we passed by the fore-said wall.  Not Geoff though.  On the occasion Sid tried it with him, Geoff yelled "Fookin' hell!" and tried to jump into the darkness from a Shunting Loco going at 20mph.  Sid nearly broke his own arm as he grabbed and held Geoff from almost certainly killing himself and as Sid rose from the cab floor he exclaimed in a most convincing tone of relief
 "Thank f**k for that, did you hear the raising gate scrape the cab roof as they raised it.  Just in time!" 
"Eye, I did that!" exclaimed Geoff, hearing something that had not been there.  But the best bit of this particular tale was Sid watching Geoff approach old Bill MacMeekin the Running Forman for his £5 danger money.  It doesn't take a genius to work out what Bill was thinking, but he just gave Sid that tired 'not again' look and returned to his paperwork.
On another occasion, Geoff enquired of the time whilst on the move one day.  Sid calmly stretched out his arm and as his cuff rode up his arm it revealed a detonator, which was a large metal disc, filled with a small amount of explosive that was detonated by the impact of the locomotive or train. It was colour-coded and with the lead straps around his wrist like a watch.
 "Mmmm about 18.30 I would say."
"Ow the fook can you tell the time with a detonator?"
as he backed into his corner of the cab (Geoff was by now convinced Sid was a 'fookin  nutter' and kept well out of harm's reach) away from Sid.
"Simple really. I put it on and half an hour later it is warm.  I take it off and half an hour later its gone cold again!"
What followed was Sid trying not to wee himself laughing as Geoff nodded in agreement…priceless.  God knows where he disappeared to because even London and its eternal appetite for train drivers would have passed Geoff to handle a Hornby layout.  By the time I had returned from my sojourn in Norwich, he had disappeared without trace from Stratford.  Maybe he perished in the rubble of the Ilford Lodge when it was finally closed and demolished sometime after I moved north.