It Goes In The Fridge With Good Intensions ...........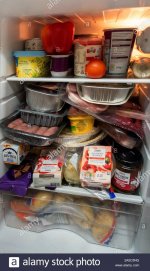 Sun, 10 Jan 2021
It goes in the fridge with good intensions…
And what a bargain find it was.
Then wrapped up in various foil, sandwich bags and small plastic tubs.
Only to be rediscovered a few weeks later, covered in that dreaded mould!
How time flies.
My winter berries, my olives with smoked bacon bits, the tinned baked beans, meant for the following day, the custard, the speciality cheese and the large single cream, used only ONCE, just a drop, as was meant for the, the mince pies, Christmas puddings, and many other cakes.
You can tell we've just had Christmas, all bought for good intensions.