The Skip.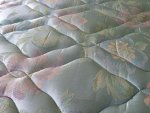 Fri, 24 Jul 2020
Recently, I hired a large skip for the garden work I had done. My Husband after much research ordered us a new mattress, it said it will take, "Four weeks to arrive," Good job it wasn't urgent.
When the skip arrived, he told the gardener, "I don't have a permit." So, he had to drop off the skip around the corner! What madness, it was placed off road. Others used it; they didn't know it belonged to me.
Ten days later our new mattress arrived in a box. Paul put it on our bed on top of the old one, so it could expand.
I was gutted, as the day before my skip was taken away, if only the mattress had arrived the day before, I would have been able to carry it round the corner and put it on my skip!
The old mattress is nothing like the new one, it was never in a box, it is very heavy and flat. It can't even be folded. Before we went to bed that night, with great difficulty we picked up the old mattress and put it on the landing.
The new mattress is wonderful.
I rang the council, they are not open for Customers but can be contacted by phone, there were no humans to talk to just, "Press 1 for, 2 for, 3 for, 4 for, 5 for, and 6." Then when I pressed the number I wanted I was told to, "Press 4 for….." I did that too and finally I was told to, "Press 1."
The machine voice then told me, "It will be £10 for 3 large items." I didn't have anything else I wanted collecting, just the huge king-sized mattress on our landing, that we have to squeeze past each time we go into the bedroom and leave.
As I carried on listening it went on, "The earliest any items can be collected will be from the middle of August!!!!"
Oh no! We can't leave it there for over a month, Paul plans to take it and put it into the huge bins near our home, in the dead of night, with our strong Son.