Someone's Missing A Dad - Happy Father's Day. x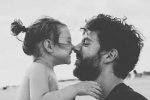 Sun, 21 Jun 2020
Today means something to us all. As I was thinking of this day, in the quietness of my home, our 5th and youngest cat brought home his first killing, a beautiful, but dead magpie! I didn't let him in, of course, so he went back towards the garden. He thought he was bringing me something good, I was sad, for I thought, "Someone's missing a Dad today."
Over the years I've watched the magpies, brave as they are, coming down onto the yard, picking up bits of food, left by our dogs and drinking from their water bowl. Now today, sadly he won't be going home.
I wish I could reason with Turmeric, but how do I explain to a Cat, "That's someone's Dad!"
There is someone else, who is also missing a Dad.
It's me, I have never had a Dad. A co-worker said to me yesterday, "I need to get a card for my Dad," I said to her, "Do you get on with your Dad?" She replied, "Yes." I told Jasmine, "I can't comprehend what that must be like, you're so lucky, but you don't know it."
Pondering some more of a lack of a Dad in my life, did bring tears to my eyes this morning. If you have a Dad today, who you love, Cherish him, let him know that you Love him. For not everyone is as lucky as you.
Happy Father's Day. x