Who Knew...........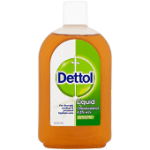 Thu, 21 May 2020
Recently I had a Special Day. I made it clear to some, that what I was going to do was to go out and find some Dettol. For me it was liquid gold! I use it for lots of things but none could be found in the shops.
On my WhatsApp group I was given suggestions of which shops to go to, and with a friend I went to them all and more, but to no avail.
On the evening of that Special Day, my lovely cousin said to me, "I have bought you TWO Dettol." What a great gift I thought.
She sent me pictures of them, it was totally amazing. I had some serious decisions to make though, as she lives many, many miles from me, I have an I.D. card and can go to hers on the bus for free. Or I can give her £5 - £10 for her trouble via my bank, or I can drive 'safe' and collect them from hers using my car, because the following day, after my Special Day, there were lots of Dettol in Tesco!
I explained the situation to my Husband Paul and he said, "You must not go on the bus!"
So, today when I was at my Brothers, I rang my Cousin, who had told me, "I'm off for two weeks, you can come over any time," I rang my lovely Cousin, while I was at my Brothers and asked, "Can I come over and collect my gifts now?" She replied, "Yes," Paul sitting next to me in the car, pretended to cry fake tears really loud, and said, "I want a gift too." My Cousin and I laughed.
It was only ten minutes in the car, to hers. I rang her door bell, she handed me the bag and said, "I've included two bars of chocolates in there too, one for you and one for Paul's gift," I said, "It's a good job you said that, for if you had put a bar of chocolate in for Paul only, then I would have had it, he would not have got it, but this way, he will have his and I mine, thank you."
I was chuffed to bits that I had my two Dettol's, they will last me a while. Amongst other things I use them sometimes on the floors, down the sink for small cuts and in the bath!
Who knew, that one day one of the best gifts I ever had, would be Dettol. What a thoughtful Cousin.