Craven Gets Bugged - A Craven Danger Mystery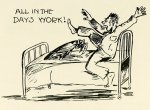 Sat, 07 Sep 2019
"How can I help you?" said Craven Danger. 
The gentleman sitting across from Craven, squirmed in his seat and spat a dirty word across the desk.
"Cockroaches!"
"Cockroaches?" said Craven. "What about cockroaches?"
"I want you to catch some."
"Listen, pal, I'm a private detective. I catch cheating spouses and run-away-daddies. What you want is an exterminator. Besides, I don't go after anything quicker than I am. It's a standing policy. I collar a few bedbugs now and then, but seeing as how we share the same bed, I have no choice. But roaches? Roaches is a horse with a different collar."
"I tried an exterminator," said the man. "He run off with my wife and left me with the roaches."
"Tough break, buddy," said Craven. "Let me give you a piece of Craven advice. Let 'em alone. When I was growing up we gave up trying to get rid of roaches, so we started treating them like family. And I mean the kind of family that stays too long, eats all your food, and leaves a mess all over the joint. No matter how hard you try, you can't get rid of them, they just grin and say things like, Mind if I borrow the car. You got a ten-spot on ya. Sorry I ate all your liverwurst. And it gets worse when they multiply. That's when you got the extended family, and the spouses of the extended family. Suddenly you're a built-in baby-sitter. And when they all leave, you're left alone to sweep up. The next morning, after a good night's sleep, you turn on the kitchen light, and they're back, giving you that look. Oh, is this your cinnamon-raisin bread? Sorry. Then they scatter and hide, waiting for you to turn your back so they can drink all your coffee. Not the cheap stuff in the cans, mind you. I mean my fresh bean coffee. I get it from a guy who works on the docks. He gets it fresh from Columbia."
"I'm a little confused," said the man. "We are talking about roaches. Right?"
"Of course we're talking about roaches!" said Craven. "And if you really can't ignore them I suggest you get yourself a bag of sugar and dump it on your kitchen floor. Then put on a pair of your favorite dancing shoes and turn out the lights. Give it about ten minutes, and come out tap-dancing like the floors on fire. Works every time. Case closed. Now, it's my lunch time. Good day to you, sir."
As the man was about to exit the Craven Danger Detective Agency, he was tapped on the shoulder.
"I couldn't help over-hearing," said Betty. "Please pay no attention to Mr. Danger. He goes off the rails a lot. That's why I'm here. I'm not really his secretary, I'm more his dispatcher. Giving him sound direction now and again. So, if you want some sound dispatching, I suggest you move out of the city. Go live in the country with the butterflies. But, if you want to live in this city, you have to suck it up and deal with it. Because, as long as we insist on cramming two million souls into this tube of bologna we call Manhattan, we're gonna have roaches.  They seem to go with the territory, like those leering wolves and grabby gorillas in Times Square. Just go home, mister. Keep your apartment clean. Get a good night's sleep. And if you wake up to roaches? So what. Remember. There's always someone who's got it worse than you. At least you're not a woman trying to make her way down the street in one piece. You'd think they'd never seen a woman before! Hey, chicky, baby! Give us a shake. I sure had a good time with you in my dreams last night. You wanna make it the real deal, sweetie? Animals! All of you! Now get out of here before I lose my cool!"
I'm sorry I got out of bed this morning, thought the man. I should have got myself that can of bug spray like I wanted to in the first place. Now I need a drink. "Taxi!"
Picture courtesy of Wiki Commons: https://commons.wikimedia.org/w/index.php?search=cartoon+roaches&title=S...