The Rockery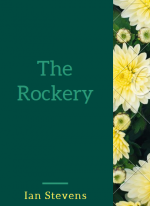 Mon, 24 Dec 2018
We sat together on the bench in the back garden, enveloped by a warm, comfortable silence, the heady buzz of a third glass of whisky helping the mood.  
'Thanks for coming, son' my Grandad said.  
'It's my pleasure,' I replied, and I meant it.  
The silence returned, both of us happy just to share the others' presence.  He leant forward and picked up the three quarters empty bottle of Bushmills.  
'Should we?' he teased.  
'Would seem strange not to,' I played along.  He took my glass and topped it up to way over the halfway mark, and I smiled to myself.  I always left here staggering. He passed me the glass, and tutted disapprovingly as I plopped in an ice cube from the half melted tray into the fiery brew.
'I'm a lightweight,' I admitted.  
He shook his head.  
'Never say that about yourself.' He seemed serious, then, 'It robs me of the opportunity.'
'Cheers, gramps,' I said, clinking glasses.  
'Cheers,' he returned, 'But that's a bit too close to grump for my liking. '
'You're no grump,' I reassured. 'That's 'er indoors,' I said, motioning towards the house with a thumb, and he laughed at that, a lot, the combination of my irreverence and his blood alcohol level a potent combination.  
'She's been better recently,' he said when he calmed down. 'It's funny.  It's as if losing Luke brought her a sense of perspective.'
'What do you mean?'
'I dunno, really.  Maybe losing a grandson has shown her how delicate everything is.  How we're only here fleetingly and, when it's over, it's over. '
'Grandad,' I chided, a little startled by this sudden maudlin turn in the conversation.  
'it's true, son.  More so when you get to our age.  I've got, what, ten years left if I'm Iucky?'
'Grandad!' I said again, more sharply this time.  
'No, listen,' he insisted.  'Maybe she's realised it, too, and is making an effort to be nice.  What's the point in spending your last days on this God Forsaken planet in misery?  Moaning and griping?
'I suppose.'
'Probly jinxed it now, though.  I bet when we go back in she's shouting at the TV.'
I started to chuckle.
'Complaining about the Muslims.'
I was laughing properly, now.
'The transgenders.  The vegans.'
My sides were hurting.
'The feminists.  The French.'
I roared and roared and roared.  
Heads still fuzzy with liquor, we set to work, bedding in the plants.  The rockery had already been constructed over the last couple of weeks - the foundation of bricks and rubble laid, upturned turf arranged, soil packed in to ensure a steady construct in even the most inclement of conditions - so now it was just about the aesthetics.  Grandad toed and froed from the shed to the nascent rockery, bringing with him the plants to arrange, whilst I set about with the landscaping, positioning each plant, still potted, into a desirable position. When the full complement of blooms was arranged, and met with both of our approval, we worked together, tugging the plants gently from their pots and separating the roots, to give each of them the best chance of taking hold.  It was backbreaking work and, thirty minutes in, blood still thinned by Bushmills, we were exhausted, but finished. We stood back and admired, both sweaty but smiling.
'Not bad,' Grandad said.  'Not bad at all.'
'Couldn't have done it without you.'
'Damn straight,' he agreed.  
'Just one thing left, I suppose,' I said, almost apologetically.
'Guess so.'
He turned on his heel and traipsed back to the shed, the sound of stone scraping on wood accompanied by a grunt coming from within.  I would have asked if he needed any help, but I already knew the answer, so I saved my breath.
He emerged, a half sized cement gravel mix tombstone clutched to his chest, clearly heavy, but still I didn't move, knowing he would be offended if I suggested he required assistance.  
He struggled to me, then past me, a curt, breathless 'It's alright, I got this, ' sarcastically hurled in my direction, but with a smile.  He reached the rockery and bent at the knees, not at the back - as the army had taught him - positioning the gravestone just right before realising his error, and swinging it round.  As it pivoted, the true horror was revealed: a glass plate attached to the other side behind which was placed a full colour photo of my now dead cousin, whose leukemia riddled body had just yesterday been caste to the flames.  
Grandad repositioned the gravestone until he was satisfied and stood beside me again, tongue cluck-clucking against the top of his mouth, apparently deep in thought.
'What do you think?' I asked eventually.
'It's ghastly, ' he said.
'I know.'
'It's what she wanted, ' he said with the customary thumb jacked towards the house.
'I know.'
'She's mental,' he said.
'I know.'
He shook his head.
She'd been sick for as long as I remember.  She sat on the chair, hunched forward, more balancing on the front edge than reclining as the designer intended, garbed in floral pyjamas three sizes too large.  The four bar electric fire was on full blast, even though the temperature outside was a balmy 22, so the living room baked. She could have sold five pound tickets for ten minutes on the sofa, a cut-price, less salubrious imagining of a hot yoga session.  
And the punters would have been pleased.  
They'd lose a shit load of weight.  
In her mouth, as was customary,a cigarette dangled, one rarely drawn on and rarely touched.  The ash build up somehow clung on to the tip so that, minute by minute, the white exterior transformed into something grey and dusty, yet the form was retained.  
'It's finished, Nan, ' I told her.  
'I'm a' comin',' she acknowledged, wriggling back in the seat, pushing down with forearms as powerful as most men half her age.  She leveraged herself into a standing position then, deftly, with a precision that comes only throUgh practice, kind of tipped forward and grasped the handles of the Zimmer frame.  
'You need a hand?' I asked, cautiously.
'Just pull the trolley,' she instructed, nodding vaguely in the direction of the hostess trolley atop of which was situated, not appetisers, hors d'œuvres nor amuse bouche, but a stérile, plastic contraption she referred to as The Nebuliser, a word so sci-fi and sinister I had never asked about its true function for fear of disappointment.  As things stood, I could well imagine that the steam she drew into her lungs through a mask that would have made Hannibal Lector jealous, was some kind of alien drug, purposed to enable her to retain her human form. Were I to discover that, in fact, it was just some kind of run of the mill painkiller, I would be sorely disappointed.
I grasped the ergonomically designed, stainless steel handles and, gentleman that I am, waited for her to pass.
'Stay close,' she advised, connected as she was to the contraption by a two metre plastic tube,  the mask hanging from the opening of her pyjamas, just above her breasts, the rest of the tubing fed beneath her garment.
'Where's Grandad? ' she asked, as if I were five.
'In the garden,' I replied, redundantly.   Where the hell else would he be?
We continued in silence, the thirty or so metres traversed in a little over five minutes so that, when my grandfather was near enough to speak, the relief I felt was near orgasmic.  
'Be honest,' he challenged.  
She stared in silence, the cigarette end still clamped between her lips, though the heat had long since been extinguished.  
'it's beautiful, ' she said, surprising us both. 'But I don't like that. '
She jabbed a bony finger at a point just above our creation, to the tree roots protruding from the soil that formed the path leading to a small patch of untended lawn.  'It seems disrespectful.'
A bit strong, I thought, but I could see her point.  It wasn't exactly aesthetically pleasing, and I was pretty sure that proper landscape gardeners would have identified it as unsightly instantly.  
'No problem,' Grandad reassured.  'We'll cut them back.'
'Please,' she said, real emotion in her voice and I was surprised to find a lump forming in my throat.
'We'll sort it, Nan, ' I promised.  
She nodded, then said no more, just pivoted slowly away from both the rockery and us, before making her way steadily back to the house.  
'You got time? Grandad asked, after she had gone.
'sure,' I shrugged. 'It's a ten minute job. '
'I admire your optimism,' he said.
'I admire your bald head,' I replied.
'I admire your cheek,' he grinned.
'Not from there you don't, ' I contradicted, smiling too, before he clapped me on the back and headed once more to the tool shed.
He leaned in with the secateurs and, as he cut, blood began to flow.
'What the….?' he exclaimed, causing me to focus, to turn away from the toolbox through which I was rifling.
'What's wrong? '
'Not sure.  Weird. Blood.' he said, the string of non-sequiturs making little sense, so I joined him at his side.  
'Blood?' I demanded.
'What would you call it?'
It was a good question.  At the point of incision, a thick, crimson fluid flowed, no, pulsed, almost as if the tree were possessed of a heartbeat, a peristaltic rhythm deep within its roots, forcing the 'blood' out in spurts, high pressure geysers, the flow strong, each fresh jet spraying more and more scarlet onto the rockery beneath; onto the be-photoed gravestone.  
'She's gonna go fucking nuts, ' Grandad said, clearly more perturbed by the thought of his angry wife than a tree that bleeds.  
'Staunch it,' I instructed, as if I were a character in House.  
He did his best, clasping his hands against the tide of red and, briefly, it seemed as if he was succeeding.  Then the flow began to eke through his fingers, to trickle down his hands and wrists, then it was as if his hands were not there at all, the flow back to full strength.  
'Get some towels,' he barked, more aggressive than I had ever seen him, but with good reason.  He was scared, confused.
And so was I.
It couldn't be blood.
It couldn't.
It didn't make sense.
I dashed into the house.
My turn to bark.
At her.
'Towels.  Where?
She looked astonished, but provided the location.
Back to him, to staunch the flow, white and yellow and pale blue towels flowering with crimson stains, obviously inadequate against the relentless flow of red fluid.   
And that's when I saw it.  
The soil moving.  
Displacing.
Something solid beneath the surface, active, alive.  
'Look,' I instructed, and he did, backing away as his eyes focused on what at first appeared to be one of the stones made animate.  A grey blue, shiny surface wriggled, vibrated, shook off the dirt and emerged, the still flowing blood striking the surface and seeming to disappear, as if absorbed.  As it rose, a strange keening sound began and soon, it was apparent there was structure to this visitation, form and pattern.
To begin with, the blue grey shape appeared nondescript, just a stone perhaps, but then, appendages manifested, organs, body parts.
Lots of them.
Myriad limbs, some vestigial, others compete, all writhing, moving at once, a pattern to the movement, but one that disturbed rather than reassured.  The bulge of the main mass cleared the soil, a carapace revealed even as the limbs still clawed at the soil and slowly, slowly, the thing uncoiled, stretched to a height that seemed impossible for its form.  
Remember those plastic flowers with sunglasses that danced to music?
Remember those?
Well think of that only, instead of a flower, think lobster and, instead of music, think madness.
The thing elongated to its full height, towering above us, two metres tall, perhaps more.  
The rear flippers of the beast were still.wedged into the soil, a Geigeresque anchor, keeping it in place.  
Above, the abdomen protruded and, on either side, the legs kept moving rhythmically as if the thing were attempting to use the air itself as purchase, to crawl away, beyond the atmosphere, crustacean cum cosmonaut.  
Above the abdomen, the head itself, mandibles grinding and crunching constantly, even as antenna weaved away on stalks.
'It's a lobster, ' Grandad told me, redundantly.  'There's a giant lobster in my rockery.'
I almost laughed, the absurdity of the sentence spoken bouncing around in my head, then the scene began to change anew.  
Like a tent peg plunged into soil, the creature rotated, so that now its back was to us, the segmented carapace a strange blue grey, not the deep red we usually associate with the species and, above its… Head?....gigantic claws snapped open and closed, the sound deep and resonate, a sense of unbelievable force captured, somehow, within the noise.  
'What should we do?' Grandad gasped and, even in my current state of panic, an irreverent, sarcastic thought flashed through my mind: boil a massive pan of water?
But I didn't say it.
Instead I just shook my head, and took hold of his hand, slowly pulling him away from the deep sea creature suddenly manifest in our lives.  
'Look,' he urged, as if I were doing something other and, as I watched, so the hard shell of the creature's back began to pulse, to undulate, as if there were something else entirely beneath the surface.  Then the carapace cracked, a sudden, deep fissure appearing, rent across all segments, tearing wider, wider, fragments of fibrous matter clinging together momentarily before the separating force from within pulled everything apart and, as if more madness were necessary, from the fissure came something new, something different.
Pale flesh, pink, really, and still the form of the lobster disintegrated, shredded, like a snake shedding it's skin, only more destructive, less symmetrical, a birthing of a sort.   Like a bird emerging from an egg the thing within smashed apart the brittle structure which once housed it and, in its final moments, the giant lobster shrieked, as surely as if it were being plopped into a boiling pot, a prolonged, agonised, high-pitched yelp so pitiful I knew, even in that moment, that it was a sound I would never forget.  
And then it was born.
The final pieces of lacerated, shattered, fibrous matter falling away, revealing a new form, humanoid, smeared in something gelatinous, glistening, pinky-red, like sausage meat yet to be cooked.  
Its back was to us.
But not for long.
And, oh, I wish it had been for, when it turned, my legs buckled, both of ours did, in fact, and we fell to our knees in unison as Luke, the recently buried, stared down at us.  
'What is this?' he demanded, sweeping a hand around around the general area.
Neither of us spoke.
How could we?
'What is this?' he demanded again, anger clear in his voice.
'I-I-i-it' s for you,' Grandad offered, apparently grasping the meaning of the question well before I did.
The rockery.
He was talking about the rockery.
'Just let me die,' False Luke bellowed, thunderous in his intensity, the windows behind us rattling in protest.  
'Just let me die.'
Then, as a dandelion in a breeze, he disintegrated, his every fibre separating, powderised, floating on a wind that did not exist.
And he was gone.
We stayed as we were for minutes innumerable, neither able to speak or move.
He ripped.it apart with his bare hands, hulking great lumps of rock into the air, possessed of a strength that barely seemed human.
'What you gonna say to her?' I asked when he was done.
'I'll tell her I've changed my mind. '
'She'll ask why,' I commented.
'I'll tell her it's maudlin.'
'True enough.'
An inappropriate joke came again and, this time, I chose to share.  
'What did the crustacean say to her boyfriend in the middle of an argument?'
'Dunno,' Grandad said.
'I'm fed up of you giving it all this. '
I held my hands up in front of my mouth and snapped them open and closed like claws.
He punched me in the chest.