Expectations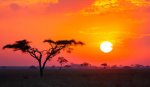 Sat, 11 Apr 2020
Try to breathe new life into that. Of those days
dragging along like weathered bookkeepers,
of these hours showing themselves as boring
bus drivers. As if everything is too much,
as if there is no energy left. How bad is that.
Can you expect life to be exciting, adventurous,
lusty, perilous, new? And why would existence
want to commit to it? Who are you that you can
claim these things? What do the days require
of you? That you constantly have that fiery look
in your eyes, that you got clammy hands all
the time? For what? Entertainment, strong stories,
unique situations, exotic spiritual experiences?
Maybe life doesn't demand that much from you
at all. Not as a direct explorer, not as an acute
adventurer. Perhaps you are the gamekeeper on
the lookout in his khaki-colored clobber (thermos
filled with coffee, sandwiches with chicken salad)
Nothing happens for weeks. The sun only rises,
the sun just sets. Until one glowing morning.
You see them passing through your binoculars:
endless herds of gnus, countless rows of impalas.