No wonder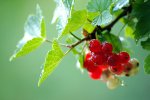 Fri, 13 Mar 2020
How the day wanders quietly but grizzled through your backyard. As if she doesn't really know what to do with her life.
As if a lot of things are possible (pruning the fruit trees, making blackberry jam, cutting grass, removing snails from the leafy vegetables), but that it does not seem very useful, very meaningful.
Check it out. If you boil it down, what is so important that it still gets you excited? That it will set you on fire? No, it is not surprising that the day strolls aimlessly past the empty bird's nests, that she inspects with a certain trepidation the insect hotels (what does they expect to see)?
Until she decides that enough is enough. She walks to the kitchen window and taps on the glass. She beckons, she waves at you. You realize that the time has come. You put on your coat, you walk outside. Only when the day recognizes you, her face begins to glow.
Then she finally starts to shine. No wonder, you believe. What is a day without a hotsy-totsy temperament?