10. Back to Haad Rin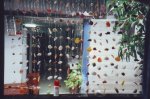 Mon, 20 Feb 2012
23/12/02: Leave Mae Nam; board boat at Bo Phut; return to Anadin Bungalows; check email; go for a drink at cliff-top bar – rain; eat at sit-down-on-the-floor place, then drinks on balcony; avoid beach and go to a rock bar instead; give Mellow Mountain a go, the cliff-top bar on the other side of the bay to the one visited earlier; form a gang and take them to The Drop In.
24/12/02: Get up late; discover 'Gatorade', a panacea for my hangover; The Bakery for breakfast; buy my companion a wooden monkey; meet our new friends at Bongos for diner; back to the Drop In for drinks.
25/12/02: Feel awful – drink Gatorade and eat crisps. Bamboozle for dinner; chill with my neighbour, an Israeli hippy who's been here since our first visit to Haad Rin; Drop In for two modest beers.
26/12/02: Breakfast on the beach; spend most of the day in hammock reading; try the Bongo Bar for dinner; joined by our new gang for drinks on our balcony.
It was hard to know whether we were doing the right thing, but time wasn't on our side. Part of me wished we'd stuck it out in Lamai for a few more days, or maybe even squeezed in a few nights in Thong Sala, or Nathon – that could've been interesting – and then we could have spent Christmas in Mae Nam. Having said that, would Mae Nam really have been the best place to commemorate the festive period? At times it had resembled something of a ghost-town, and Christmas there could have been a very strange affair. At least in Haad Rin there would be a palpable sense of occasion.
They knew what they were doing in Haad Rin. The prices for our humble abodes – for we returned to the same in search of affordable accommodation – had gone up from 350 baht a night to 550, but by now we'd run out of options: the place was filling up and rooms were at a premium. S tried to negotiate something cheaper but was so disturbed by the concrete cell he was offered, with its sinister looking stains etched onto the walls, that he bit the bullet and paid the full 550 for his own hut. In truth, S was not well. He was worried about an on-going skin condition, concerned about the price of things, and hadn't taken to the wildlife at all. A man who values both personal hygiene and space, he hadn't warmed to the rougher elements of travelling and was starting to imply that he might cut his travels short.
Attempting to put a new spin on things, we go for a drink in a bar perched on one of the outcrops that flank the bay. We haven't been here before, and actually it's not anything special, but they are playing Lou Reed. My drink – for we are supping an afternoon beer – warns me that all is not well within and hints that I should probably be taking a break from all of this. But it is the 23rd December and I have just seen a waterspout appear and then swiftly disappear out on the horizon. I don't push my luck, though.
            We take dinner at the place we took dinner on that first day here, where we had to remove our shoes for the first time. I like the chicken burger, and after getting 'back on the fish' in Mae Nam my digestive system is now screaming out for some heavy western type sustenance again.
We're going to mix it up a bit tonight. We might even bypass the Drop In entirely.  (We will start by drinking on our veranda, however.) We'll try the 'rock bar', playing The Doors, Jimi Hendrix, AC/DC, Led Zeppelin, and the like. It makes for a nice change, but S and my companion aren't entirely convinced so we decide to move on to Mellow Mountain, the larger bar built upon the larger outcrop on the other side of the bay.
It's good up here but the clientele seem to be letting the place down a little. Or are they? In truth, S and I are starting to regard our fellow travellers with marginal hostility. I blame Chaweng for this, as well as our exile in Mae Nam where we spent most of our time in the company of Thai nationals. Nether the less, a nearby crew, comprising of two Irish girls and two English boys, seem to embrace us, so much so that we feel compelled to take them to the Drop In, whereupon everybody gets very drunk.
My body almost made it but on Christmas Eve I was violently sick. It started off well:  I was hung-over, for sure, but I slept in until about noon, then armed myself with Gatorade before hitting The German Bakery for brunch, where I digested, among other things, the day's Bangkok Post. There was a buzz about the whole place, and I purchased a wooden monkey from the shop next door to the 7-Eleven for my colleague's Christmas gift. The evening then followed the same routine as the one before, just with added vomiting.
Christmas day itself was spent in a state of general disarray. I invested much of my time suffering in a hammock but managed to get it together to go to Bamboozle for dinner, my first and only meal of the day, which never lived up to the standard set on our first visit there. I should have been phoning home too, but there was no chance of that: the queues at Haad Rin's ill-equipped internet bureaus were predictably hanging out of the door, and they were charging a mint for the privilege.
I tentatively gave the evening a bit of go, chilling with the Israeli hippy next door who had been staying here since the tail-end of our first tenure. Up until meeting him, the travelling Israelis had aroused some suspicion. I'd had no opinion of them at all before coming to Thailand, but here they travelled in packs, fresh out of national service, bronzed, toned, wearing tight vests and dark glasses, avoiding mere gentiles. But the Israeli hippy was different, and quashed any lazily inexcusable antipathy that might have otherwise crept in.
We eventually made it to the Drop In to meet our Christmas-period crew, but after two very unsatisfying drinks, I decided to call it quits. When I awoke on Boxing Day, feeling relatively fit and healthy, a cache of oddments awaited me. They were from our neighbour, the Israeli hippy. He had moved on and had left us the surplus bits and pieces he'd accumulated during his month's stay in Haad Rin. This was compiled of books mostly, and I spent the day swinging in my hammock reading one of them – Ernest Hemmingway's The Old Man and the Sea.
Not before I took breakfast on the beach one last time, for it had been decided that Boxing Day would be our last spent on the islands. The party was over and our odyssey had to get back on track. The evening was to be spent drinking sensibly on our veranda with the Irish girls and English boys who had served us well on our second bout of debauchery in Haad Rin, before we bade them farewell.
The next day my colleague and I separated from S, who returned to Samui to try and exploit the island in the way only a single person maybe can. It was a sad but not totally unexpected end to this travelling triumvirate, but S had financial concerns as well as physical ones. To the latter he could now add the irritating bites of the many sand fleas that had infiltrated his discarded trainers and feasted upon his ankles. That he'd managed to find his pumps after losing them on the beach was surprising in itself: even more so when they were subsequently pinched from the relative safety of his veranda the following evening. And so he was forced to invest in a pair of flip-flops, something that he and I had both hitherto resolutely resisted.  S was not built for travelling, but then I wasn't sure if I was either.
Onto the wagon and back to Surat Thani, and hopefully my colleague and I can find somewhere nice and quiet to spend New Year's Eve.