13. Ao Nang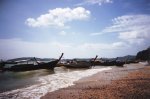 Tue, 21 Oct 2014
Our songthaew must have come from somewhere else, possibly Krabi's coach station where we were dropped off a few days earlier. Once again, my fondness for breaking up our journey into explorative vignettes has placed us at odds with the general flow of things. As well as the backpackers on their way to Ao Nang, who probably left Surat Thani and its islands that very morning, there are schoolchildren to contend with. We could have avoided all this if we'd gotten out of bed earlier – if it hadn't been New Year's Day.
I have to stand on the back-plate for the three quarters of an hour it takes to reach Ao Nang. This is not a new experience but it is the first time I have had to do this on main-roads and at such speed. It's a little scary but there are some impressive limestone outcrops along the way to divert my attention. Such rock formations have been conspicuously sporadic up until now. Prachuap Khiri Khan had a few keeping sentry over its rough bay (this didn't stop the Japanese from overrunning the place on 8 December 1942) but other than that I've only been aware of such topographic relief from a distance.
We arrive at Ao Nang without having thought much about accommodation. Songthaews are never in cahoots with guesthouses the way minibuses or taxis often are, so there's little need to plan ahead by means of defence. However, it soon becomes apparent that the rates here are rather high, although this does seem to be in appropriate proportion to the standard of build. In other words, there are no rudimentary wooden huts for the traveller on a tight budget here.
We work our way up the strip and eventually find an available room, a substantial bungalow as far away from the beach as once could possibly be, but which does have its own fridge. Of greater interest is how this reflects on the sort of people who holiday in Ao Nang.  There are even real hotels, so perhaps it's not too surprising – if a little perturbing – to find that family vacations are as pertinent here as travelling endeavours. In essence, my colleague and I are not Ao Nang's top priority.
It's fair to say that we fell into something of a routine in Ao Nang, but it was a positive routine: the sort of routine that M and E probably fell into when they bedded down somewhere for few days. Breakfast was had at Jinda for three days in succession, whilst evening drinks invariably involved Sea of Love, a mellow sort of bar playing a mellow sort of music (St Germain's Tourist featured heavily), and with free access to the internet. Our drinking was light in nature, though, and there wasn't the slightest hint of a hangover on the four mornings we awoke there. I had finally found my sober sanctuary.
            This general air of conviviality was only slightly spoilt by the rain. Rain, rain, rain, there had been plenty of it, and for the most part accompanied by big bangs and bright flashes. I did not mind at all but there were days where there were no accompanying pyrotechnics: just a steady stream of falling water for hours on end. It was under these conditions that I was pleased I had my Ron Hill anorak with me. We had tolerated similar conditions on the islands but our geographical predicament had been so localised as to render the use of my anorak unnecessary. We were renting along the borders of the resort and if we wanted to pop to the shops for a paper, or go out for something to eat, then we needed some protection, regardless of the ever-present warmth.
It's on the third day that the weather finally begins to gladden and I decide that, after breakfast at Jinda, I may as well spend some time on the beach. It is a pretty beach, although the long-tail boats constantly leaving and arriving disturb the idyll somewhat. After about an hour – maybe less – I'm bored and so drag my companion to check out Nopparat Thara Beach that lines the neighbouring bay. I'm not really bothered about what it's like: I just want to have a nose around. There are plenty of bars along the way and I earmark a few for later.  The odd thing is we never really persist with any of them. I'm actually more interested in where we might eat, my appetite having reasserted itself in heavy drinking's absence.
Our dinner at the relatively upmarket Welcome is… most welcome, and it is here that the family-friendly ethos of Ao Nang really hits home: fresh faced 2.4 children dressed in cream-coloured linen, enjoying a night out with the folks. But it's fine by me. Fine by me, this more civilised way of being, because nothing is so expensive that I need worry about it much.
I am certainly mindful of the cost of things, because it's hard to know how quickly one gets through money in a travelling situation. You can keep a tally on your withdrawals to some extent, but exchange rates are in a constant state of flux, and I have no idea what I'm being charged for using the local ATMs. My parents are trying to keep me up to date, relaying my balance when they receive my bank statements, but by the time that's caught up with me almost a month has elapsed.  In any case, accommodation has been as inexpensive as I have been led to believe, food and drink too, and transport often more so. I have a month in New Zealand to account for, of course, and there's no doubt that's a concern, as is returning home with at least something to tide me over.
What is a little more exorbitant are the boat trips to the nearby islands – James Bond Island amongst them. Or are they? My reluctance to engage in this sort of activity may be attributed to a number of other factors. Firstly, I'm not that keen on open water, and long-tail boats are pretty narrow vessels that look very capable of capsizing should some joker decide to, quite literally, rock the boat. Secondly, there are the 'body-beautiful' travellers I would have to keep company with, skirling loudly in a most disagreeable fashion, jumping into azure-blue coves, freshly inked ethnic tattoos adorning their bronzed, toned physiques: gap-year beasts assembling their credentials. They've been nothing more than lurid wallpaper up until now, because I've been able to keep these types at arm's length most of the time. But to be stuck in a boat with them… Perhaps it's my problem?
I'm not getting off the hook that easily. My companion wants to go elephant trekking, and only the rain is capable of stopping us. We've had a fair bit of it of late so the chances are that this recent sunny spell will hang around for a day or so yet. We're booked in to go tomorrow.
I once had a very vivid dream that I was stuck high up on the branches of a gnarled tree on the African savannah, and an elephant offered me its trunk as a means of escape. I awoke feeling a strong fondness for these beasts, albeit the African variety. But you hear stories of maltreatment and exploitation, although one is also told of how the trekking elephant is a relatively fortunate one. If they weren't taking tourists for a spin then they'd either be gainfully employed in the logging industry – not the worst scenario for a strong, bright creature such as the elephant – or they'd be squeezed into an urban conurbation, forced to perform like the proverbial monkey. One tends to believe what one rather would in such cases, but I've no moral scruples; you need to see these things for yourself.
I am pleased that the elephant trekking bureau is located next door to Jinda. This is no coincidence for it was over breakfast that the idea came to fruition, but it is good getting up early knowing that the first meal of the day is catered for.
By way of an introduction, we stop off at a rubber plantation. I think we're supposed to be impressed, and my companion actually is, but it's a shame the way trees are planted in regimented lines, betraying their natural habitat. Given that the rubber here is hand tapped, it's also completely unnecessary. Anyway, 'elephant trek central' is surrounded by them, as if some budding entrepreneur came up with the idea to bring in a bit of extra money.
The trek itself seems to back up this supposition. Everything is very low-key. There is a modest hut where we are offered refreshments. The only other tourists are a European family who accompanied us on the journey here, the employees are young, relaxed and friendly, and the elephants seem to be in tune with that.
Our trek begins with it the navigation of a stream. Slowly and deliberately, there's almost a grace to how the elephant surmounts this obstacle. One feels surprisingly secure perched upon the bamboo, sofa-like structure strapped upon the animal's back, although I wouldn't like to experience some sort of stampede atop this contraption.
The river traversed, we meander about 20 metres through a wood, into a clearing beneath a limestone outcrop, and… that's it, we turn around and make our way back. The whole thing takes no more than 40 minutes. After, we are encouraged to reward our elephants with bananas, and one of the young guys offers me illicit substances. The youth of Thailand are enterprising folk, but at a pace that suits.
I decline his kind offer.
05/01/03: Return to Krabi Town; May & Marks for lunch; sort out transport; book back into Chao Fah; go for a stroll along the river; May and Mark's for dinner; drinks at Murex, in which we are the only customers; Old West bar where we drink with a couple of lads from Hounslow and the Isle of Dogs, former stomping grounds of ours both.
Our visa covered us for 60 days and we'd been here for over 50. We had no fixed itinerary but it had been agreed that Laos would be our next port of call, and possibly Vietnam thereafter. Putting these plans into action asked that we repair to Bangkok to sort out visas and arrange the appropriate means of peregrination. I liked the idea of squeezing or Thai visa dry but we didn't know how long all this would all take.  In any case, we'd exhausted Ao Nang and had spent an inordinate amount of time indoors, reading newspapers and filling in crosswords.
Research into the subject suggested that there were two routes back to Bangkok. We could catch a VIP Bus from Krabi Town itself or we could ride a Public Bus back to Surat Thani and board a train from there. Both routes provided for an overnight option, which appealed if only because it would save a night's rent, effectively halving the cost of the journey. I didn't see the point in taking a bus all the way to Surat Thani, because in my mind that was going out of the way, so we settled on the VIP Bus, deciding that we'd return to Krabi Town for a night and make our arrangements there. This also afforded us a final blast in the Old West Bar, which had quickly become one of my favourite bars in the whole of Thailand.