14. Back to Bangkok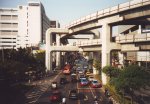 Tue, 21 Oct 2014
06/01/03: Hungover – arise late; check out; kill the day carting our impedimenta around town and occupying cafés, drinking coffee and pop, and eating sandwiches and crisps. Ride overnight bus to Bangkok via Surat Thani – a real drag of a day.
I take the Bangkok Post. The international reportage makes it perfect reading for the 12 hour bus journey from Krabi to Bangkok. Its sports coverage is excellent, giving comprehensive cover of both the FA Cup 3rd Round and The Ashes. Its around-the-world anecdotage leads one to believe that every day in Manila someone kills their best friend after some sort of clandestine, tragicomic turn of events. Honour seems to be a very serious thing in the Philippines…
I have mixed feelings about our impending mission. The distance we have to cover seems rather considerable in its measure, and I am anticipating it to be physically discomforting. I don't expect that I will get much sleep either, although my hangover gives rise to the possibility. I'm a little sad to be leaving the south of the country and I am little apprehensive about this whole Laos-Vietnam thing. I am, however, strangely looking forward to relocating to Bangkok for a few days, something that I wouldn't have thought possible 50 days ago.
The first part of the trip is straightforward enough: we board a single-decked coach that takes us to Krabi's bus terminus. On arrival, the vehicular form of the second stage of our journey is as yet unclear. Our singular previous experience of the larger VIP Bus involved a very colourful single-decked coach of modest capacity, replete with chrome interior, but I suspect that this was tailored to the hedonistic destination to which we were then travelling. At the other end of the spectrum, we have ridden a cosy minibus from Chumphon to Surat Thani, but I'm not expecting that this will apply here.
I am now concerned by the many people who are apparently waiting for a similar charter back to Bangkok. I am concerned because I have hitherto noticed a tendency to squeeze as many people as is possible on to our various forms of transport, with a total disregard for notions of health and safety, or the description on one's ticket of the service paid for. I am also concerned because a few of my fellow travellers are audibly voicing a similar tension.  What's more, the VIP Bus is running late.
            My fears are soon allayed when two double-decked VIP Buses show up, both bound for Bangkok. True to form, they're colourful things adorned with various cartoon characters – it's a typical look – and there's even a TV on board. Closer inspection reveals these vehicles to be older than they appear – a stain here, a cracked air-con funnel there – but they are air-conditioned and they do seem to offer a credible degree of leg-room. I'm reasonably happy, although a little annoyed when our half-full coach alights in Surat Thani, of all places, to fill in the empty spaces.
I'm now getting a handle on how long-haul transport operates in Thailand. There's nothing really VIP about these buses: they're just regular, long-distance coaches, with functioning utilities, that charge about twice as much than the alternative public model.  This still only works out at about £13 for a 400 mile journey, and it will pick you up and drop you off at locations that are convenient.
The only problem now is the person sat in front of me who insists on reclining her chair as far as its fixtures will allow. I would say something but she's dabbing at a nasty looking wound on her lower leg, and her companion asks if he can borrow my paper in the most gentlemanly of manners, leaving me impotent to do anything other than sit back and suffer.
07/01/03: Book into the Khao San Palace; take a nap; Wally's for brunch; apply for Laos visa; buy Fear & Loathing in Las Vegas from a second-hand book store; Gulliver's for dinner; Dong Dea Moon, and Hole in the Wall for a nightcap.
It's Tuesday, about 05.30 on the Khao San Road, and the previous evening's entertainment is just winding down. I managed to catch about three hours of sleep (which for me, under the circumstances, is almost unheard of) and now we've got to contend with the lingering detritus from the night before. But there's an excitement about the place, an energy and a coolness to the air, even though the temperature can't be much below 25°C.
            We have arrived earlier than expected – too early to find lodging. The staff at The Palace advises we return in a couple of hours whereupon guests will have checked out and rooms cleaned. After about three hours, breakfast, and many cups of coffee later, The Palace is finally able to provide us asylum.
We have a nap and then hit Wally's for something to eat, with a new found sense of authority gloriously coursing through my veins. I have no problem waving away the hawkers at lunch, and the pushy tuk-tuk drivers aren't bothering me in the least. I may not have the most active tan in the world, what with the fair amount of southern cloud cover I've endured, but I feel a good deal less conspicuous than some of the paler arrivals that occasionally pass us by, huge especially-purchased rucksacks strapped keenly to their backs. I've actually revisited three other locations so far – Haad Rin, Surat Thani and Krabi Town – but this fourth is by far the most poignant. It has been almost seven weeks since I left Bangkok and the last time here I felt a little overwhelmed.
It seems hotter than it did down south and more torrid than I recall – it could be the time of year. These are not perfect conditions for traipsing around and deciding which establishment is best placed to process your visa. It doesn't really matter because, as with the VIP Bus situation, everything's hooked up to the same infrastructure and prices won't deviate much from this predetermined course. That's not to say that it doesn't hurt to shop around, though, and iron out the possibility that some people somewhere might be trying to squeeze you for more than is good and proper.
We are being told that it will take at least three days to process a visa for Laos. This is not in any way unusual: passports have to be taken to the relevant embassies and are filed accordingly. One could always visit the intended embassy oneself, perhaps, but I postulate that this would be an approach overly mired in bureaucracy. It seems very much easier to resign ourselves to a few bonus days in Bangkok, which I don't mind at all. I'm starting to feel that the capital offers me some sort of 'peace at the centre', a base camp from which to evaluate this whole adventure. The only problem with this programme is that Bangkok gives me a terrible urge to drink.
Later and we're back at Gulliver's taking full advantage of their air conditioning and pork chops in pepper sauce. And when we've finished there it's off to Dong Dea Moon for what turns out to be a relatively quiet night. I talk to a garrulous American sporting a ponytail who regales me with tales of his self-righteously tight-fisted adventures in Burma. Draped in his own hubris, he proudly examples of how he and a friend refused to disembark a public bus after being asked to pay double the going rate. Together, they peremptorily declared that it was their right to be charged the same as the natives and would not move until their demands for equity were met. This might seem reasonable behaviour on one level, but one must realise that they were probably holding more on their person than the average Burmese earns in a month.
When I attempt any anecdoture of my own (not my forte) I notice his eyes idly taking in the bar's surroundings. Disappointingly, I am finding that Americans like to talk at you plenty, but sometimes aren't so keen about being on the other end.
08/01/03: Taxi to Siam Square; Jim Thompson's House; back to Khao San Road for a shandy; dinner; attempt visit to Hendrix only to discover it is no longer there; Dong Dea Moon, whereupon we meet J (Mk.2) and introduce him to the Bucket of Joy.
09/01/03: Awake with Sangsom induced hangover; lunch at Wally's; Dong Dea Moon to meet J (Mk.2) and his Canadian chum S (Mk.2); take them to Hole in the Wall, before finding some new dive I don't know where.
10/01/03: Wally's; collect Laos visa; go to Chart for dinner and double bill - watch K-19: The Widowmaker and Panic Room; sneaky drink in Dong Dea Moon.
We never really escaped our little quarter of Bangkok the first time around.  Sure, we made it far as the Royal Palace, the Golden Mount and Wat Indrawihan, but all this is navigable by foot, and abjectly touristic. My companion has a few ideas, though. She'd like to see Jim Thompson's House and take advantage of the many shopping malls in and around Siam Square. I'm not that bothered about visiting Mr Thompson's ex-abode but the malls could be interesting, and I like the general change of tack. We will take a taxi to Siam Square – a proper taxi with a working meter – through heavy traffic and banal streets. It is estimated by our guidebook that it will cost about 200 baht, and it does, factoring in a 20 baht tip.
Our first port of call is the Siam Center (sic), outside of which our taxi-driver deposits us in great haste. Dating back to 1973, the Siam Center is one of Bangkok's oldest malls. It doesn't look that old to me but then my formative experience of the shopping plaza is based upon the Armada Centre in Plymouth, and then, later, the Treaty Centre in Hounslow – beige eighties fossils both.
As is often the way of the shopping mall, the Siam Center seems to attract those of a more youthful condition. What strikes me most here is how much 'neater' these juveniles are, and, dare I say it, more effeminate. Nobody is wearing shorts, for instance, clothes are of a tighter fit and the prevailing fashion appears to be highly accessorised (hair product, handbags, watches, brand names, etc.). I'm wearing brown needle-cords, a lank white T-shirt and a shabby pair of Converse, and I feel verminous by comparison. Moreover, these more affluent folk seem paler of complexion than their out-of-town cousins, or even those I have seen working on the Khao San Road. This is not so surprising when one considers it. A preference for fairer skin pervades in many Southeast Asian countries, Thailand being no exception, and a whole cosmetics industry is built upon the fashion. It might be fair to speculate that – as was the way in Victorian Britain – darker skin brings with it an association with the labouring classes and that whitening one's complexion suggests a higher position within the social strata.
The shops themselves are your standard high-street conglomerations with goods priced to match, so it isn't long before my colleague and I depart to inspect shopping mall number 2.
The more recently constructed Siam Discovery Center (sic) is more upmarket than its sister mall in which we started our retail adventure, meaning that I feel even more under-dressed than I did there. The air-conditioning is more aggressive too, and the garments are priced even further beyond my range (constrained by my traveller's budget or otherwise). A modest exhibition of photographs is on display on the ground floor: a collection of various national scapes. Below each image the camera settings employed are revealed – aperture, focal length and exposure – alongside the author's name.
The photographic aspect of my own travels should not be underestimated; I've already rather petulantly declared to my colleague that I wouldn't have bothered coming to Asia if I didn't own a camera (which, unfortunately, is probably true). I carry a Lomo LC-A – a fixed lens, 35mm compact camera of Russian extraction. Loading, winding and focusing aside, the LC-A is designed to be used fully-automatically. One can adjust the aperture, but in doing so the shutter speed will remain fixed at 1/60s. Really, the adjustable aperture is only intended to be used in conjunction with a flash, and not having a flash I've seen no need to interfere with it. Strolling around this exhibition now, though, has got me thinking. Maybe I could pre-select the aperture under certain lighting conditions, 1/60s permitting? I make a point of emailing my father for advice on f-numbers (manipulation of depth-of-field being the objective here, and him having knowledge of such things).
The MBK Center (sic) is up next, a leviathan of a shopping mall eight stories high, stranger than known, attracting over 100,000 visitors a day, or so it's claimed. MBK was constructed in 1986 and this time it shows. Not as up-market as the previous two malls, from which it can be accessed via a footbridge traversing the busy junction which all three overlook, one can find both the authentic and ersatz on sale here. The place is a little too hectic for my liking, especially relative to the bubbling serenity offered up at the other two malls, so I leave my companion to get on with it and seize the opportunity to inspect the Suphachalasai Stadium – or National Stadium – just down the road.
On route I witness some sort of sting. Not 10 metres away from me the Police swoop upon some poor chap and put him in handcuffs – 'bang to rights' judging by his demeanour.  I then proceed with my tour of the stadium. I'm not sure whether the general public have access, but I find my way in through a side door anyway. A lady there is pushing a pram around the Tartan, so I relax and take a photograph of this modest theatre.
All malled out, it's time for us to visit Jim Thompson's House. I shall not bore you with the details, suffice to that Jim Thompson was an American silk-merchant who put down roots in Bangkok in the 1950s before making a strange disappearance somewhere in Malaya during 1967. In-between he built himself a house wherein he amassed a vast collection of Southeast Asian art. Today it functions as a kind of museum and one can pay to have a look around the place.
No disrespect to Mr Thompson and his beautiful home, and maybe it's just because I'm starting to wilt in the heat, but I'm more enthused by the cup of black tea I'm given at the café around the corner. I say 'given' because I don't actually ask for any tea. I order coffee but I'm also served a complimentary cuppa as some sort of chaser. Initially the proprietor senses my perplexity and reassures me as to what it is. She misses the point: I am not thrown by the contents of my cup – it's plain to see that it's tea – but merely why she felt it necessary to provide me with it at all. Place it in the context of the weather and it begins to make some sense: "If you must drink hot liquid when it's touching 35°C – and coffee at that – then at least take a sip of this." She's right. It really is quite a revelation, the most refreshing cup of anything hot I've had in all my life.