16. Vang Vieng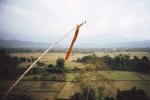 Thu, 23 Oct 2014
15/01/03: Scandinavian Bakery; go to catch bus but end up getting a songthaew with Al, L, a well-off Israeli and two girls from Halifax; book into Amphone; take tea at Xayoh's sister café and return there later for drinks with Al and L; drinks somewhere else with Canadians; back to said Canadians' room for a nightcap.
No show of Vientiane's neo-colonialism in Vang Vieng. Maybe the French deemed the place to have insufficient "Je ne sais quoi", or perhaps it was simply too physically constricted a location. Whatever, they missed out because Vang Vieng is a place of perfect beauty. Surrounded by cave-ridden mountains and a refreshingly diverse range of deciduous flora, it provides welcome relief from the palm trees that so characterised Thailand with their ubiquity. 
Physically, the Laotians are not as delicately pretty as Thais but are none the less a handsome people, although their dress sense can be just as flawed. Maybe less assured of themselves when dealing with 'felang' than the denizens south of the boarder, they are still a warm and welcoming culture. In an odd sort of way, their whole approach seems a lot less contrived than it might in the more predictable tourist destinations of Southeast Asia. Only the pimping of opium casts aspersions on this serene idyll.
'Future' was almost as bad as any club/wine bar in Britain trading under any similarly desultory appellation. It recalled the old Ritzy chain of nightclubs, except without the threat of spontaneous violence flitting about the place. An experience, I suppose, but one I am now paying for. 
Which is why we're running late for our rendezvous with Al & L at the Scandinavian Bakery. Not only that but they – the bakery – have run out of my preferred choice of bread. It's a rushed job on a hot, sunny mid-morning that punishes me for my condition. But we do manage to catch up with Al & L and are very quickly re-assimilated into their plan – for it is they that are leading the charge – and in very little time we've waved down another one of those knocked up tuk-tuks to take us to the station.
In stark contrast to Vientiane's general state of being, the bus terminus is a hive of activity. Across the road is an outdoor market, which goes some way to explaining this, but there are a lot people in attendance for the buses also. It takes a while to find the vehicle bound for Vang Vieng but we soon establish its whereabouts and set up camp on the backseat.
Then a strange thing happens. A corpulent Hebrew in expensive sunglasses approaches Al and presents him with some sort of arrangement. The Israelite will front 500 baht out of the 900 needed to pay for a songthaew to Vang Vieng, which he has ready and waiting, if the four of us collectively fund the balance. Individually, this will cost marginally more than the public bus but should supposedly shave about an hour off of the journey time. Nice arrangement, but we've just invited two young and slightly lost looking English girls to join our troupe, and it would seem almost perfidious to agree to this now.
A songthaew can comfortably seat eight people – ten would probably be of no great inconvenience – but for some reason the Israelite steadfastly rules out the possibility of bringing them in on the deal. We are not sure if this is because he thinks the comfort of the journey will be compromised or for the reason that we'll now be dividing 400 baht between six persons instead of the originally conceived four – he's vague about it when confronted. Al and L are suggesting that we could all pay the individual rate that was originally offered to us, meaning he'll only have to subsidise his newly acquired coterie to the tune of 300 baht, to which the young girls from Halifax more than readily agree.
I get the feeling that the Israelite could afford the whole songthaew to himself, if that made him happy, and was merely looking for some auxiliary company for the three hour journey to Vang Vieng. Now, considerably outnumbered, he'd feel like he was subsidising a trip for very little in return. I can see the potential in this point, but if this is indeed his position then how can he possibly articulate his objection without looking horribly needy? So he doesn't try, but doesn't do a bad impression of throwing a tantrum either, plugging himself into his CD player for the first hour of the journey, communicating with no one.
I wonder if it was worth all the bother. Without any humidity wrapped around one's form, songthaews can get a little parky in the back. Not only that, but the public bus visibly trails us for much of the journey, overtaking us momentarily when we stop for our comfort break, although falling behind again when it stops for theirs. But it is possible that we arrive with just enough of an edge to reserve a free room in a more conveniently located guesthouse.
Talking of guesthouses, ours – Amphone – is not what I was expecting. It's obviously a fairly new build, in a similar vein to the apartments we rented in Krabi Town. This is to say the floors are tiled, the fixtures and fittings are clean and modern (no squat toilets here), the walls are painted one colour, and there's even somewhere to file away your clothes: eminently practical and reasonably priced. They do laundry, too – which is not completely unexpected – so now I can think about introducing that mould-ridden jumper into the fold.
            First impressions are good, then, but it's the view from the second floor (our floor) balcony at the front of the building that really puts a spring in one's step: a vista comprised of corrugated iron rooftops, home to many cats; a shallow, sleepy crystal-clear river running parallel to our building's frontage; sharp karst outcrops wrapped up in lush green foliage, their depth far exceeding my field of view; and a subtlety of sound to match.
Yes, I very much like it here, but it is the lack of bustle that is impressed upon me the most. I am vaguely aware of Vang Vieng's formidable reputation as somewhere to cut loose a little, and, as I've outlined, the physical attraction is immediately obvious. What is missing, however, are the hitherto attendant sounds of Bob Marley or the Red Hot Chilli Peppers, and televisions showing Friends on endless rotation and the shops selling fake gear and the general sense of permissiveness about many of these sorts of places. There's not even a 7-Eleven (fast becoming the gauge by which all things modern and potentially ruinous are judged).
A walk up the main drag to check out the local scene introduces Xayoh's more modern and minimal little sister. With the state of things apparently this good, I know that I'll want a drink at some point, and I know that I need to eat before I do so. I order the spare ribs, which comes with chips, a bread roll (with real butter) and a salad on the side. Across the road they're playing The Beastie Boys and later they will play Curtis Mayfield, all of Rubber Soul by The Beatles, and Wild Horses by the Stones. When we return that evening, conditions are equally propitious; even the Israelite appears more convivial. We play some pool, make friends and, once the bar has closed, end up back in some Canadians' room for a nightcap.
16/01/03: Hire bikes and cycle to Tham Phu Kam caves, stopping at smaller caves along the way; tea at Pizza Falconi; meet Al and L at Xayoh Café; go to another bar where we're joined by Scandinavians folk; my colleague retreats early.
17/01/03: Feel a bit unwell; colleague goes 'tubing' with Al and L; fish at Tanketkham; Xayoh Café and hook up with friendly Americans; back to Americans' said room; Full Moon Party on island – colleague ill; chat to Scandinavians and some guy called Will.
Turning right out of our guesthouse, the dirt-surfaced high-street rises steadily for about 30 metres until it bends dexter to meet the main concreted drag, where one will find the majority of cafes and restaurants of Vang Vieng. Bend sinister instead and there's an undercover market peddling smells to affront the senses – it's the desiccated fish that does it. The Laotians trade away as if you weren't really there, their raw produce of little use to the passing tourist. How alive it all is, and intensely stifling under the corrugated metal carapaces that cover this collection of stalls. (It's not all foodstuffs – you can buy pots, pans, toilet rolls and a whole host of minor domestic appliances.)  Beyond that that there is a riverside bar and steps leading to a footbridge connecting the mainland to a small ait.
Before hitting the drag, there is Xayoh Café, the vague notion of a bank, and a few pseudo 7-Eleven type establishments, useful for buying bottled water, postcards, cigarettes and savoury snacks. Throughout, one will also find smaller cafes and bars, some of which run a side-line in bicycle hire. These shabby velocipedes are a handy way to explore the countryside, and my companion, Al, L and myself are keen to exploit this mobile method of inquiry and inspect a few of the local caves. All this is covered in our guidebook, with recommended destinations and the timescales to reach them. Than Phu Kham is the cave we are advised not to miss, and we can slip in one or two others along the way if we have the time.
Our journey is not without peril. The bamboo footbridge we have to negotiate to travel west out of Vang Vieng has not been designed with bicycles in mind, although the locals don't seem fazed; a motorbike with a large sow strapped across its back confidently makes the crossing before we do. One is required to pay a small toll, too. Then there's the poor quality of the roads and the consideration that our bikes aren't really up to the job, and the fact that it's a good 6 km to our final destination – but these are minor quibbles.
The first cave isn't much of a cave at all but delivers a very pleasing view from its opening. A bamboo pole with an orange rag attached to its end (in all probability, a scrap of old monk-robe) protrudes from this crow's nest. I try to search this marker out from ground level but fail to do so. Maybe we climbed higher than I thought?
We're about 4 km into our 6 km journey and we stop at a barely existing village – Ban Na Thong – for liquid based refreshment. It's an overcast and humid day, although I've endured worse. We take a wander around some of the local fields, in amongst the limestone protuberances pushing up through the crops, and I am struck by how less 'tropical' the flora is compared to that found in southern Thailand.
Our destination reached, we start the long, arduous scramble up the side of the outcrop that supports our chosen cave. The path – if one could call it that – struggles, like a thwarted helix, up the side of the rock-face, offering nothing more than bamboo staves and minor footholds as aids. Another fine view greets us from the top, although not as unblemished as the last. From there we start out descent downwards into the cave itself, the target being a supine golden Buddha taking shelter under a small canopy. It is late afternoon, which means the sun puts the Buddha under its gaze via a conveniently located opening in the cave's mantle. (There's nothing convenient about it, really: it's why the icon was placed there.) We wander off into the gloom as far as we dare – or as far as our cheap torch will allow us to dare – before starting our re-ascent, followed by our re-descent.
For those who've brought their swimming costume – I don't have one – there's a swim-hole to play in. Whilst my cadres are busy doing that, I will introduce myself to the pleasure of Laotian coffee (café pakzong). The Laotians ship their Robusta south of the border, where it's made into instant coffee, and save the superior Arabica for domestic consumption. This ground bean is filtered through a kind of muslin cone and then sweetened with condensed milk. Unless one has an exceptionally sweet tooth, there is no need to add sugar. Served in a short glass, it makes for a pretty strong blend, and maybe the best coffee I have ever had the pleasure of tasting; within 20 minutes of finishing my first I will have ordered a second in preparation for the cycle home.
That night we went for pizza at Falconi with Al and L, and got talking to the various faces that some of us could place somewhere, or were in the process of placing. There was a real communal feel to Vang Vieng. It was if everybody knew each other by only a few degrees of separation. The proprietor of Falconi made every effort to interact with his clientele and referred to Koh Phangan by name when predicting the future he thought this serene little town might have in store for itself. A shame, one might think, although this potential was still a long way off, as evinced when the town's electricity supply was shut down at about 23.00. A generator swiftly booted into action but only to supply enough energy for a single bar, where everybody who was still up for a bit of action subsequently convened. Even then it was made clear that there was limited time at our disposal and anybody looking forward to an all-nighter had come to the wrong the place – for tonight at least.
Al and L had another outdoor excursion lined up for us the next day: tubing. Our Japanese friend in Samui had expounded on the subject somewhat, as had J (Mk.2) in Bangkok. My antipathy towards water put me on my guard, although the shallow river running through Vang Vieng conjectured I could cope.
Alas, it was not to be, as I suffered something of a faulty digestive system that confined me to my room for much of the day. By evening I had made a full recovery – so much so that I ordered fresh-water fish for dinner – and hoped that the positive reports I heard back from my companion, Al and L might motivate a repeat performance on any of the coming days.
Such disappointment aside, the evening was a very active one. Another visit to Xayoh Café precipitated a meeting with some of the friendly Americans who had been out and about the night before, a trip back to their hotel room for light refreshments, and then a walk down to a Full Moon Party taking place on the previously alluded to ait.
Now it would be my companion's turn to fall foul of whatever was troubling stomachs around these parts. Ordinarily, one might have assumed the fish to be responsible, but if this was true then surely I would have been doubly aggravated. Whatever she had picked up, it punished her far more severely than it had I (assuming our conditions shared an ancestry), and she spent a brief time feeling very unwell before disgorging her stomach of its contents in a spectacularly oral manner. Such manifestations can often bring relief, but it was not to be.
And so I took my companion back to our guesthouse to convalesce and re-joined the party alone. But I was not alone because there were people there. I sat myself down, in front of a conflagration of coals, next to a seven foot Swedish man, and together we babbled away into the early hours of the morning.