17. Luang Prabang (Continued)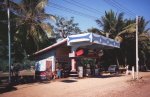 Fri, 24 Oct 2014
Later that evening a large group of us (the same who I had spent the day with, plus Yam and Samya – a double act who were slowly creepy up the bill) sampled the curry at Nazim. I opted for the Tikka Massala, which proved to be a good choice. I'd normally go for something a bit more aggressive but they don't hold back on the spices in Southeast Asia. In fact, the curry at Nazim was so good that on any given night during our stay in Luang Prabang, at least one member of our growing entourage could be found dining there.
After dinner, we all bowled down to the Hive bar. There were to be no heightened levels of intoxication, though; it had been too civilised a day for that. Besides, everyone was stuffed.
24/01/03: Power cut; random café with L; Xieng Thang with colleague and L; tea at Nazim with M (Mk.2); Hive Bar with all.
25/01/03: Emails; Scandinavian Bakery on my own; walk around town on my own; Nazim with colleague, L, M (Mk.2), Welsh L & K, Yam & Sasha; party at Yam & Sasha's; Hive Bar with companion, L & M (Mk.2).
26/01/03: Scandinavian Bakery on my own again, and back later with my colleague; see photo exhibit by Henri Thenard; coffee/stroll/beer with colleague, Welsh L & K; bookshop and Hive Bar with companion; a new bar for tea; drink back in Welsh L & K's room.
I had to put a stop to L's tour operations. I enjoyed our trips, and I appreciated her efforts, but Luang Prabang had so much to offer of its own that one just had to spend at least a couple of lazy days there. I managed three.
            The next day we had a peek at Wat Xieng Thang – replete with smoking monks – possibly the most impressive temple in Luang Prabang, if not radically different from all the others. For high tea, I hooked up with M (Mk.2) for a second visit to Nazim, before meeting up with the rest at – wait for it – the Hive Bar.
I shunned the invitation to join 'the gang' for a return visit to Kwang XI Waterfall, and to swim in the lagoon there, and seized the opportunity to spend some time alone. I took breakfast at the Scandinavian bakery – for despite it not living up to the Vientiane branch's precedent, it was still one of the better cafes in town – wrote some postcards, and then wandered aimlessly, taking photos of this and that, trying hard to appreciate how far flung a place I'd found myself in. I made good progress before the midday sun beat me back; the nights may be cooler than in Thailand and the humidity lacking, but at two in the afternoon it can still get pretty hot in northern Laos.
Yet Luang Prabang was far from being off the beaten track. It had hotels and European styled cafes, and gift shops selling local art at exaggerated prices. It had ex-pats and it had an airport. The rich and famous have been known to holiday there, and what I was getting out of it wasn't really very different: I may not have had a pool to lounge beside, or petals spread across my freshly made bed – or even a freshly made bed – but I was looking at the same things, breathing the same air and eating the same quality food – to my uninformed palate, at least. Further, I had the protection and the good company of the biggest entourage since my time spent on Koh Phangan. What could be better?
On their return, Kwang XI Waterfall has everyone gushing – they'd even been allowed to stroke some dopey tiger. (I allude here to rumours that such beasts are, more often than not, tranquilised for your pleasure. In this case the tiger was a young orphan, possibly mollified by trauma, and my colleagues had been informed that nothing could have been further from the truth.) The day's success begets another visit to Nazim and a low-key party at Yam and Sasha's, who, like L and M (Mk.2), are co-habiting for financial reasons.
But there is agitation amongst the ranks. L is quietly casting specious aspersions as to M (Mk.2)'s character, making out that he's been giving her something of the creeps. In turn, I'm not sure how thrilled Welsh L & K are about L's company. The signs are there that Welsh L & K could be the most convivial people we've met yet – K and my companion seem to be hitting it off, in particular – but I feel our association with L might be getting in the way of this incipient comradeship developing any further. Yet, when the party finishes prematurely, L and M (Mk.2) accompany me and my colleague to the Hive Bar with no apparent ill feeling between them. Is L two-faced or merely fickle, I wonder?
Anywhere else and I'd be thinking of moving on. I think L already is, but Welsh L & K are a day behind our schedule. What's more, they feel that they rushed Vang Vieng a bit – not realising fully what it had to offer but hearing all about it since – and fancy stopping off there again on their way back to Vientiane. This makes good sense if only to break up the journey, which would take about 10 hours, if taken in one hit. Welsh L & K have not made definite plans from there, but I gather that whatever they decide to do will involve returning to Bangkok first.
            My colleague and I had originally intended to head east from here into Vietnam, possibly stopping off at The Plain of Jars along the way. This strategy had run into problems when we'd tried to obtain the requisite visas back in Bangkok, on account of the Chinese New Year, its hold as national holiday in Vietnam and the subsequent closure of its embassies. We'd been led to believe that purchasing a visa at the border was a viable option, which kept open our options when we'd struggled to find anywhere in Vientiane to acquire one (in retrospect, this may also have been an option when effecting one's transfer into Laos). Having said that, I'd heard some murky stories relating to Vietnamese Customs, of people becoming stuck at the border, possibly being refused entry for not having a visa, and of finding the locals less than honest when one they eventually settled down there. Whatever the truth behind these tidings, I have now become very wary of the idea of going to Vietnam – or at least towards the journey into its interior – but my colleague is still keen, as it transpires is L.
Fortunately for me, though, an imposing poster in the local internet café has piqued my companion's interest. It is advertising some place in Cambodia called Angkor Wat, "where you interface with God," which L has actually been to and cannot recommend highly enough. I say 'fortunately for me' but I know nothing of Cambodia, other than the starving children my grandmother demanded I consider whenever I failed to finish whatever food she'd prepared for my younger self. It is, in truth, a poorer and more alarming country than Vietnam, but if we decide to go there – and it looks like we might – then geography dictates that we must first return to Thailand.
I would actually suggest we stay in Laos, cut the rest of Southeast Asia loose, go see those jars and then maybe cross back over the Thai border to the west and move onto Chiang Mai – everybody raves about the place. There is a problem, though: our Laotian visas expire tomorrow. There are a number of ways to approach this situation. We can head for the border NOW – be it the border with Thailand to the west, or the opposite eastern division with Vietnam – take our chances and pay the fine for overstaying our visa if we are unable to make it there in time. Or we can submit our current visas for extension in one of the local travel agents and pick up our amended passport in Vientiane within five days, where someone will have driven it for the extension to be granted. In Luang Prabang we're stuck in the heart of Laos, so a run for any of Laos' border crossings is going to take the best part of 10 hours, whichever direction we take. I think I quite like the sound of Welsh L & K's stopping off in Vang Vieng scheme.
After gingerly handing over my passport to a woman who assures me that all will be well, I look forward to a final day's relaxation within the environs of Luang Prabang, our next major move pushed safely to the back of my mind. Alone, I stumble upon a gallery run by a French photographer called Henri Thenard, exhibiting photographs he's taken of the local hill tribes, pretty much untouched by modern civilisation. Then I re-join my colleague to explore the town further. Later, we hook up with Welsh L & K. After a few drinks, they invite us back to their hotel room for more drinks. It is a pleasant evening and I decide that, if forced to choose, I'd be more than happy to follow their trail, rather than the pro-Vietnam L's.
27/01/03: It's Monday; get the 10.00 bus to Vang Vieng; book back into Amphone; food by the river with colleague, Welsh L & K and a few Germans; Xayoh café with Welsh L.
28/01/03: Breakfast at Sabaydee Restaurant; hire bikes and head north with my colleague, L, Welsh L & K – colleague has a crash; beer at sunset bar; drinks on guesthouse balcony; Pizza Falconi; Xayoh Café + Yam (but no Sasha!); more drinks on guesthouse balcony.
I've resisted the temptation to sleep in of late, and the more civilised pace of drinking has ensured I have succeeded. I am glad of this because the mornings in this part of Laos are something to behold. Night-time temperatures typically dip as low as 15°C and induce a strange morning mist that one doesn't see in the country's more southern provinces. Then, come about 11.00, the low lying cloud very quickly burns off to reveal the sun and the temperature quickly rises by about 13°C. It's another reason to catch the early bus, because there's not much worse than hiking your luggage around town and having to find taxis when the sun's battering you about the head.
            Everyone is present and correct: myself, my colleague, Welsh L & K, and L. Being a fairly organised lot, on arriving at the bus terminal I've enough time to stroll across the road and inspect Luang Prabang's local stadium. It's a modest affair but a continuous concrete structure low enough in aspect for me to take photographs that do it justice.
            Our coach is in far better nick than the one that brought me and my companion here, yet only marginally more expensive. It's also populated by a mere smattering of passengers, most of who are travellers (although we will pick up a fair few locals along the way). The journey is far less strenuous than before, and we even stop off at a relative service station of a café in a small town by the name of Pho Koun (I cannot verify the precise location). This is in stark contrast to some of the villages we pass through, which are completely subsistent and more representative, I should think, of the way the majority of Laotians live.
            No longer hampered by the aisle, I get to better appreciate the scenery this time around, although the heat haze obscures the view somewhat. We're at least 1500 metres above sea level, and it could be significantly more. We pass the odd cyclist, presumably engaged in some sort of charity bike-ride, and I wonder whether they knew what they were letting themselves in for when they embarked on this 'Tour de Laos'.
            We arrive in Vang Vieng at a reasonable hour, book back into the same hotel and are even given the same room. My companion and I nip out for a quick drink and then meet Welsh L & K for dinner down by the river, joined by a few Germans they've bumped into somewhere along the line. Everybody is tired but I manage to persuade Welsh L to join me for a few drinks in Xayoh. It's not a foolishly heavy night by any means, but one could argue that it shouldn't really be any sort of night at all.
Despite insisting on celebrating my return to Vang Vieng the evening before, I'm in relatively fine fettle today and, after breakfast, very up for hiring more bikes. Our destination is a winery four miles north of Vang Vieng in the village of Phoudinaeng, and everybody who caught the bus yesterday is involved. Their speciality is Mulberry wine, and they serve food as well, the organic and vegetarian slant appealling to Welsh L & K. None of this particularly moves me, but I like exploring the countryside and I could do with the exercise. The wine isn't great but the tea is good and the plantation has a nice vibe about it. It makes for a relaxing hour, sat outside talking, those karst outcrops providing the perfect backdrop.
On our way back towards Vang Vieng we decide to take a detour towards the river that runs through it. I find a suitable dirt track and take the lead. About 20 metres along, I meet a field rampant with hairy, horned cattle. Aware that cycling into said field might not be the best thing to do, I hit my brakes and command my entourage to do the same. The inconsistently feeble nature of our bikes' breaks ensures our party decelerates at varying rates, which precipitates a collision with my companion's front wheel and Welsh L's rear one. As a result, my colleague is thrown beyond her handlebars and face-butts the ground. Everybody pauses in macabre anticipation. Inspection of her face reveals grazes of varying severity to her chin, nose and mouth. My primary concern is the one to her mouth; has she split her lip or, even worse, broken any of her teeth? Fortuitously, there seems to be nothing serious amiss, but the expedition is curtailed and we make our way back to the establishment that hired us the bikes.
            Yet my colleague's accident is not without its benefit: it seems to bring the group together and there's no question that we'll not be spending the evening in each other's company (I felt my last night in Vang Vieng deserved this sort of send-off). Everybody is keen on the idea of eating out at the excellent Pizza Falconi, and the suggestion that we have a few pre-dinner drinks on our guesthouse balcony is met with real vim. Sure, the pain to my companion's mouth prevents her from eating solids, and she can only just about manage to drink her vodka through a straw, but the alcohol serves as an emollient and eases her pain.
Later after dinner, we're joined by Yam (no Sasha) at Xayoh Café for a couple of rounds, and we finish off with a few more beers on our balcony. My colleague may not concur, but I've thoroughly enjoyed my second stay in Vang Vieng.