23. Phnom Penh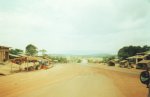 Sun, 26 Oct 2014
15/02/03: Taxi to Phnom Penh; book into Last Home; go for a drink at the Foreign Correspondent's Club with O and colleague; eat and drink with all back at guesthouse.
This is Asia. Phnom Penh: total mayhem, a million motorcycles jostling for position, lorry with widescreen visor, elevated bicycle taxis, and a minor crash witnessed every couple of minutes spent meandering around this insane city.
One feels very postcolonial here. Looking down from the balcony of the FCC, you half expects the city to burst into civil war at any moment. It doesn't, of course, and given the energy levels of local city folk it is unlikely it ever will. Still, it's a strange atmosphere that pervades this most Asian of cities. The taxi-drivers sleep in hammocks on the street, and on every corner lays a mosquito net with some cocooned Khmer dormant within. Street urchins constantly assaulting you – too far off the beaten track one dare not venture. 
But a strange dichotomy exists here: In the most evidently poor of the three nations I have visited, it is here that I find my tourism the subject of the most organisation and expense. The Killing Fields and the Khmer Rouge prison, S-21, should be seen, but they come at a price. And for $20 I am more than welcome to visit the local firing range and release a cache of ammunition from an AK-47 semi-automatic machine gun.
The next day and we're to take our hangovers to Cambodia's capital. We know where we want to stay in Phnom Penh because O – who now appears to be operating a day ahead of everyone else's programme – has emailed us the address of the guesthouse he's booked himself into, and we fancy we might join him there. We've not hired a private minibus so as to avoid any more clandestine goings-on between driver and hotel. Instead, the proprietor at Mealy Chenda has booked us seats on a daily public service that runs between Kampot to Phnom Penh, and they will be picking us up shortly. The journey is scheduled to take approximately four hours.
I'm ready and waiting when the first minibus turns up. Our party currently numbers six (in case you've not been keeping track) but there's no way we're all going to squeeze into this vehicle. Two of us, perhaps, if it's entirely necessary – I cannot presume that the second minibus is empty either – or maybe three or four of our rucksacks. The driver is gesturing for me to get myself on board. I try to explain that our group comprises of six and he appears to wonder what point it is I'm trying to make. Welsh L to the rescue – he's far more adept at this sort of thing – but no, it appears that this is it, this is our minibus; there is no second vehicle. The passengers already on board – locals all – start adjusting their position to make more room for us, which is very nice of them but there simply isn't the physical capacity for another half a dozen people. Stupefied, I take an uncharacteristically firm stance on the matter: I'm not prepared to travel in this vehicle, even if it means me and my colleague abandoning the rest and going it alone. F is equally adamant, his six and half foot frame precluding his involvement whether he likes it or not. As every member of our entourage completes their own private inspection of the vehicle's swamped interior, unanimity is promptly reached. Our only option now is to hire taxis.
The proprietor of Mealy Chenda, who organised the pick-up, is completely flummoxed. He genuinely cannot understand why we'd be reluctant to travel in this way, practically sitting on top of each other – maybe actually sitting on top of each other – and reckons that we'll rue our decision once we realise how much more money taxis are going to cost us. This runs contrary to every other situation we've been in where it's presumed we've so much money that expenditure isn't something foreigners factor into their decision making. Well it is, but right now I don't care if it costs us $30 each to get Phnom Penh. At least we'll be dropped off at the intended door… probably.
It works out just fine. The local bus station draws blanks but we are approached by a man who can arrange for us to be driven to Phnom Penh, to a destination of our choosing, for $10 a head, in actual cars. The only slight hitch is that my colleague, F and I will have to share with our prospective driver's four year old daughter, who he is looking after today, whilst Welsh L, K and G will occupy the second car. F has proved himself to be good with children, and I'm good with maps, so I'll take the front seat.
The child is generally very well-behaved – as children in these parts generally are – her patience only momentarily wearing thin, before tiredness finally gets the better of her about an hour or so before we breach the capital. Moreover, our driver will make a brief stop along the way to furnish his passengers with liquid refreshment – it's all part of the service.
When I dream of my travels now, it is sometimes a reinterpretation of this phase of my journey that my mind decides to access. Why the hell it doesn't fall back on the more vivid moments that affected me earlier on I cannot at all understand. We pass through a quotidian Asian landscape – flat, parched fields, small dusty towns, narrow straight roads – there is nothing remotely spectacular about it. Perhaps that's the point, my subconscious finding some sort of sense in the ordinariness of the situation; sitting in a car, watching the world go by, making small talk with our driver. I could appreciate this more if it wasn't for the fact that, in my state of repose, my brain decides that it was dark when I passed through here, and that I wasn't passing through here at all – I was spending the night there. I think my memory confuses the area that National Highway 3 passes through with that first night in Koh Kong, and splices the two to create a faceless, slightly sinister representation of Cambodia, where nothing much actually happens.
Our driver struggles to find his way around Phnom Penh. I don't think he goes there often. One must be mindful of the fact that this is just some guy from Kampot who's sensed an opportunity to earn a little hard currency. Our maps aren't detailed enough to make the job any easier and, door-to-door, it probably takes us nearer five hours to reach Last Home Guesthouse (which could well have been the case if we'd forced ourselves into that minibus too, for we may have been the last of its passengers to be released). We remunerate our driver for the inconvenience and book ourselves into what turns out to be tolerably spartanic accommodation.
Last Home Guesthouse is a large building. Each floor has been partitioned off into about five rooms, with communal showers and toilets situated at the top of each floor's stairwell. The dividing walls are slight of build and glass panels about a foot tall separate them from the ceiling. The walls are painted white, there are no windows, and furniture has a limited presence. There is a balcony at the end of the corridor overlooking the street at the rear. The place does appear to be clean, if cluttered, and the dining area downstairs opens out onto the street with a view over some sort of park (there's greenery, but concrete too). There are bars and cafés within discernible walking distance.
Fatigued from both the journey and the previous night's exuberance, the majority rules that we retire to our rooms for a while. But not I, nor my colleague, and O's got no such excuse. Sihanoukville felt strangely soulless, and although Kampot had a certain essence it was still pretty sedate. Our most recent stopover in Bangkok seems like an age ago now, so I feel it's the right moment to reacquaint myself with a more oppidan way of life. Let's take a stroll, find our bearings, see what this metropolis has to offer.
First impressions are of a youthful, burgeoning populace moving about at great speed. Amputees are a common sight; bucolic martyrs, now useless in the fields, driven to begging on slattern streets. There are too many children about – too many people generally. And my first impression – although it comes gradually – is that we are being regarded quite differently to how we were in Bangkok. I feel that there's more thought coming our way, and that the people here have notions of what we're doing here.
What are we doing here? Partaking in tourism, I would think, but of an odd sort. One would probably find it hard to convey to someone who's not been to somewhere like this why it is you would want to come to somewhere like this. It feels a bit like that first week in Bangkok, but darker, poorer…
It's all too much, and I don't hesitate for a moment when O enquires if my colleague and I might like to visit the Foreign Correspondent's Club for a cold beer. This country's past can be pushed aside no more – I now understand why my Grandmother asked that I consider these people who had nothing, but now have more, but not much more. And she was just taking John Pilger's word for it.
But I can't help feeling so very… white. Sitting in the FCC, under-dressed – in need of a linen suit – it's like I've stepped into another era, probably one where the colour of my skin buys me privilege, but also puts me in some sort of unspeakable danger. It is, however, entirely possible that I'm over-sensitising my situation and that my cadres are experiencing nothing of the sort.
16/02/03: To the Killing Fields and S-21; recover, and write notes back at guesthouse; Happy Pizza for tea; drink on hotel balcony with my colleague, F and G.
Time is precious for G, and Welsh L and G's sister, K, are pandering to that. Further, G has formed quite a bond with F, sharing a room with him to keep their mutual costs down, which generally means that F has become a de facto member of their clan. Conversely, L, O and I have been inclined to navigate our territory at a much more leisurely pace. As it was with L in Laos, it sometimes pays to have people around who are more focused – or more obliged – on using their time productively. So today we're off on a jolly to Choeung Ek, the most infamous of all the Killing Fields.
The Killing Fields, for those unfamiliar with the terminology, is the collective name given to the numerous agrarian plots where Cambodian dissidents, perceived to be enemies of the Khmer Rouge, were taken to, summarily executed and then buried, normally in mass graves of their own making. It was genocide on some scale, fuelled by the paranoid tendencies that often accompany regimes intent on implementing radical social change. As tends to be par for the course with such things, nobody was safe – not even members of the Khmer Rouge – but being of an intellectual bent, a member of what one might call the professional class, of differing ethnicity, or even a Buddhist monk, placed one at particular risk of death. It is estimated that well over a million corpses rest in these crude graves, although the Khmer Rouge were indirectly responsible for the creation of many more, through starvation, overwork and disease.
When one considers it, it's weird what people do in the name of dark tourism. Maybe we like to remind ourselves of what we hope we're not capable of – or of what people are capable of under circumstances hopelessly alien to their own. But might it not seem a little odd to those who lived through it all – and are still living with the consequences – that citizens from far-flung states willingly come to ponder over another nations' tragedy? How does it affect the host? What do they then feel: appreciation, disgust, shame?
The fact that so few people survived that first wave of horror means that, for the most part, your average Cambodian will be too young to remember the full savagery meted out by the Khmer Rouge. Because of this they may not feel a strong emotional attachment to what went on, or the sense of outrage befitting somebody who witnessed it first-hand. Furthermore, this was genocide in its purest form, perpetrated not by an outside agency but from within. In this respect, it has more in common with Stalin's purges than Hitler's holocaust. Still, why would someone from an entirely different continent (and from a continent that did so little to intervene at the time) want to come and survey so morbid an aftermath?
Maybe because I'm the sort of person who thinks like this, I find myself taking as much interest in the several beehives protruding from the eves of the large stupa built to display 5000 random skulls in memorial as I do the 5000 unearthed skulls. These bees are a sinister presence in themselves, and I'm wary of them. On closer inspection, the skulls are more sinister still. Peer amongst these bones and you will find that many of them are damaged. Whilst some of them have probably degraded naturally over time, most were revealed in this condition: beaten, smashed in whilst life still breathed from them.
A turn around the shallow graves reveals yet more ghoulish artefacts. Shards of bone, traces of cloth and people's teeth are clearly visible in amongst the leaf-litter and topsoil. Whilst you're taking all of this in, there are children on the other side of the fence asking you for money (don't give them any – the staff don't like it).
And then off to S-21, or the Tuol Sleng Genocide Museum to give it its full name. Security Prison 21 used to be a school until the Khmer Rouge commandeered it to incarcerate and torture its enemies. It lacks the subtlety of Choeung Ek with many of the makeshift cells left exactly how the Vietnamese found them when they finally drove the Khmer Rouge from Phnom Penh in 1979. There are photographs of what they found, of the dead strapped to bare metal beds, recently executed by their fleeing captors. The same beds remain, as do the blood stained floors beneath them, a grim testament to the slaughter that occurred here.
In other rooms there are blown-up photographs of some of the estimated 17,000 prisoners that were detained at S-21, taken from the records their captors left behind. Others contain apparatus of torture, such as water-boarding devices. There are manacles and there are more skulls. There are also crude paintings of interrogations in progress, drawn by Vann Nath, whose artistic ability ultimately spared him: rather than have him killed, Comrade Duch, who ran the prison, had him paint portraits of Pol Pot.
Here are the 'Concentration Camp Rules', translated from Khmer and on display in the courtyard as you see them:
1. You must answer accordingly to my question. Don't turn them away.
2. Don't try to hide the facts by making pretexts this and that, you are strictly prohibited to contest me.
3. Don't be a fool for you are a chap who dare to thwart the revolution.
4. You must immediately answer my questions without wasting time to reflect.
5. Don't tell me either about your immoralities or the essence of the revolution.
6. While getting lashes or electrification you must not cry at all.
7. Do nothing, sit still and wait for my orders. If there is no order, keep quiet. When I ask you to do something, you must do it right away without protesting.
8. Don't make pretext about Kampuchea Krom in order to hide your secret or traitor.
9. If you don't follow all the above rules, you shall get many lashes of electric wire.
10. If you disobey any point of my regulations you shall get either ten lashes or five shocks of electric discharge.