23. Phnom Penh (Continued)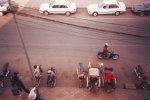 Mon, 27 Oct 2014
How much time has to pass before the testament of horror can be reclassified as entertainment? When does viewing the detritus of internment, torture and execution become a legitimate pursuit? What's considered a 'safe distance' from whence we can take a good look? There was a time when one would have baulked at the thought of going anywhere near Aushwitz-Birkenau. Now you'll find it under the 'In and Around' section of any travel-guide to Krakow, footed by a sub-paragraph headed 'Getting There'.
            Take yourself down to London Dungeons. There you will find depictions of, and references to: the Bubonic Plague (which claimed over 75 million lives); mechanised torture of various forms; Bethlem Royal Hospital (where the mentally ill were routinely chained to the walls, and people then paid money to laugh at them); and Jack the Ripper (a very nasty piece of work by any era's standards) – all presented in a deliciously playful manner. One might call it gallows humour, and I understand that as a mechanism so designed to cope, for violence is a timeless endeavour that begs we deal with it. But at what node in time does something of an appalling nature become so neutralised as to render it a source of mere dissipation?
On our return home, everybody is up for a little drink – there's nothing like an ice-cold beer after a day spent poring over mass graves and concentration camps. Or if we like we can go and fire AK-47s ($20 a magazine), our chaperones tell us with a wry grin. The general consensus is we stick with the beer. I wonder if I'm the only one who's secretly tempted to take them up on the offer.
            My drinking marches on, then, but at a civilised pace. However, I get the feeling that tonight might be another big one. Whilst everyone prepares for dinner at Happy Pizza a few doors down, I choose to remain downstairs, to write notes, sup another cold beer and watch the world pass on by.
I actually think I quite like Phnom Penh and I am growing fonder of Cambodia as a whole. I'm not so keen on those three American quinquagenarian sex-pests staying here, exchanging tales of licentiousness and of how they've 'still got it'. (One guy as good as says this, and goes into great detail, too. One of the others, not wanting to be outdone, duly lays claim to having an identical experience. They are all overweight too, which would be irrelevant were it not for the undoubtedly diminutive physiques of their supposed conquests. What they're essentially trying to say is that they're so good in the sack that they're capable of pleasuring prostitutes over 20 years their junior and half their size.)
Happy Pizza was as good as I'd hoped – almost as good as Falconi in Laos – and the evening was a very happy one indeed. Nights of revelry aren't really of much interest to those who were not actually there, so there's little point in going over the detail. Suffice to say the evening was something of a revelation, for near the evening's end my colleague, F, G and I took to the balcony at the back of the fourth floor of our hotel to find the day's busy streets to be utterly deserted. Until now I'd considered Phnom Penh to be a crumblier and dirtier cousin of Bangkok, but really it wasn't. Nor was it anything like Vientiane, which had been relatively peaceful. But it was as busy as Bangkok by day and as quiet as Vientiane by night – that was all. And from our shallow concrete balcony we looked back along our hotel corridor and laughed hysterically at rats the size of small dogs. The city was deathly silent, the roads ridden with cracks and potholes, the buildings gashed with filth, and our minds infused with a little madness.
17/02/03: Welsh L, K, F and G leave for Siem Reap; develop some photos; dinner at The Globe with O and colleague; a few drinks at the FCC and a few games of pool.
18/02/03: Central Market with my colleague; Wat Phnom, with O too; internet café on my own, then to the café next door; Royal Palace and the Silver Pagoda with colleague; dinner at guesthouse and play some cards; a few drink in the Blue Lagoon just next door.
19/02/03: Am sick; change up money; Royal Palace and Silver Pagoda with colleague and O; FCC for coffee; tightly contested game of cards in the evening.
On Monday, Welsh L, K, her brother, G, and F departed to Siem Reap. Siem Reap is near Angkor Wat, and a lot of people probably wouldn't even bother with Cambodia were it not for Angkor Wat. The reason they were going now, after spending only one whole day in the capital, had much to do with G's limited term here and him wanting to experience as much as he reasonably could within that restriction. Angkor Wat promised much and I think they intended to allow themselves enough time to explore it thoroughly, assuming that it did ultimately live up to the high expectation. Something had to give and that something was Phnom Penh. I wasn't ready to leave Phnom Penh and I was also a little weary from all the traveling we'd done of late, having not fixed ourselves anywhere for more than one day since leaving Koh Chang. Fortunately, my colleague saw similar potential in staying in the capital for a few more days, as did O.
            The first day was spent doing nothing much in particular. I developed some photographs – and would have developed more if they'd been processed to a satisfactory standard – and ate out at The Globe. The Globe wasn't the sort of place I could have afforded back home, and in truth I felt a little under-dressed there. The food was good though, and it helped perpetuate this 'Graham Greene abroad' type thing I was feeling, now we'd entered a country that wore its colonial past a little more openly. Suitably, we followed this up with a few drinks in the FCC, and then called it an early night.
            We still weren't ready to leave the capital the following day either, but made more of a fist of it this time around. First up, we headed to Central Market, which reminded me of the Pannier Market in Plymouth, except circular, yellower, and about twice the size. Dating back to the 1930s it's also about 20 years older than Plymouth's indoor bazaar, which makes its condition all the more admirable. The similarities only really exist in the functional characteristics of the architecture, culminating in vast re-enforced concrete ceilings that give these markets an airy, spacious feel. Such calm is disturbed by the pushiness of the traders and the relentlessness of the landmine-scarred beggars. It can get to you after a while, but nobody's physically aggressive and a firm 'no thank you' is normally enough. Unless, of course, you actually fancy wearing a T-shirt with 'Danger: Mines' emblazoned across the chest. (I did, actually, but they didn't have my size.)
Come the afternoon and we set about exploring some more, this time to see the Royal Palace and the Silver Pagoda – both worth a look. I realised that Phnom Penh rewarded the traveller who moved about it a bit, because at first there didn't appear to be much about the place. The older buildings tended to all look the same, and even the more modern elements we passed through on the way to the Killing Fields appeared strangely uniform. Instead, one should seek out the open spaces: the promenade along the river, or the parks and the wide boulevards. The pace of life seems slower there, the Cambodians themselves more amiable and relaxed.
It was never somewhere I could feel completely at ease, Phnom Penh, although if I were to live there I might. I would need the appropriate attire, I think, and enough money to eat at places like The Globe on a daily basis, and drink nowhere else but the FCC. That way I could get off on my environment in a way the itinerant backpacker never could. There's an edge to Phnom Penh that is of no use to those merely passing through. If you were a citizen here, and the indigenes could take you more seriously, I suspect that Cambodia might open up to you and reveal something else altogether, whatever that might be. I can never be entirely sure of this because the evenings seemed to confine us to the area surrounding our guesthouse. After dinner, more cards and a few beers I was always ready to stalk the city in search of the appropriate nightlife, but my colleague and O weren't entirely game. We made it as far as the Blue Lagoon next door, a forgettable place which shared exactly the same view as our guesthouse, but charged more for the privilege. So I got drunk to get over the disappointment of not finding somewhere better to get drunk.
The next day I paid for my obstinance, disgorging the contents of my stomach for (only) the second time on my trip. I didn't even feel that bad and coped with the changing of more money, a second visit to the Royal Palace, a cup of coffee at the FCC, before playing some more cards and taking a very early night.