The BC Adventure 11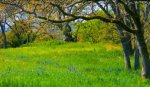 Tue, 12 Apr 2016
February 12, 1921
Dear Mums, Daddy and Dorothy,
We went to the Scott's house for tea. Beryl showed me her diaries. She said she got into the habit because her grandfather who was a vicar here, kept a diary for many years – just making note of the every day things that happen. She is also quite an artist, and when there isn't much to write, she draws a clever little picture in the spare space. I got her to copy a bit out for me so I could show it to you. As she says, we are having a real mixture of seasons – snow and plum blossoms at the same time.
We are finding it a bit of a struggle this winter, financially, because there is no money to be made in strawberries in the winter. So Joey and I decided we would use our skills as seamstresses, and
become piece workers for a Victoria clothing firm, making men's trousers. And we found that we could also do a good job of putting shingles on the roofs of the little cabins that are being built locally. We plan to move into one when we get it done. We will only be able to rent it at a cheap rate until May, as that is when the summer lets come into their own.
Dick and Una bought a milking cow – which they will have mainly for their own use, but also make cheese and cream to sell.
Dick and Mark have done some research on the yellow violet business, which does well in some of the American southern states. The plant grows wild here so it is a matter of collecting the specimens and nurturing them, and then selling them on. They are thinking they might clear some of the strawberries out and sell these as well, as they have a longer season, and are worth a lot more money.
I'll tell you a bit about them. The Yellow Montane Violet is a small perennial herb measuring 5 to 20 cm tall. The short stem may be leafless or it may have a few reduced leaves. The dark green basal leaves are densely or sparsely hairy and are are oval with slightly toothed margins. The plant occurs in woodland and meadows near the sea. Apparently they don't like shade. The leaves emerge in the early spring, and the shoots come out in March and are fully leafed out by late April. We will be trying to get the plants to cross pollinate, so for those we need the blooms that are open in late April and May. The foliage withers by late June and the shoots die back by late July. The seeds are tiny and hard and they are the only method of reproduction. The species does not flower until at least its second year.
Mark has gone to Beaver Cove to discover what is left of the gold rush that happened there. The area is mostly settled with the Kanakas which means Human Being, which is the name given to Hawaiians who moved here in the 19th century to work in the fur trade for the Hudson Bay Company. A series of gold rushes on the Fraser River in B.C. in 1858 led to huge influxes of miners from all over the world. They did had some success in Beaver Cove, where a Mr. Robertt Dinsmuir a very successful coal miner, bought the Lite Claim.
But Mark said there were no claims working at the moment, so his hope of getting work there was not be realised.
Love,
Gwenllian