The BC Adventure 15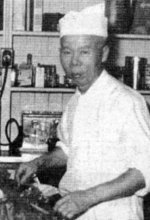 Mon, 18 Apr 2016
June 12, 1921
Dear Mums and Daddy and Dorothy,
 
Una has decided to get involved in the tennis club in a big way and she is now an official member of the club. The Springfords also joined, and Mr Hoole, Tommy, Miss Best, Mrs. Birkett, Miss Frampton and Mr. Shaw. I know those names for the most part don't mean a thing to you, but it shows you how many friends and acquaintances we have made in such a short time. Una is a very good player and seems to be on the team more times than not when there are competitions.
We have also made friends through Una and Dick, with one of the many Japanese families on the island. Mr. Kumanosuke Okano came to Canada about 1896, first operating fishing boats out of Crofton. And then moving to Salt Spring eight months or so before we did, he bought land in the Booth Canal valley and is developing an extensive market garden.
They have two daughters, Sayoko and Kimiko. Mr. Kumanosuke says that the Japanese on Salt Spring must become an integral part of the community, so encourages the Japanese people to give to the churches, such as the fund to buy a new organ for the Anglican Church, giving food to people in need, fighting forest fires on the Island, giving money and labour for projects the benefit the community.
We are being entertained by the Croftons this weekend. They are a very interesting
family. I know I have mentioned them before, but I will give you some more details.
In 1900 Fred Crofton and Nona bought Jack Scovell's 100-acre seafront farm at the head of Ganges Harbour. They set about raising livestock, fruit, vegetables and their quickly growing family of "D's"-- Dermott, Desmond, Diana, Doreen, Denise, Donovan and Dulcie. When Fred went off to fight Nona began taking in overnight travelers and eventually renovated their farmhouse into a 12-bedroom guesthouse, and opened the doors of the Harbour House Hotel. The children provide much of the labour, and the farm itself supllies the food for the kitchen. Their faithful Chinese cook, Billy Eng, has a steady supply of clientele, his food becoing favous to visitors and islanders alike. He was found in Vancouver by one of the Crofton-in-laws. They promised to try to help Billy rescue his wife and son he's left behind in China. I've enclosed a picture of him
.Love,
Gwenllian