The BC Adventure 18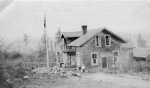 Thu, 21 Apr 2016
Vesuvius
September 20, 1921
Dear Daddy,
You asked to know more about Mark's plan. His group has grown to 10, as Albert Platt and John Lyne and WH Collins have joined them. John Likely who lives nearby in Kamloops has decided to be a silent partner, offering some financial backing but not actively participating in the mining.
The plan is to raise capitol for the project by selling shares at $10 a share. Mark is spending his share of the inheritance from his father's will on his, and his mother has put in quite a bit. Una and Dick are unlikely to risk any money at this time, but might change their minds and join in if it appears that there is a lot of money to be made. I would suggest that you also defer your decision to support the project until you see how it goes.
Apparently Platt and Lyne are making the initial claims, so they are up there already, but the rest of those interested don't intend to go until July of next year. They should know by then the potential of the project. Mark will get regular updates from Albert Platt.
I hope that answers your questions. If you have more technical ones, why don't you write to Mark, as I don't really understand all that much about gold mining.
I am already dreading Mark's trip next July – for who knows how long. I would like to go with him, but he will go on his own first and see if it is a suitable place for a woman to live. I doubt that any of the other men will have their wives with them.
Una and Dick decided to move Peter to the private boys school run by AKN Oxenham. He has an Oxford degree. I wonder if any of you have heard of him. There is certainly a strict discipline at the new school, and it has come as somewhat of a shock for Peter after his little easy going school near here.
Apparently, in 1915 Miss Ashton operated a private school which she called  Formby House. She had a few boarding students and advertised in England for an additional teacher. Mr. A.K.N. Oxenham was offered and accepted the position. He later married her. A few years ago, the school was moved to larger quarters. Miss Leslie Jenkins assists with teaching duties and also with the boarders. But we don't think Peter will be a boarder, so that means taking him each morning, including Saturdays, and returning for him when school finishes each day – quite a long trip, but we can all take a share in doing it.
I've enclosed a photo of the school. It is near St. Paul's church.
Love
Gwenllian