The BC Adventure 19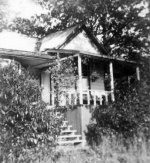 Sat, 23 Apr 2016
Vesuvius
October 15, 1921
Dear Mummy and Daddy and Dorothy,
Mark has had a busy week. He and Cecil went over to the Scott's farm and helped kill sheep. He got payment partly in form of meat, so we shall be having some delicious chops for the next few days.
On Saturday fortnight, we are invited to the Scotts for bridge. It will be the first time we have played since we came – and I am pleased as I really miss the game. I hope we are up to their standard. The Springfolds are also going.
Then at the end of the month we are all going to a big Halloween party at the Harbour House Hotel. The others are getting very involved with choosing and making costumes, but Mark doesn't want to dress up, and I don't want to do it if he doesn't. I will tell you more about it in my letter next month.
Mark is so much happier as he now has his plans in place for gold mining. He spends hours each day reading about the previous experiences of miners who went there. There was a real Gold Rush there in about 1857, realizing hundreds of thousands of dollars worth of gold – and then there was a much smaller but still substantial rush near the turn of the century. I think in the past it was mostly nuggets that were found, while now they will be concentrating on recovering small amounts from rivers, and if they use hydraulic equipment, it grinds through the rock and gravel, and separates out the gold and other precious minerals. Mark said he used similar equipment when he was in Malaysia back before the war.
I've enclosed a photo of the Scott's house.
Love,
Gwenllian