Beyond the Pale - part 2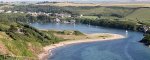 Fri, 27 Mar 2015
March 11
Wednesday bridge again, and as soon as I saw Diana I asked, "So what's the news about your grandson. Has he arrived?"
"Yes, all went according to plan. His father picked him up and then delivered him to their door on the birthday as planned."
"Was your daughter surprised?"
"I should say so. She just cried and cried. But she was a bit angry with me when she realised that I had kept it a secret from her. She had taken time off work the week before in order to do things over midterm with Alan, and then in the end, they ended up not doing much at all. She would have saved her time off, if she'd known."
"How did they cope with extra food and beds, etc."
"Because her husband had known, he had booked a meal out for all of them that first night, which of course was the birthday night anyway, so they carried on with the plans with the new people included."
"And how did he cope with the bedroom situation?"
"He is pretty well organised. After they arrived, and the other brother found out what was going on, it was easy to get Alan to agree to swap bedrooms back – so he went into the single room, and James and Trent had the one with the big bed – and the clean sheets, were all ready to go on."
"If that had been my son, the mess in the room would have taken a week to tidy away – never mind just changing the sheets."
"Well, I think Bob would have been at him to tidy and keep things as simple as he could without giving away the surprise."
"So what does you daughter think of the girlfriend? Did she say?"
"Not really. We could hardly talk about it over the phone with the others possibly in the room, but I get the impression that they are pleased with her. And they are so thrilled to have James home that they would have made anyone welcome in order to see him."
"So are your plans as before? You'll go down next week?"
"Yes, so I won't be at bridge next Wednesday."
"Well, I hope it all works out well, and you have a lovely time."
March 25
At bridge this morning, my partner Diana looked somewhat bemused when she entered the room. Frank and Glenys were again our first opponents at the bridge table.
"Hi Diana. Did you have a lovely holiday?"
"It was pleasant seeing my relatives," she said stiffly.
"Boy that is a loaded statement and a half, " said Frank.
"What you aren't saying is that you weren't too thrilled with the American girlfriend, right?" added Glenys.
"Yes, exactly that."
"What was wrong with her?" I put in.
"She is a self-centred spoiled lazy selfish twenty year old brat."
"Wow, that's pretty specific," said Frank.
"Why do you say that? What did she do that was so awful?" I asked.
"Well first of all, she just assumed that we would wait on her hand and foot, and that she didn't have to do anything. She even asked when the laundry was sent out?"
"Oh no. And what did your daughter say to that?"
"Grace said that the laundry was put into one machine to wash, another to dry, and then it was ironed, all in her very own kitchen."
"Did Trent do her laundry then?"
"She did not. She put it in a basket, and left it outside the door for somebody else to do."
"And I presume they did it," said Glenys.
"Yes. But I sure wouldn't have if it had been in my house."
"Didn't Trent do anything at all to help?"
"When I went into their room once to ask James something, I couldn't believe the mess. Clothes all over the floor and on every surface. I've had daughters and never has either of their rooms looked like that. She even did her makeup on the floor and made even more of a mess."
"Did she help in the kitchen?"
"She never did a bit of washing up or drying dishes and putting them away. She never offered to help cook, except once when I told her I wouldn't make her eggs and bacon and if she wanted them she'd have to do them herself. She did them, but left all the pans and dishes just where they were – dirty."
"You didn't like her at all, did you?" said Frank with a laugh.
"Not one bit. She monopolised James. She hung onto him like a leach. And when they had been out and came into the house, he would come in to the living room to say hello to us, and she would go straight upstairs without a word. Then after a minute she would shout, 'James, come on up,' and he would go. We hardly saw him, and never without her. Even his brother Alan hardly had any time to visit with him."
"Did you go out places with them?" I asked.
"Sometimes we took them places and left them, and sometimes we all went together. And she was always late, even when we started as late as 11.  And she wasn't in the least bit  interested in any of the sights. She just took selfies of herself."
"Where did you take them?"
"One day we went to the beach," (pictured above.) Devon has some lovely little coves."
"Did she like the food?"
"She played with her food. She didn't even know how to cut up her own meat. Apparently her mother cuts it up for her at home. We had roast pork one night and James had to cut it up for her. And she had to have catsup and mayonnaise on everything. She played with her food and left most of it."
"Is she very thin?" I asked.
"Well, yes, and she is an athlete, so I suppose she might not have wanted to eat huge meals, but the thing that upset me the most was the waste. She left more than half of the food on her plate each night. She could have taken smaller helpings if she didn't want it."
"Is she very attractive? There must be some reason that James likes her."
"She's short with mousy brown hair but quite pretty I suppose, but not all that much out of the ordinary. But she gets what she wants, and she wanted James and her determination paid off, and she got him."
"I expect being a Jock and with his beautiful accent, he will have had lots of American girls chasing after him," I said.
"Well, perhaps so, but she was the one who got him."
"You sound so very bitter about it. Do you think she knew how you felt? Do you think James knew?"
"They both knew because I told them in no uncertain terms exactly how I felt."
"That sounds scary. What happened?"
"We were going out for a meal to celebrate Alan's birthday. He chose to go to a Mexican place, and I made a chocolate cake to take with us. There were balloons and banners, and it was all set to be a lovely occasion."
"I can feel a but coming on," said Frank.
"The meal was fine. Trent didn't eat much again, and played with her food, but I expected that by then. But when it came time for cake, I cut it and gave the pieces out. When I came to her, I asked if she wanted a piece, and half expected her to refuse, knowing how fussy she was. But she said she did want some, so I cut her a piece and gave it to her."
"Did she eat it?"
"She cut the icing off, and then took her knife (she knew how to use it for cutting cake) and then she cut the rest of the cake into little squares on her plate. Then she took her napkin and wrapped up one little piece to take home."
"'What are you doing?' I asked her.
"'I don't eat cake,' she said.
"I couldn't help myself. I blew up. 'You are so selfish. You have wasted food over and over again while you've been here. You play with it, and you never stop to think of the money involved in buying it and making it. I have never seen or known anyone as unpleasant to deal with as you.'"
"Wow. That must have stopped everyone in their tracks."
"They did tell me off. My daughter certainly did, but I said what I felt."
"What did James say?" I asked.
"Nothing then, but after we had got back to our house, I called him and said that if he and she were upset with what I said, we would pack up and go home immediately."
"What did he say?"
"He said he wanted us to stay on, and very much wanted to see more of us. So we did stay. And she did eat better after that too."
"But you know Diana," I said, "just in case they are serious, and they do get married, she will make sure that they don't come to England to live. And you will see far less of him if she is unwilling to come back to England to visit."
"Hopefully sense will prevail and he will find somebody else to marry."
"Why did he go with her in the first place do you think?" asked Glenys. "She must have some qualities that attracted him."
"He is too nice. He is just too nice a boy to say anything mean. She wanted him, and he was too nice to say no."
I felt it important to put up a defence of this daughter of  North Dakotan. "You know first impressions of a place can last a long time. We were already married when I came to England and met my in-laws, and they thought I was pretty awful too. They didn't like the way I talked, or my ideas on having our children state-educated. They didn't like my religion and the fact I intended to keep with it and raise our children in it. They didn't like the meals I made for them, and thought my choice of clothes (shorts and sun tops) were ridiculous. And they either said so or strongly implied their impressions.
"And my impressions were negative too. I couldn't stand the weather – and it was cold and rainy the whole honeymoon period which we spent with them and I froze in my shorts and sun tops. I didn't like the long walks and having them laugh at me when I sat in nettles when I 'went to the bathroom' outdoors. I didn't like sitting on the sand and having flies and sand in my food for our endless picnics. I didn't like the ruins that they thought surely were the most beautiful and interesting things in Norfolk. I even turned up my nose at Cambridge University and Stone Henge. At the end of the honeymoon I said something rather telling. 'I hate your mother and I hate your country.'
"If Philip had brought me to England as his girlfriend, I probably would have refused to agree to live here. If I had said we would have to live in the States, he would've refused to marry me."
So I have some sympathy with Trent from North Dakota who likes catsup and mayonnaise. She like me will have spent months anticipating a lovely trip, and being welcomed by her boyfriend's family. Her family welcomed him. She, like me, will have been surprised by how small and  cold the houses are, how different the food is, how awful tea tastes and how you are encouraged to drink it continuously. She won't have any real knowledge of or interest in English history, so being presented with ruins and monuments will be virtually meaningless. She will have, as I did, for years after we moved here, felt very alone, and she will have needed James' constant support to keep her from feeling the whole thing was a huge mistake. But maybe, like me, her love for her man will outweigh the disappointment of his family.