The Census - 8 More about the Suchlas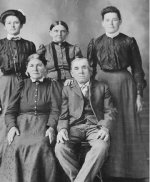 Sat, 20 Aug 2016
April 21, 1940
Dear Clara,
My work is finally over thanks goodness. Iam enjoying my free days, but as I was still very curious about Mrs. Suchla's murder stories, I talked my friend Martha into going back to the Suchla house. Martha is a teacher, and did a few weeks work at a country school before we took on the enumeration business, but now she doesn't have anything to do until September so she was pleased to have an interest to occupy her time. She's never married and is a lodger in a house not far from here. We went on Friday just about 10 and hung around across the road until we saw her daughter, Madeline, go out to the shops.
Mrs. Suchla (Susie, she told us to call her which seemed very odd, considering her age) came to the door eventually, and didn't recognize me. But when I said that she promised to tell me about her husband's murder and how she had supported her family, she came to life. I still doubt if she remembered who I was, but that didn't matter. We were invited in and sat in the living room.
She went into her bedroom and got out the clipping from the Jamestown Sun, and said I could make a copy of it. While I was doing that, Martha went to help her make us a cup of coffee. After our drink and delicious homemade ginger cookies, she started with her story. And once she got started it was hard to stop her. Her English is still quite broken and she has a heavy Germanic sort of accent, but I won't try to mimic how she really sounded.
"My original family, the Smiejas, came from the same town in Poland as the Suchlas, but arrived in 1881 a year earlier than them, and settled in Independence, Wisconsin. We all had friends or relatives there, so we had somewhere to stay while my father and brothers found a farm to buy. There was no longer any free land in that part of Wisconsin."
"How old were you?"
I wanted her to tell about the murder, but I could see that she would have to tell her story at her own pace, but I also knew that our time here was limited, as Madelyn certainly wouldn't be much over an hour with her shopping.
"Me and Thomas were the same age, 15. But both still too young to get serious. But John and Andrew, the oldest two of the Suchlas children got married as soon as they were 21. Andrew and his new wife, Polly Nietchi went off to North Dakota where there still was free land if you lived on it for five years and built a house and cultivated crops."
"So when did the rest of you go?"
"Tom's sister Mary, was courted by JA Woychik, who we didn't really know or like very
much. But he had already had land in the Jamestown area, so in 1891, they got married, and moved there. Mary was homesick and their parents were missing her, and when she said there was land adjoining their's going spare, their father, Sam, sold the land he had bought for $1000 in Wisconsin, (he got $1001 for it when he sold it on a year later) and decided to homestead on the land next to Andrew."
She stopped and got up to pick up a photo from the top of the dresser.
"Here's a photo of Sam and Rosalia, the parents, and their daughters. Mary is the one who married JA and they lived on the next farm. The younger daughter, Julia, didn't get married for quite awhile after that. That lady in the middle is Rosalia's mother, Rose Halama,  who came with them."
"This is very nice. Have you no pictures of your husband?" Martha asked.
"No," Susie shouted. "Will you let me get on with my story." Martha looked very put out.
"So as he was going, Frank and Tom who were thinking of getting married, got themselves girls, including me, and the whole bunch of us moved to this area. We knew practically everybody around already, as most had come from our part of Poland and been in Wisconsin first. There was a Polish speaking priest at Sacred Heart Catholic Church at the nearby town of Fried, so we met up with all our friends each Sunday."
"Did your parents move too?" I asked.
"No, several of my brothers were already married and established in Wisconsin, so they stayed there."
"So did your Thomas get a homestead next to his dad's?"
"No. Frank's was first, so he and Julia Sobata moved there straight away. Her sister Mary went with them, and that is another story completely, ending up in murder."
"Did Frank get killed too?" I asked, not quite believing how unlucky this family could be.
"Don't interrupt me. I'll get to that eventually," Susie said, clearly annoyed.
"Now where was I? John and Thomas and Julia who was still young with their parents, helping Sam settle in, and Tom didn't get his homestead until five years or so later. We had several of our kids by then, so needed to move out as there wasn't enough room for us all."
"But you stayed close by."
"We got land in Courtney, about five miles away, the same amount as the others, 160 acres free if you work it for five years."
"How many kids did you have all together?"
"Ten, but two died young, and it was little Joe's death that ultimately brought on Tom's death. But I don't want to get into that yet."
"I'm sorry for keeping on interrupting. Just tell your story at your pace, but I expect we will need to be leaving soon. How long is Madelyn away when she gets groceries."
"She'll be back to make me lunch at 12."
"Well we had better leave at 11.45 just to make sure we don't meet her, but that gives us another half hour or so. Please carry on with your story. You were telling us about your children."
"Albert was born in 1898, and then Sophia, in 1900 but she died before she was one. Then Peter in
1901, and Joseph, was born about then too. That's about the time we moved. Then Henry, George,
Florence, Gertrude, Mary, and Madelyn."
"No wonder you needed more space. So did you farm your land in Courtney?"
"Yes and before too long Tom's brother John and his wife Mary came up and they lived with us there too. He didn't get along with the others very much, and in particular, Mary's husband. JA whipped him once, when he made a personal comment that JA took exception to. And then when John took him to court, and JA was fined $50, he said it was well worth it, and he would gladly do it again. So that's when he and Polly moved in with us. He sort of took over the farming part, and Tom went into
the blacksmithing trade."
"Did he have his own forge on the farm?"
"No, that was in the town of Courtney."
"Did you still see the others at church?"
"Yes, quite often. So where have I got to. Why do you want you want to know about all this anyway?"
"I want to know about why your husband was working as a harvester, and you were then living
in Jamestown, according to this article."
"The time after the war was very bad for farmers. We couldn't make ends meet. The Suchla men always drank heavy and didn't take responsibility. We had a fire on the farm, caused by Tom, and our son Joey died. I couldn't forgive him so I took the younger children and moved into town. I  managed to rent a few rooms here which was a boarding house at the time, and Tom sent us money home to help with the expenses."
"I just noticed the time," I said. "Can we come back again next Friday and hear some more of your story?"
"I don't care. Come if you want," and with that we put on our coats and left, but only just in time, as we saw Madeline with her heavy bags as we walked down the road.
"I don't think I want
to go again," said Martha. "I don't like her. She had no right to shout at me like that. I was just being friendly. You got your murder details in that newspaper article. I was reading it while she was talking. It doesn't say much other than he was shot in the boxcar and about the funeral."
"I think there are more stories that I want to hear, so I will try to come back next week. I don't mind going on my own, now that I have done it once."
So that's the story up till now. Maybe there will be more to tell next week.
Love
Nan