Day after Day 19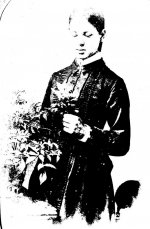 Wed, 17 Sep 2014
Muriel, acting on May's suggestion, wrote again to her half-cousin Edith Wood (pictured above) asking her for the names and addresses of others descended from the Marquis of Winchester.
In reply she received the following letter with a drawn out family tree.:
"My dear Muriel,
Now you say you want to know something of your family, so I enclose a list. I do not say dates are accurate. In the main I believe it to be so but of course I have never had time or money to spend on verifying them. You see I have not put Elizabeth's maiden name in - it is always said to have been Paulet but I have never traced it - so leave it as it stands. You will see the many families sprang from Mr. and Mrs. Burgess's family of daughters, four of whom married. Thom Stanford comes in two ways. Our grandfather's first wife was Frances Stanford, sister to William Stanford who married Rebecca Botting, a cousin of our grandfather's.
You will find James Robinson underlined. Auntie Jeanie did not quite approve of him, because having run through all his money, he was taken in by Alfred Carter, he and his family; just as well, we all thought, he made a good thing of it; perhaps we should have done the same in similar circumstances, at any rate it was lucky for them to have a cousin Alfred King to fall back on.
You asked about the name Linacre, which you say you have given to your house in Worcester. That was the name of our great grandfather, Michael King's house in Cranleigh, Surrey. But the
name Linacre goes back much farther than that.
There was a John King of "Longacre" or Linacre mentioned in deeds in 1663. But as early as 1615 Longacre farm and lands in Cranleigh Surrey then in the hands of Stedman, Yeoman of Cranleigh, according to an old deed. And in 1759 a James Stedman married an Ann King. I have never connected them up but no doubt they are all in the family circle.
You mentioned Mrs. Michell, née King. She married her cousin Matthew Michell as his second wife. It was she that was so interested in the Paulet connection.
It is sometime since I wrote all those things and I have half forgotten what it was I said. However, I now think that perhaps our relative wasn't the 5th son of a Marquis after all, but a grandson. I have had another look in my book of peers of the realm, and I cannot trace Peter Paulet. I don't suppose we shall ever know more, and I don't suppose it makes any difference.
You specifically asked about the ring. As far as I understand, it is now the possession of Mrs. Mary Michell Eager's husband's sister - Mrs. William Eager who I understand gave it to her daughter, Blanche Eager. She is now married to a Mr. Sharp. So who knows where it is now, but certainly not now in our immediate family.''
Having digested the letter, Muriel decided it was time to draw a line under her quest to discover what had happened to an historic family ring. Nevertheless she was pleased to hear about the name of her family home. Her father had told her Linacre was the name of the home of his grandfather, Michael King, who had died in 1821, but he knew no more than that.
She now intended to write up the research which she and May had done into the Marquis of Winchester and his family and perhaps share this information with the members of her WEA
course. She still firmly believed that she was related to the Marquis of Winchester, but in a less direct line that she had originally thought. She intended to continue claiming that she had a drop of
noble blood in her.
*****
 
At Christmas of that year, 1903, John formally proposed marriage to May. However they had no intention of rushing into a wedding. John wanted it delayed until he had completed his studies at Oxford and then found employment.
May was frustrated by the delay, but she loved John and was more than prepared to go along wih his plans.
1904
Muriel King and May Stinton travelled by train to Redruth, Cornwall, bound for the Trethisick Festival which was held annually in Camborne. They rose early, catching the train from Worcester to Birmingham. There they caught the Penzance Express to Plymouth where they changed again, taking a local train to Redruth.
The girls had of course gone travelling before. They went to London with their good friends Dot Duncan and Charlotte Walker. Dot had now left Worcester and Charlotte was looking after her father, who was senile, and was therefore unable to travel.
May was engaged to John Duncan Day, who was now aged 23. Muriel's intended husband, though it was not yet official, was John's brother Harold, aged 21, who was in his final year as a student at Camborne School of Mining. Muriel smiled to herself, grateful that May would be marrying John, for she had once intended to win his hand. Of course she still liked John, but she loved Harold
who was much more in tune with her way of thinking.
John would soon come down after his four year theology course at Oxford. He was in the process of becoming an Anglican priest and had already secured a good job. In September he would become senior English master at Warwick School. John and May's wedding day was scheduled for spring, 1906, and May was already looking forwards to living in Warwickshire.
The girls had often talked about having a double wedding, but Muriel wasn't as yet officially engaged. Harold was very anxious to get married, but he also wanted as soon as he was married to work abroad. perhaps in Malaya or South Africa. He was already looking for jobs abroad. Muriel had no intention of rushing into marriage, then immediately moving to another country. She was devoted
to her parents, especially her father. She had not spent much time with Harold. Their courtship had largely been conducted by means of letters. They both enjoyed writing and receiving those letters. In
each letter they included an apt quotation, and these quotations had become something in the nature of a secret code.
Harold, nearing the end of his formal education at the Camborne School of Mining, anticipated a First Class honours award. With that he would have little difficulty in getting a good job in Cornwall, and Muriel encouraged him to do so. However he had applied for a mining position in the Federated States of Malaya.
Muriel knew all about his work. His letters had presented details of mining, including its history. While in Cornwall Harold had worked at South Crofty Mine as an assistant to the manager. Earlier, his practice work was done at King Edward Mine. In 1897, the School took over the abandoned eastern part of the South Condurrow Mine around Engine Shaft and in 1901 it was renamed after
the new King. This offered the students the opportunity to work both William's Lode and the Great Flat Lode down to 400 feet from the surface. The mine was operated semi-commercially and produced tin on a regular basis, employing between 10 and 20 men in additional to the college teaching staff. Students carried out much of the production work.
Muriel and May were met by Harold at Redruth station. They kissed him, saying how pleased they were to see him. They were escorted to the 300-year-old Plough Inn on College Street.
Tired by their long journey, the girls opted for a meal at the inn, during which they updated Harold on the latest Worcester gossip. They then retired for the night, having arranged to meet up early the next morning to enjoy a day's festivities.
In the following morning the weather was glorious, and revellers were soon thronging the main streets which had been closed to traffic.
The day's programme offered a variety of delights:
11 am Bal Maidens & Miners Dance - led by miniature steam engines and Camborne Town Band, with school children dressed in traditional costumes of miners and bal-maidens.
2 pm Trevithick's Dance - adults processional dance, led by Camborne Town Band. Dancers dressed in gold and black, Cornish colours. (both dances follow a route that takes them through the central streets of the town)
Indoor exhibitions - all day long - i.e. schools competition entries, Church Flower Festival,
display on the life of Trevithick, model exhibition (trains, steam vehicles etc.)
Static Displays - of steam vehicles, fair organs, stationery engines, vintage vehicles, etc.
Free Street Entertainment - e.g. from locally based performers choirs, Camborne Town Band, buskers, musicians, jugglers, and theatre groups etc.
The Annual Steam parade - The engines will steam along Church Street, down Wellington Road and Trelawney Road, then up Camborne Hill, Tehidy Road and back to Basset Road.
The girls and Harold had a wonderfully full day, and were very tired when they finally decided to stop. In the evening they met up for a meal, then Harold took his leave because he had to be up early the next morning to work.
On Friday the girls walked in the countryside near the town, and on Saturday they went to Falmouth. They played on the beach at Maenporth, enjoying the feel of the sand between their toes
as they watched the ebb and flow of the Atlantic ocean.
On Sunday, after church, they visited Trelissick Gardens. By that time the girls had sore feet, having done a great deal of walking during their visit to Cornwall.
Muriel and May said their goodbyes to Harold on the Sunday evening. Harold had privately told Muriel he had applied for a job in Malaya, and if he got it he would leave in September to fulfil a two-year contract. Muriel was not surprised by this annoucement, yet, with regret, she felt Harold was slipping away from her before she had really got to know him.
*****
Harold was indeed awarded first class honours when he completed his course. He was accepted for a job in Perak in the Federated Malay States and could hardly contain his joy. He read
numerous books about that part of the world. Muriel tried to share his enthusiastic mood, but she was feeling that he was so wrapped up in his career that he had no time for her.
She was joyfully surprised when, after a dinner at a fine restaurant, Harold went down on one knee and proposed marriage. (Being a well-brought up young man he had first sought Mr King's approval for his intention to marry Muriel).
He presented Muriel with a sapphire and diamond ring. They kissed and hugged.
"We will need to check with the Rector about having the banns read soon," said Harold. "We don't have much time. We must be leaving soon.''
"Oh," said Muriel, "I don't want a rushed wedding. I don't want people thinking that I am with child and we have to get married in a hurry. I think we should postpone it until you come home on leave, and then we can plan it properly. Why don't we plan on having a double wedding with John and May next April? That would give you the chance to see how you like living in Malaya and if you don't like it, you can get a job around here again."
Harold could barely conceal his disappointment, but he said he was prepared to go along with Muriel's suggestion.
There followed engagement parties and going away parties, and all too soon it was time for Harold to head for the port to board the ship that would take him to the other side of the world.
Muriel was in tears when they said their goodbyes. There were moments when she felt she had made the wrong decision in not going with him to Malaya, but she realised that she had made the
sensible choice. She secretly hoped that Harold's wanderlust would have been exhausted by the next time she saw him, and that she would never be required to leave the family she so much loved.