The Five Year Gift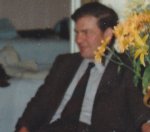 Wed, 26 Nov 2014
What's the gift they recommend
When you've coped for five long years
To live without your loving spouse
With all the worries and fears
To know the weight of money woes
and bad investments made
Decisions never seemed so hard
While family problems played
To deal with empty house and bed
And how to cook for one
Now the ceiling leaks again
Don't know what's to be done
Your grave is full of nasty weeds
A woodland site we chose
The view is good, but how I wish
That I could plant a rose.
I've writ a book, compiled bits
Of memories of you
I'm better now at being alone
That more time helps is true.
So here's to you, my lovely man
And five more years of grave
I'll drink a toast to what we had
Thanks loads for all you gave.