Happy Anniversary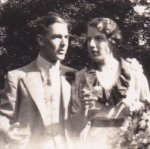 Wed, 31 Jul 2019
I was married to Philip 52 years ago today, but those people in the picture aren't us, but they are Mr and Mrs. J Day, as we were.(Philip's first name was John.) These are his parents, married on July 31st, 1935 so today would have been their 84th anniversary.
When we decided to get married only three months before we did, we had to set a date that would fit with free time from both our education-based jobs, and flights to England, where we were going for our honeymoon. Then we had to fit into the schedule of the church where I wanted to be married. The only date that would fit was July 31st. His parents thought we had chosen the date as an homage to them - but Philip had had no idea when his parents were married, so it was just pure
coincidence. We never told them that.
Philip's mother was Mary Elizabeth Stinton, and as it was the Stinton Family history that I was writing recently, I found out a lot more about her and her family. She was 21 when she got married, and Jan, as her husband was called, because as a young child he had been living in South Africa
and that was a common shorter version of John there, was 26. I was 22 when I married Philip who was 30.
We found their wedding announcement in the Newcastle, Staffordshire newspaper, so we knew
that the headline was
Daughter
of Headmaster of Newcastle High School.
The wedding took place quietly at St. Paul's church, Newcastle today of Miss Mary
Elizabeth Stinton, daughter of Mr. T Stinton MA, Headmaster of Newcastle High School and of Mrs. Stinton, and Mr. John King Day, of Holt, son of Mr. and Mrs. H.D. Day of Cartref Great Barton, Bury St. Edmunds.
The service was conducted by Canon Tree, late of Trinidad (great uncle of the bride).
The bride's brother, Mr. Thomas Stinton, was in attendance on her as page, and Mr. S. George K Day was best man. The honeymoon is being spent touring in Scotland.
The headline when we married was Jean Wyngarden weds English Doctor
But going back to their wedding. There is no mention of her sister, Margot being involved in the wedding or even attending. Her brother Tom was a page, and he was ten years old. Her father was a very popular headmaster, and a very popular public figure in Newcastle. I found dozens of newspaper articles about him. But what a shame that he was billed as more important that his daughter
on her wedding day.
Also interesting was the absence of Canon John Day, uncle of the groom, and a very important figure in Jan's life, as he was the headmaster at Stamford School, where Jan had been head boy. When Betty's sister got married, Canon John Day performed the ceremony, and he was only
the relative of her brother-in-law. But more interesting still, Canon Day was married to May Stinton - the aunt of the bride.
S George (stands for St. George) King Day was best man. Jan had two brothers and a sister, and only George, who was hardly known by the family, was best man. (Philip didn't evem know his cousins from that family' names) Why not Mark, who he was much closer to, and shared holidays with.
Harold Day, the father of the groom, was a chicken farmer. He had been a very prominent mining engineer when he married his wife, Muriel Tree. But he saw service in the First World War and when he returned, he was shell shocked, and apparently needed a very quiet profession.
Muriel inherited a lot of money from her father, as she was the only child, and I expect they were living on that for most of the time. 
Muriel, his wife, I know quite a lot about, as we inherited her collection of photographs, and several letters and books from her. I also have many of the piece of furniture, pictures and china that came from her family. I wrote a book about her and her best friend May Stinton, one of my first, 15 years ago,  and the family who knew her said that I had not painted an accurate  picture of her at all. As my Muriel was a very nice person, I wonder what she really was like.
When I was researching for my book about the Stintons, I asked Jane, who was Philip's cousin on that side, what she knew about Betty's early life. Here's some of what she wrote.
"She was known as "Princess Betty" and was much worshiped by all her aunts and uncles. She and my mother had similar educations,  but because Betty was in a hurry to get her degree and to marry her cousin Jan, she changed from classics, a four year course, to theology, a three year one. I think she only got a pass degree - obviously her heart wasn't in her studies. But she was clever and also musical, a good pianist
"After she married Jan, she became house mistress, as he was a house master at Gresham Boys  School in Holt, Norfolk.. I think she enjoyed looking after the boys and patching up their wounds. She would have made an excellent hospital matron.
"When Jan became headmaster in Guernsey, I don't think the life suited her. She was much too brusque and outspoken. She certainly bullied one - a silly girl, and I think rather despised my parents 'only intellectual, not really important people.' She was rather conservative and also prejudiced and she was also very rude and unkind to Jan in her later years, although he looked after devotedly and uncomplainingly. I think that she was totally frustrated at not having what she conceived to be a worth while career - what a waste of brains and talent."
I also asked my sister in law, Jose, who knew her well when Jan and Betty lived in Guernsey, what her impressions of her were.
"Betty had lots of friends and got along well with the Elizabeth College people. She was very involved with the golfing set and organized and helped with teas for all the College sports groups. She sometimes appeared quite formidable, but the staff were loyal to Betty and she to them. Everyone laughed a lot when she was around.
"When they were at Gresham in Norfolk, she was very active in the Red Cross, and as part of that they had a strict uniform code. When the area was seriously flooded, Betty went into the homes to help those who were affected, and then was criticized by the head of the group for not wearing her white kid gloves. She was so angry about that she quit the group."
About when Jose first started going out with Chrif, Philip's youngest brother, she wrote,
"On our first date, Betty noticed that the hem on my dress was down, and right there and then, she got out her needle and thread and fixed it for me. Another time, we were going to a "pajama party" and Betty made it clear that she had sewn up the opening in Chrif's pajames and also provided
him with a beach changing robe. But there were holes in very convenient places."
So Betty had some nice things said about her, which made me feel a bit guilty about all the negative things I had thought and said about her over the years.
So Happy Anniversary to all of us.