Holiday in America - part 1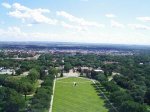 Sun, 24 Aug 2014
A few months ago, I wrote an introduction to the big trip to America which I was about to
take, and it is only fair to say that I was dreading. This is the follow up story in three parts.
I went on this trip expecting it to be the wake before the funerals for my step-mother, my sister and my cousin. However, I found them all physically doing pretty well considering, and very likely to live for another few years, probably making another similar trip necessary at some stage.
Just about everything that could go wrong – did go wrong, but I coped with it, which I guess is the main thing. My flight to Philadelphia due to take off at 11 was cancelled – and I was told I had been rebooked on one to Charlotte, North Carolina, (an extra several hundred miles father south) which left mid afternoon, so I had an immediate five extra hours at the airport. My new destination meant that my ongoing flight from there would have been missed – and the next one meant another five hour layover. I had to contact my niece and American airports don't have public telephones. "Everyone now has cell phones. They aren't needed," I was told over and over again. Eventually I was
able to contact her, Carla who was not at all pleased to find out that she had to meet a flight that got in after midnight instead of 7 p.m. – so instead of the 70 mile onward drive, she invited me
to stay at her house in St. Paul, Minnesota,  for the night, which was lovely.
My sleep was only slightly marred (as I had been without sleep for about 26 hours) by the trains that arrived and left outside Carla's house all through the night. They were goods trains, hauling the gas and coal from the fracking yards of North Dakota. One had caught fire rather recently, so Carla was perhaps more aware of them now than she had been in the past. They were very noisy, but somehow  I managed to make it part of my dreams. We had a quick breakfast and then Carla drove me to Foley, Minnesota.
Larry, my brother-in-law (my sister died 16 years ago) was pleased to see us when we arrived, and cooked us a second meal – brunch being his only cooking speciality. We had lovely pork sausages and French toast. Then Carla left, and Larry escorted me to his convertible sports car, for the promised ride to see his lakeside property – which he shares with two of his kids. The top was down, and the sun was shining bright and beautiful. The road was empty and we drove the 80 miles or so with great ease.
As soon as we arrived he immediately thought something was wrong – but nothing was obvious. Weeks later on he discovered they had a drainage problem. He gave me a beer, and told me to sit in the sun, and he went and mowed his lawn. Then after a few more beers, we drove back. I had hoped for a ride in his boat, or some fishing, which probably would have happened if I had arrived the night before as planned. But Larry lives by a schedule.
On the way back we detoured to take in the little town where his girlfriend lives. They
have been together for five years or so, but they don't intend to marry or even live together as each wants to keep his own house – both to avoid inheritance problems, and partly because they each
have very different ideas about what is important in keeping a house clean and tidy. And Larry would never sell his house – as he (with the help of his father and my husband) built it from scratch. Chris
had been visiting with her daughter who lives in Minneapolis, and had just arrived home. As we drove into her neighbourhood, Larry spotted her mowing her lawn – so we quickly went down a different street. He didn't want her thinking he was spying on her. But we did manage to pass in the vicinity of her house about five more times before we left. It reminded me of my teenage years when my friends and I would circle and recircle the houses of boys we fancied – only Larry is even older than me. We couldn't help but notice that one of her neighbour's houses had been totalled and we soon found out that a small plane had crashed into it the night before. The owners were away, but one of the relatives who had been upstairs when the plane struck managed to get out of an upstairs window before the place went up in flames. Both the occupants of the plane were killed, and the police and fire service were busy for many hours.
We then went out for a meal – still in this same little town, at a restaurant that Larry said he often took Chris. He said he wanted me to know what he was talking about when he mentioned it in his emails. Larry and I email each other (and various other relatives) almost every day – and
have done since the time my sister was diagnosed with cancer in 1997. The restaurant was a pretty ordinary cafe – and the food was disappointing in that I wanted a real American hamburger and French fries – like I remembered them – and it turned out that what I got was not a lot different from what I would have got at a Little Chef in England. The World Cup was on the TV, but nobody was watching it.
The next day, again starting with brunch – bacon and waffles this time – centred on a visit to Larry's son Keith, whose daughter was having a birthday party for family. Before we drove the 20 miles or so to Keith's house, Chris (the girlfriend) dropped by. She had been a friend of my sister's – although I had never met her before and was nervous, as I think she was too. But she soon showed her clever wit – and her fondness of Larry, whom she called Dear, and I really could see why he had picked her. She told us all she knew about the plane crash, and how her daughter's basement was flooded due to the exceptionally heavy rain that had been a feature in June. In the process of trying to vacuum up the pool of water in the basement, she had fallen and had broken a bone in her hand, so she was feeling a little hard done by.
The birthday party was a huge success with the kids entertaining themselves completely. Never a cry or fuss to be heard. I couldn't believe it – thinking back to the birthday parties of my various grandchildren. They liked the books I had brought them from England (the £1 book specials for
Book Week promotion). Keith's wife is a vet, and has taken over the small animals practice in the little town where Larry lives.
Larry is somewhat an expert in building things (he built his own house remember, although his profession was a math's teacher) and each of his kids had benefitted by him building them a bespoke set of kitchen units. I was very impressed when I had seen Carla's when I had stayed at her
house on Friday night. The plan was for Keith's kitchen to be the next to get the treatment, but I got the impression that Keith's wife was not going to accept this wonderful gift – unless the plan and
types of wood etc. were exactly what she wanted – which probably is not at all what Larry has in mind.
Larry had earlier presented to me a lovely box – bigger than a typical jewellery box – with an inlaid wood pattern on the top – absolutely gorgeous. He was intending to do one for his girlfriend and his other children for Christmas presents, but I got the prototype. He also did game boxes for each of my daughters – with a chess board type top, and space inside for storing the Chinese game pieces – all hand made by him. He had been the one to insist I only bring a small amount of luggage, (to leave room for his golf clubs in the small car) so fitting all these lovely wooden things into my two carry on bags – along with all the clothes for two weeks took some working out.
I didn't get any mosquito bites – very unusual for a summer in Minnesota and the weather was just hot enough for a nice tan.
The next phase of my trip involved public transport, and Larry drove me into the nearby city the next morning to catch the Greyhound type bus the 450 or so miles to Bismarck. It was over an hour late arriving, and the journey itself was very tedious. I shared a seat with a woman who must have weighed over 300 lbs so she took much more than half the space. She hardly spoke a word and slept much of the time. We had six stops for refreshments and to pick up extra passengers.
Tthe object of my trip was to visit my 97 year old step-mother now in a nursing home and when I phoned her (Carla bought me a cell phone for using on the rest of my trip) to say I would be late, she said that other arrangements were in progress. It turned out she didn't want to see me that day. My cousin's husband Bob met my bus and took me to Grace's apartment which was under his control – as he has her power of attorney. He gave me the keys, and asked me if I would help him out by sorting through some of her stuff and taking anything that was of family importance, like pictures.
That night my cousin (with noticeable alzheimers but but a long way from being of the verge
of dying as I had been told) and Bob took me out to dinner. It was their wedding anniversary, and I had a good time remembering their wedding and those early days in our lives. And the food was very
good. We had deep fried green beans, spinach dip with fritos, baked salmon, a baked potato and asperagus and chocolate brownies and ice cream. And lots of wine.
The next day I did some shopping for my evening meal, (but one of Grace's friends had taken
all the dishes and pots and pans so it was quite a challenge) in the morning. Then Bob picked me up and took me to the nursing home where I had a nice visit with my step-mother (doing very well) and a second cousin, also much fitter than I had been told. Between times, I spent long hours going through every drawer and cupboard and choosing what to take. There were a few things I had given her over the years that she hadn't even opened or used. Things like paua shells from New
Zealand, Toby Jugs, china with Diana and Charles on, and a tea towel from William and Kate's wedding. And a few bits of jewellery and such, and in the process found a few clothes that I rather liked. I had been told all the clothes were going to charity, so had a good root through, but only found a few things that would fit and were sufficiently modern to please me. I found simple plain jewellery to offer each of my daughters, and those of my sister – as well as the girl grandchildren – as a present to them from Grace. I'd run the idea past her and she did seem to think it was a good idea.
A few other problems included me not being able to make the key work when I got back to Grace's apartment. So I called her (lucky Carla had got me that phone) and she called her best friend who also had a key, who came over and let me in. After she left, I walked the six blocks or so to
a liquor store (you can't buy booze in a grocery store in North Dakota and the liquor place hadn't been open when I'd bought my ham and cheese and bread earlier) and found a nice bottle of red with a screw top. When I got home and tasted it, I couldn't believe how insipid it was – and it was only then that I looked carefully at the label. All the alcohol had been removed. And I paid $12 for it. I
was so mad.
The third day was again very pleasant with lots of visiting done. Larry had driven the 450
miles that I had done by bus a few days previously, and came to pay his respects to Grace at her nursing home. We went out for another nice meal with my second cousin and her husband that night. Steak but not wine, as they don't drink. (Larry and I had beers before we left the apartment and after we got back, knowing that would be the case.) I had already sorted through the apartment with Larry in mind, and Grace had agreed that he should take back the gifts he and his dad
had made for her over the years - carved and wood-worked mostly.
So the next morning with the car stuffed to its gills, we started on our three day trip across middle America to the West Coast.