Holiday in America - part 2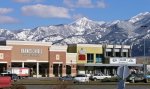 Thu, 28 Aug 2014
To say the drive across half of the States was uneventful would be untrue. But the only
events were the beautiful scenery and the perfect weather. The car behaved, ran very smoothly and took its tank of gas about every 200 miles. Larry didn't like it to get low, so we always filled it when
it was about a quarter tank left. We alternated in who paid for it, and the same with meals.
From Bismarck to the Badlands – about 100 miles, was pretty – green fields, lazy cows, wide open roads. The Badlands themselves as always were spectacular, although as it wasn't a bright day, the reds of the scoria were not as pronounced as I remembered them being. I had been expecting
evidence of the oil boom in North Dakota, but the few pumps we saw working were probably the same ones that I saw when I last drove that route, 30 years ago. No new construction, no evidence of overcrowding or industry of any kind. I guess the fracking is farther north.
Going into Montana we still had badland type scenery, but now instead of being enclosed, the
area opened up to fill the entire scene – and although the mounds were less colourful and lower, they went on for miles and miles – nearly all the way to Billings.
We'd taken food with us, so had no intention of stopping for a meal but every few hours we
made use of toilets at a designated rest area usually. These were about 50 miles apart, and it sometimes happened that when you finally got near one, there would be a sign saying, Closed, and the next one would be 50 miles farther on. That's a long time to cross your legs for.
We had roughly thought of stopping in Billings overnight – being about 450 miles from
Bismarck, but it was only about 1 p.m. when we got there, so we happily drove through it. It seemed full of oil refineries and not much else. You could vaguely see mountains in the distance, but as a
city, it had nothing much to say for itself on first glance.
We drove through Butte too, although by that time Larry was getting near his knock off time
of 3 p.m. Not finding the sort of motel we wanted, we drove on to the next reasonable sized town. We were in the middle of the Rocky Mountains by now, and there was a lot more evidence of people being on vacation. After hitting the 600 mile mark, we thought we'd give Bozman a try, (pictured above) and as Larry pulled off the road, he stopped at the very first motel we spotted. It turned out to have two rooms (I had insisted we have separate ones despite the extra cost) and we each
paid $135 or so for rooms which were adequate but nothing special. Soon we noticed that lots of "No vacancies" signs had been lit all over the area, so were pleased we had stopped when we did. After resting a bit with a beer or two we then walked the half mile or so to the recommended restaurant where we could have a drink with our meal – not as common as I would have thought. It was
called Appletease or something like that – a chain, but we were very happy with our food. I had the most delicious hamburger and onion rings and beer - about £10 worth, but very much value for
money. I think Larry had pork chops, and was pleased too. We walked back, and I suggested a longer diversion to see something interesting in the distance, but Larry had done his work for the day, and just wanted to get to bed.
We agreed to meet any time after 6 in the morning in the breakfast area, where a substantial breakfast was part of what we'd paid for. I slept badly so was happy to be up by 6 (indigestion due to the onion rings) and there were perhaps 10 men in the breakfast area – mostly choosing the sausage and biscuits (like scones)  in gravy option. They had more or less all left by 6.15, driving their huge trucks out of the motel courtyard.
Larry got down about 7, and we had waffles although I had already had cereal and fruit and lots of coffee.
We started off over the rest of the very beautiful Rockies, and the drive was much as the day
before had in content, but with snow capped mountains in view most of the way.
We had thought we could make it to a town more or less on the Washington/Oregon border, but
we had to stop for gas in the little town before that, and when we pulled into the gas station, all the pumps were taken, so we decided to check out a motel too. I got to pick this time, and as it seemed friendly and cheap ($55 a night) I said Yes, very quickly. And we got adjoining rooms with a connecting door, which was convenient. We each had a balcony, and we sat outside and drank beer. It was very hot and we hadn't chosen the place for its view, as we could mostly see a very overcrowded run down trailer court. When we walked down the road to check out where we should go for our supper, we also found a post office and I got stamps and sent my postcards to my grandkids from there.
Our supper place was right next door. They had a lounge which was attached to the restaurant, and they said we could order food from the restaurant menu and have it in the lounge with our drinks.
Hardly anybody was in when we arrived, about 6 p.m. And we had a good meal – I seem to think I had salmon. Then back to the motel for a bit of TV watching before an early night. We decided not to wait for their small breakfast service at 6.30 so hit the same restaurant at 6 and ordered big – not minding about the extra cost because the motel had been so cheap. Larry had eggs and bacon and I had pancakes and sausages.
We were on the way by 7, and were aiming to get to Portland about mid afternoon. But our
plans were so efficient, that we managed to take in Multnomah Falls, one of the classic tourist spots in Oregon, walking up to the viewpoint area that goes across the falls and several other beauty
spots and still get into Portland by just after 12. I remember a previous visit to Multnomah Falls, where Philip had told me when we got to this same view point – that we had gone half way – so
surely I could manage the rest. So on we went, and on and on, and on. I was nearly exhausted when we finally reached the top, probably an hour later.
It has been raining at Multnomah so we struggled to hold a huge umbrella and still have a
hand ready for the railing if the stones got too slippery. We checked out the souvenirs but decided against buying anything. We called my sister Kathy's house to let them know we would be there in an hour or so, but as there was no answer, it went to voice mail.
Larry easily found his way to Kathleen's house, and when we arrived, her son Mark met us,
and invited us in. He had been grocery shopping, so hadn't been home to get the message, and hadn't looked at the machine to pick up the message.
He gave us a beer, while he continued sorting out his room which would be my room for the stay. I said I was happy to stay in the smaller room and he could stay where he was, but it turns out that
his girlfriend, who had been living in her own house when I was last there three years before, had now moved in and was living in the small room. So Mark was to have the garage bedroom, and I was given his room. I hadn't enjoyed it much last time, due to his water bed which sloshed each time I turned over, but now he had a new firm one, thank goodness, and he took his pet bird with him. Thank goodness for that too.
Things looked a lot different in Kathleen's house. The two couches had been replaced – Mark said he got a good deal from a friend for the new ones. And there was an extra large easy chair. The dining room chairs had also been replaced, and we noticed that there were new pictures and clocks
and photographs – all witnessing the new member of the household.
It soon became clear that Kathleen's daughter, Mary K didn't like these changes and let Lis, the girlfriend who was making the changes, know about it. Mark was firmly in the middle – not wanting to take anybody's side. We were just chatting together when Lis emerged (I thought she had gone out but she keeps very odd hours, as does Kathleen) and I couldn't help but notice the animal which she had wrapped around her – sort of like a mink coat but smaller and blonder with a long tail and a pointed snout and a very red nose and beady black eyes. Pole cat, was what came to mind, but I later discovered, Belle was an oppossum, rescued from some farm machinery by Lis who had raised her ever since, almost as if she were her baby. Belle lived in Lis's room, had a cat tray and was house trained, and was not a danger to anyone, although it was advised that she really liked eating the toilet brush so to keep the bathroom door closed. I wasn't happy about the idea of a wild animal wandering willy nilly in the night when I got up to the toilet, but was assured that she was very tame and very timid. And although I occasionally glimpsed her across the room, I didn't actually have any close up encounters with her or her 53 sharp teeth.
Mark helped my sister Kathleen to get up, (it was about 2 p.m. by now) and she remembered
us and was pleased to see us. My sister has memory problems and must have said how pleased she was to see me at least 25 times, so I guess maybe it was the case. Then Mark made us a cheesy omlette which was very good.
Before long the others started arriving – Mary K, then Carla (who'd driven me to Larry's), Blaire (Carla's partner) and Cathy, (her twin) then Chris (not Larry's girlfriend but his oldest daughter) and her family. Nobody had thought about what was happening next, as it were – so Thanh (Chris's husband who comes from Viet Nam) said their kids (Lucas and Anna) were really hoping for an Asian meal. Mark knew about a Chinese place, so we managed to get a booking there, and we had a very nice meal with us all sharing in about 10 various dishes, most of which I had never eaten before.
The second day in Portland, Sunday June 29. Larry, Chris and her family were staying in a motel suite – near the airport. Cathy, Carla and Blaire were staying with another of Kathleen's children, Margaret and her family. We were all to meet up at Janet's (yet another daughter of Kathleen)
house in Boring, Oregon around 2 p.m. for a barbecue.Liz (another daughter, not to be confused with Lis) and her family would be there too.
Mark and I were both up early – he because it was his routine to go to the gym and have an
hour's exercise each morning, and me due to jet lag or just my internal clock which likes to be up early. So we met in the kitchen where I was trying to make myself some coffee without using the
coffee maker. I had seen some strainer-like looking things in the washing up, so put one of those into a cup and poured the hot water heated in the microwave onto the grounds. Mark was most amused – because the strainers were the inners of the sink drains and although they were very clean and shiny – not really meant for coffee filters. So he made some proper coffee using beans – and we enjoyed a few cups together while I got caught up on his life story.
He was very busy at his work, computer aided design work, and the reason he hadn't been
prepared for our visit was that he had been asked to work back the night before and didn't get home until 9 or so. We talked about his children and his platonic relationship with Lis.
Lis is an obsessive cleaner, and no doubt earns her room and board. She also was very
generous with the various bits she had collected on her scavenger hunts to garage sales and such like. She had a bunch of earrings that she offered to all the women of the group. She gave me some which were cameos which were rather interesting, along with a pin that sort of matched. She gave T shirts with a lesbian theme to Carla and Blaire – which caused a certain amount of embarrassment.
So after our several hour long chat, Mark got Kathleen up and we went to church. The priest, who is a good friend of Mark's, no longer goes out to eat with them, or comes to the house, because he doesn't approve of Lis – although no doubt Mark has told him that they aren't in a relationship. But apparently she has taken her opossom to church on occasion, which might have been just a tad distracting for the congregation.