Judith Walker's Holiday 1830 - 3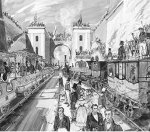 Sat, 23 May 2015
As we had sometime to kill until we reached Birmingham, Mary quizzed me about the ages and careers of my children.
"Maria, who you know well, is the eldest. She was born in 1897, which makes her 33. You know the age her husband, your uncle Edward, I should think.
"The next is George, who is just thirty. He is married to Mary Ann Mayfield, as was, and they have one son, Charles Simpson. I think I already told you that he is named for me. Mary Ann's brother is trying to convince them to return to York and take a share in his cab business. I would be pleased to see them there again.
"My son Charles, is 27, with his wife Eliza, live in Stockton-on-Tees. They have a son, Charles George who is 4 and a new baby, Lilla.
"He has a twin sister, Mary Ann, and she is married to James Thackray, and they live near us in York. They have no children yet, but she is expecting in the autumn.
"Henry, who will be our host, is 25. He has a shop where gloves and other leather goods are sold, and he also travels the country with his products. I expect you have seen quite a lot of him in Liverpool. He and Harriet have two children, Harriet who is 7, and Harry who is 5.
"Jane, you of course know as well as I do, was born in 1807, and is 23, just a bit older than you.
"And Edward, Ned as we call him, is the youngest, just 21. He works with his father, and also does a lot of travelling for the company. I wouldn't be surprised if we saw something of him later in our trip."
"I expect the days of these coach trips will soon be numbered, with the railways coming in and taking over," said Mary.
"Tell me more about what you learned when you visited the site yesterday."
"The Liverpool and Manchester Railway Company was founded in 1823. George Stevenson was hired as the chief engineer, although he was fired at one stage and then rehired later. One of their problems was they had to placate the canal interests and had the good fortune to be able to approach the Marquess of Stafford.
"It was intended to place the Manchester terminus on the Salford side of the river, but opposition to a crossing of the river was withdrawn at the last moment, in return for access for their carts to the intended railway bridge, so now it is in the heart of Castleford.
"The train runs for 35 miles beginning with the Wapping Tunnel beneath Liverpool from the south end of Liverpool Docks to Edge Hill. (pictured above) This was the world's first tunnel to be bored under a city.
"The big challenge was crossing Chat Moss bog having found it impossible to drain the bog."
"So how did they cope with that?" I asked.
"Stephenson began constructing a large number of wooden and heather hurdles, which were sunk into the bog using stones and earth until they could provide a solid foundation - it was reported that at one point tipping went on solidly for weeks until such a foundation had been created. The Rocket hauled the first experimental train over the Moss in January.
"The railway needs 64 bridges and viaducts , all of which were built of brick or masonry with one exception: the Water Street bridge at the Manchester terminus.
"The gradient profile of the line had been arranged so as to concentrate the steep grades in three places (either side of Rainhill at 1 in 100 and down to the docks at Liverpool at 1 in 50) and make the rest of the line very gently graded, say 1 in 2000. To determine whether and which locomotives would be suitable, the directors organised the Rainbow Trials last year, and the Rocket won."
"How did that work?"
"They made a small section of track, about 2 miles long, and perfectly level for a mile, and each engine had to drive up and down the track 10 times, to approximate the distance, to Manchester. Then they refueled and did the same thing again another ten times. There was a £500 prize for the fastest, (they were hoping for 35 miles an hour) but they also were interested in the smoothness of the journey and how the cargo survived."
"And were there many competitors?"
"Ten entered, and five actually made the trials, but all but the Rocket dropped out before the test was finished."
"About the middle of last year the tunnel in Liverpool was finished; and being lit up with gas, it was publicly exhibited one day in each week at the charge of a shilling a head - the fund thus raised being appropriated partly to the support of the families of labourers who had been injured upon the line, and partly in contributions to the Manchester and Liverpool infirmaries. Notwithstanding the immense quantity of rain that fell during the year, great progress had been made; and they hoped it would be ready by 1st of January, this year. But it wasn't quite.
"On the 14th of this month, a proper trial trip is planned between Liverpool and Manchester and back, using the Engine Arrow. It is on the occasion of the board meeting being held at the latter town."
We arrived at our stage stop in Birmingham, more or less on time at 6.30 p.m. We will have an hour and a half (partly waiting for the mail) before we catch the coach to Worcester called the Star. We will stop at Bromsgrove and Droitwich. We decided to walk around the principal streets which are very busy as it is market day.
"I like Birmingham very much," said Mary, "as there are some excellent shops in it and the streets are remarkably clean. There are many beautiful houses just of of the town, both going into the town and going towards Worcester."
Our coach was somewhat slow in getting going, and we decided not to go to Dudley after all but carry straight on through to Worcester.
My son, George, met us at the Cross Stob Inn in Worcester and took us to our much needed beds at his house in Park Place.
Friday, June 11, 1830
Boughton Fields, Worcestershire
I have just time for a few lines today, as having finally arrived at Henry's house at Boughton Fields, we find that Harriet (she is known as Hy for some reason) is not very well, so we were given the task to go to fetch little Harry at school, which we did, and took him back home again with us. I was pleased that he remembered me, and was happy to see me. He was somewhat in awe of Mary – not having remembered her. He is grown into a fine lad, now five years old – full of spirits and mischief.
Mary has had a letter from William, and she read bits of it out to us.
He sent his best wishes to me, and to the other Walkers, which was very kind. He is keeping close tabs on the condition of the King. He writes, "I have just heard that the bulletin of this afternoon says that His Majesty passed a very distressing day yesterday but that he had some refreshing slumber last night and feels himself better today. He changed very rapidly for the worse yesterday and was not expected to get through the night, but his constitution enabled him to astonish his physicians once again, as it has done several times in the course of his illness."
Mary settled herself down to write to her intended, William, and she says that if we agree, she will invite him to come to stay here sometime while she is here. She then wants us to sign her letter, to show that we approve of the idea. I do like William and would be pleased to see him. I told her to send him my love. Mary was somewhat worried about what his parents attitude would be if they found out that he came here, rather than going home to see them. They would not like it, she was sure of that. She half hopes that she can keep it a secret from them. And also she thinks, and I concur, that he should not be so worried as to how his parents judge his actions. He is not a child and should be able to do as he likes.
As Mary had not been in Worcester before, Henry spent some time after dinner instructing her about the city. This is more or less what he said.
Worcester is situated on the river Severn, upwards of 100 miles in a direct line west-north-west of London.
It is built almost entirely of red brick, with the exception of some public buildings, the churches, and cathedral, which are of a soft and commonly a reddish kind of sandstone. St. John's is our parish church of what may properly be termed a suburb of Worcester, and is on the opposite bank of the Severn to the main portion of the city.
A cathedral existed here in the time of the Saxons; but it was deemed insufficient for its purpose, and was superseded by a new cathedral, built by Oswald, the bishop, in 983. This building being destroyed by fire, a fresh edifice however arose under the auspices of Bishop Wulstan in 1084. This cathedral likewise twice suffered from fire. After the second conflagration, for sixteen years it remained in a dilapidated state. Repairs, so great as to make a fresh consecration necessary, were then completed, and in January, 1218, the church was re-opened in the presence of King John. Various alterations and additions were made in 1224, and some are in progress now.
Worcester cathedral is built in the form of a double cross, with double transepts. The tower  is 193 feet high. The pulpit is of stone and richly sculptured. The tomb of king John is in the centre of the choir. The exterior is plain, but a fine effect is produced by the apparent lightness of the architecture, and by the pinnacles, which rise not only from the tower, but from almost every termination of the building. The cloisters form a quadrangle on the south side; on the east side is the chapter-house, which contains the cathedral library. The cathedral is in the process of repair at the moment, and costs a considerable sum yearly for that purpose.
Worcester 's population of the borough is about 27,000, counting the outlying areas, such as St. John.
Sunday
We have just been to church at the Cathedral. Mary said it was not her choice of a way of giving glory to God on Sundays, but it was interesting to see the building in order to make a comparison to our fine York Minster. Personally I think York is much the better, although it is not nearly as old.
Mary had some very strong views on our outing.
She said, "I was very much pleased with the singing and the organ and the building but nothing more. The prayers were read in a miserable manner is such a tone that I was quite disgusted."
I thought the sermon was tolerable, but Mary says she knew little about it as she scarcely heard half of it.
 Monday, July 14th
We went through the Bishop's Palace. There is nothing very remarkable about it. There were a few good portraits of the different Bishops of Worcester in the present Bishop's bedroom, among which was the portrait of Bishop Taylor who tried to fast 40 days and died on the 38th day. He lived that long without eating anything.
Mary added, "He was buried in Lincoln minster. I saw his tomb when I was there, also one of another who had killed himself with eating too much."
She added, "I was most pleased with the beautiful view from the drawing room windows. The river winds at the foot of the garden, the view of the valley and the Malvern Hills and the village of Malvern is really beautiful."
We went into the garden. It is not at all a nice one, but Mary managed to get out of it as many flowers as she could carry in on one hand, half of them moss roses. She said, "The pinks were the sweetest I ever smelled." Then she added, "I did not steal the flowers, for the person said we might take a few."
Here is what we learned from our tour of the Bishop's palace.
The Old Palace is the official residence of the Bishop of Worcester. With the Cathedral, it is the oldest building in the City. There was a bishop living here before there was a King of England. The Palace or the building that preceded it on the same site, has been the home of a long array of great and mostly good men. They number two martyrs, four saints, several Lord Chancellors and Lord Treasurers.
The Royal associations of the Palace are many. When Queen Elizabeth l came here in 1575, she kept her Court at the Bishop's Palace for seven days, receiving municipal dignitaries in the great hall, thanking them for their entertainment and offering her hand to them to 'kysse'.
King Charles l was in this house in 1644 when Waller and Massey were in pursuit of him.
James ll stayed at the Palace in 1687. It was here too, that George lll resided when attending the Three Choirs Festival in 1788. 'Farmer George' as the King was affectionately known loved to talk with his people without formality. It is recorded that in the early morning he would climb out of the window on the first floor of the Palace, slide down the roof of an out-building, and so make his escape to the City to enjoy a ramble alone, and take opportunity of a chat with his humbler subjects.