Remembering Father - 2 - en route to China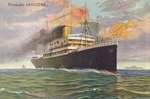 Tue, 20 Jan 2015
I really didn't know much about Father and Mother's life in China, as they had moved back to England before I was born. Father worked for Matheson & Co at 3 Lombard Street in London, and really all I knew about his work was that it had to do with tea.
I was so pleased in 1878 when he asked me to accompany him on a trip back to China. Hehad business to attend to, with the company having become involved in railways and they were about to start a sugar company. I have a very detailed diary of that trip, part of which I will include bits of here. That year was special, as it was my 21st birthday. I had always wanted to see the parts of China that Father talked about all the time - and since he had been asked to go and help confer with the Taipans of Jardine's in Hong Kong - it seemed just the opportunity for combining his work with my pleasure.
We left on the SS Ancona's maiden voyage on the 8th of October.  She was a passenger/cargo vessel,  with 130 first class passengers (which we were in) and 54 second class.
Here are the dates.
October 8: Ancona leaves Southampton
October 31: Ancona arrives at Suez
November 12: Ancona arrives at Pointe de Galle
November 17: Ancona arrives at Penang
November 30 : Ancona arrives at Hong Kong
"You had such an exciting life when you were young," I said to Father, wistfully.
"Yes, it was. Hong Kong and Canton were full of adventure. I missed that when I
went back to England."
"Was your job boring after that?"
"Well, not always. I had to give evidence at the House of Commons. Remember
that?"
"Oh, yes, I remember. You were so worried, and then said it turned out that you
were last and it was such a rush that they hardly asked you anything. You had to sit through your friends being questioned for hours, and sometimes you felt they got it wrong, but you thought you would put them straight when it was your turn."
"It was exciting though - being in the House of Commons - meeting all those
important people."
" It was Monday, May 4, 1874, 12.30 p.m. - four and a half years ago. And as far as
the important people, I will see if I can remember them. The chairman was Sir Henry Peek. He was formidable and very much in charge of everything. He is an importer of spices, tea and other groceries, a philanthropist and of the Conservative party. 
"Then there was Edmund Backhouse - MP for Darlington. And Mr. Mundella, the MP for Sheffield. He was something important in Education."
"And wasn't the man who invented mustard one of them?"
"Well, he hardly invented it - but he made it famous. Mr. JJ Coleman, MP for
Norwich. And then there was William Welby. His father was famous too, but I can't really remember why. He was the MP for Lincolnshire I think."
"Did they all ask you questions?"
"They were all sitting around the table, and any of them could have asked me a
question but only one or two bothered. As I said, it was close to the end of the day and they wanted to get out and get their drinks."
"What was it all in aid of? I must have known at the time, but I have forgotten."
"In '72 there was legislation passed regarding Additives in Foods - and it had
caused a lot of problems. The customs officials were getting above themselves and throwing the book at all the tea importers and retailers - saying there were toxic substances or foreign bodies in their products."
"And were there?"
"Some I suppose, but they were making way too much out of it. For instance, everyone
knows that in order to sell green tea, you have to make it a pretty green - so you have to add something to give it that colour. Nobody wants to drink green tea that looks pale yellow like something I could mention, but won't."
"So tell me a bit about what was said, and how the others reacted to it."
"The Chairman said: 'Call Hugh Owen,' so he came forward and was sworn in."
"Just like at a trial."
"Well, not really as formal as that, but there were certain similarities."
"Did you know him well?"
"Hugh Owen I hardly knew. He was an educator and involved in the founding of the
University College of Wales in Aberystwyth.
"Then he took him through all the various bits of evidence that he had gathered
about things that could be used as additives in tea."
"Things like what?"
"Aloe-leaves, liquorice leaves, and the leaves of tea that have been before used, or the leaves of other trees, shrubs or plants in imitation of tea. That bit was all rather boring."
"Well skip over it then. Who did Sir Henry Peek call next?"
"John Reeves."
 "So what sort
of things did they ask Mr. Reeves?"
"'Have you had a very long experience of the China tea trade?' - 'I went to China in
the year 1835 and I remained there till 1855.'
"'When green tea was made greener, what ingredients were used?' - 'The ingredients
used were for the better class of green tea, gypsum in fine power, and Prussian blue.'
"'Do you say that the quality is in no way injured, that is to say, if the manufacture
be properly conducted?' - 'If the manufacture is properly conducted,
I do not think that the quality is affected.'"
"Why did they go on and on about it?" I asked.
"Sales of green tea had plummeted due to this act, which made it seem like green tea
was one step away from poison. And the Americans far prefer that kind of tea, so it was for their benefit as much as anybody's that we had to sort the situation out. Reeves told them that is was the invariable practice in China to colour green tea so as to make it more marketable. I can remember he said that he believed that this process was not injurious, and had never been looked upon as adulteration.
"They asked about the differences between black and green tea, I remember. He
asked, 'Otherwise, except by the process of colouring or manufacturing, call it what you will, both black and green teas are originally the same?' - 'They are originally from the same plant.'"
"Then who was next?"
"I'll be Sir Henry Peek again, 'Call Mr. Richard James Gilman. Are you a partner
in the firm of Gilman and Co?' - 'Yes'"
"Did you know him well?" I put in.
"When I first arrived as a green boy back in 1844, the Gilmans were already
well established. Richard was a few years older than me.  They were essentially a tea-trading firm who, it is said, never touched opium, unlike most. He was a good friend."
"Did they go on and on about green tea again?"
"Yes, but Mr. Muntz asked how much of the chemicals added to the green tea would be
enough to call it adulteration.  He said 1% would be satisfactory, but 2% or more would be considered adulteration. The chairman was talking about 20% for awhile there, as if something as changed as that could slip by unnoticed.
"Was it only green tea they were interested in?" I asked.
"No they talked about ferraginous sand (what you might call iron sand) being mixed in
with tea, and wondering how it could have got there."
"Maybe there was sandy soil where the tea plants were growing and it got washed
onto the leaves then." I felt rather clever with that comment.
"'Do you believe this sand to be wholly innocuous?' - 'I think so; I think it must be
perfectly innocuous; I do not conceive that any infusion would produce any effect upon it.'
"In fact there was a big problem a few years before that when a very small quantity
of iron sand had been imported by a firm, and when the sand was discovered and the complaint made, the retail dealer had been punished for selling the adulterated tea."
"It was hardly his fault," I put in.
"Just the point that we wanted to get across to the committee."
  
 (to be continued)