Susannah Woychik's Letters -4 1872-73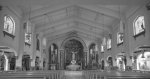 Wed, 18 Feb 2015
Burnside, Trempealeau County, Wisconsin
July 27, 1872
PoppelaukreiseOppein, Oberseliesien.
Dear Aunt Frances,
How nice that you have finally decided and have set the date for next spring. You say that Gregor's sister will come with you too, but his brother might not come for awhile. You will have to convince him when you come of how wonderful it is.
Pa has been cradling the winter wheat and says we will likely get 25 bushels per acre - but our spring wheat crop is light.
I have been embroidering a tablecloth for my hope chest. It is nearly full now. And my wedding is just a year off, so perhaps I will have to start a second one.
The snow melted off without rain and the flowers are coming on well. Did I tell you we found out how to change color of hydrangeas from pink to blue? You sprinkle the earth with iron filings which you can get from a blacksmith. It certainly makes them look different.
We harvested all the winter wheat and rye, and Pa was quite pleased with the results. We bottled lots of black raspberries. I want to try growing cranberries on the part of our land that is close to the creek. They are supposed to grow in marshes. Anyway, nothing attempted, nothing gained. One good thing was the potato bugs are not so thick as last year.
I said I would update you on the progress of the trains here. This summer 110 miles between New London and Merrillan Junction in Jackson County are being graded and the tracks being laid. So basically they are getting on slowly, and by another year it should all be done. First they were going to make it a shorter route, which would have bi-passed Burnside, but luckily they didn't take up that option, and the train will be coming by here - very close to our property, in fact, as we can see by where they are laying the rails.
My brother Thomas is so pleased as he is now finished with school and can concentrate on being a farmer.
Love from Susanna
Burnside, Trempealeau County, Wisconsin
June 26, 1873
PoppelaukreiseOppein, Oberseliesien.
Dear Uncle Ignata and Aunt Julia,
You have now been given the dubious privilege of being the recipient of my letters. But I hope that somehow we can convince you to join us here in Wisconsin too.
Uncle Gregor and Aunt Frances asked me to write to you to say they have arrived safely and have found somewhere to live. I was very pleased that they came in time for my wedding. I must tell you all about it, as I love remembering all the little details.
We were married on Monday, May 26th, at Sacred Heart Church in Pine Creek (pictured above). The church was built last year, and is the 3rd largest Polish speaking church in the United States. There is one bigger in Milwaukee which I will tell you about later. We had Father Joseph Juskiewski for our priest, and we were very lucky as he has been transferred to Winona, but since he had agreed to do our wedding some time ago, he came back specially to do it.
I had a fairly big wedding, with my best friend Julia, for my maid of honor. I was going to ask Julianna Woychik, my cousin, but she got married herself last year, and is now expecting, so it wouldn't have been fitting to have her do it. She married Michael Fugina, the Swiss man who opened a shop here a few years ago. He is doing very well. There is quite a village building up here now. The section where the shops are is called New City - as if it really were a city - but it is only a mile from Burnside, so no way to go at all for our supplies.
Anyway, back to my wedding. We had all the relatives and neighbors from around here, and there were 100 at the church. We had a reception and dance at our friends, the Sura's house, as they offered to have it there.
My dress, which I made myself, with the help of my friend, Fanny's sewing machine, is oyster colored silk. It has a long jacket with a cropped waist and lace trim on the stand up collar and ends of the long sleeves. The skirt, has two tiers (but no train, as that is not practical) and each tier is trimmed with a fringed ruffle. The back comes up together under the jacket to make a small bustle. I think I looked very fashionable. I have a very pretty lace blouse which I can wear underneath, and then when it gets hot, I can take off the jacket and still have a very smart outfit. I wore it every evening while we were on our honeymoon.
Hyacinth wore a dark formal suit, and looked very smart indeed. My bridesmaid's dress was similar to mine, as I helped her make it, but she chose to have hers in pale blue.
Now about the day itself. Hyacinth was called by his first name for the ceremony and register signing - so I was married to Jacek Kulig, but I always call him Hyacinth.
Hyacinth and his brother Jacob, who was his best man, and his friends who played their instruments for our wedding, came to our house to take us to the church. We were all gathered together at our house, including my parents, brothers and my bridesmaid. My parents then "blessed" us, but Hyacinth's parents of course, being still in Prussia, were not here to do that for him. But Pa made a little speech about the responsibilities of marriage.
There was a fancy carriage to drive us, but we had trouble getting down the road because it was barred by neighbors who asked Hyacinth to pay to let us go. We knew it would happen and were prepared. The adults got a bottle of vodka and some candy for the children, and the barrier opened.
Then we got to the church, The Scared Heart in Pine Creek, and went down the aisle together, with our friends playing the Polish Wedding March and then we had a Mass with the wedding service at the end. Afterwards our friends threw rice.
All the guests went to Mr. Peter Sura's barn. They were all in place there before we arrived, having had some photographs taken first. We were welcomed at the door by my parents with bread (which we had to eat), salt, a glass of vodka that we had to drink a drop of and then Hyacinth broke the grass symbolically - which should bring happiness to us. I was pleased that we incorporated the old traditions in this new land. As you know, the ceremony of reception is very important, because it symbolizes the reception with the door of a new life, a new family, which must be rich and happy, and it also means that the parents accept from this moment the wife and husband of their child, who becomes now also their child.
Then Hyacinth took me in his arms and brought me inside. All the time, there was music - an accordion, a double bass, a violin and a clarinet.
Once everyone was inside the room, the guests took their places at the trestle tables filled with foods and my father said a few words.
We served cold dishes (salads, meats, fish), with the fruits, cakes, and among them - then "Polish sekacz" (we were able to use many eggs in the cake). All night long we had music, dancing and toasts - to our health as well as that of our witnesses, my parents, etc. Several requests came from the guests that vodka should be "sweetened" and we had to meet each request with a kiss.
At midnight, I took off my veil and threw it towards the young unmarried women - and my friend Mary Skroch caught it. Hyacinth threw his tie toward the unmarried young men, but aimed it at his brother. Everyone knows they are walking out and hope to be married next year.
Then came the main cake which we cut together and it was distributed among the guests. And it went on into the little hours of the morning.
Hyacinth and I went on the train the next morning on our week's honeymoon, to Milwaukee - about three hours' train ride from home. Jacob drove us in his carriage to the station in La Crosse. How much easier it will be when our railway line goes through. They keep talking about it, but now they seem to think it won't happen for awhile.
We stayed at the biggest and best hotel in Milwaukee - Newhall House. It is six stories high, on Broadway and Michigan Streets. We had the bridal suite (Hyacinth likes to make a grand gesture) and had our own maid, who was Mary Sullivan, a lovely young Irish woman. She told us all about the hotel. Apparently Abraham Lincoln stayed here in 1860 and actually gave one of his electioneering speeches in the hotel.
One night we went to see a play. This is a very special theater - the Stadt Theatre on 3rd Street. Its full name is Das Neue Deutsche Stadt - meaning the New German City Theatre. It was built for the large numbers of German immigrants who live here - and the play was in German.
Then we went to the huge new Polish speaking church - St. Stanislaus. It is huge and very decorated with enormous copper domes. It is on the South Side of Milwaukee, on Mitchell Street.
|So as you see, we had a wonderful honeymoon, and I am now busy settling into my new house.
Oh, I must mention that Lawrence Mich has settled here now. He was very hard up when he arrived earlier this year and as he only had $50, he left his wife in Trempealeau and walked to Arcadia. Here he was received by some Polish friends who helped him to settle and in a short while his wife joined him. He managed to homestead in Korpal Valley but only nine acres were cultivated this year.
Love
Susanna and Hyacinth
Burnside, Trempealeau County, Wisconsin
November 15, 1873
PoppelaukreiseOppein, Oberseliesien.
Dear Aunt Julia,
I hope this will reach you in time to wish you a very happy Christmas.
Thank you for your best wishes for our marriage, and the lovely napkins you sent. We will use them when we have guests. The tatting is very beautiful.
Hyacinth was quite pleased with the results of our farming this year. He gathered nearly 12 tons of marsh hay and gets $12 a ton for it. And when we finished with the harvesting, we had 289 bushels of wheat, 315 of oats and 74 of rye.
Our railway is nearly finished. The first passenger service on the Green Bay & Minnesota Railway will be started on December 18th and the first trains will run on regular schedule from January 1, 1874. There are worries that running through 209 miles of a new and sparsely settled country will not be economic. We had to pay for the extra cost of construction, which was fixed at $50,000, but it will go a slightly longer route and take in our town,. Our leaders clearly saw the train to be such an advantage to local business interests and supported the proposition, and each town on the route voted bonds.
But this new routing of the railway, made problems for the people who live in Arcadia, just eight miles south of us where many Polanders live. The new track went through the lower town which was built up and many buildings from the upper town were moved to the new location.
The question of a depot was strongly agitated. The railroad agreed to build a depot in our town if given a bonus of $5,000, and a special election was held here last week to vote on the question of granting bonds to that amount. The vote stood 29 for and 53 against. Those living in the north part of Arcadia wanted the depot on the northeast side of Elk Creek, while those in the southern part of the town wanted the depot about a mile south of Elk Creek at New City and that is where it will be built. Even with the vote against doing it here, the town's people ganged together to raise the money. The new train line goes very close to Pa's land.
This last fall, Wisconsin wheat farmers were hopping mad. Expecting to profit from a bumper harvest, they were furious when the state's two most powerful railroads, the Milwaukee & St. Paul Railway Company and the Chicago & North Western Railroad, simultaneously increased their freight rates. For many Wisconsin farmers – already outraged at paying higher rates to ship their grain to Milwaukee than do farmers in Minnesota - this was the last straw. They got together with the Democrats and disaffected Republicans, and elected William R. Taylor, a farmer from Sun Prairie, as Governor of Wisconsin on the Democratic-Reform ticket. This revolt was led by the National Grange of the Order of Patrons of Husbandry, or "Grange," a fraternal organization aimed at improving the social, economic and political welfare of farmers. Hyacinth belongs to it.
We have had quite a bit of snow, but it is not very cold. We have gone sleighing every day for the last month. Have a lovely Christmas.
Much love from
Susanna and Hyacinth