Susannah Woychik's Letters -8 - 1884-87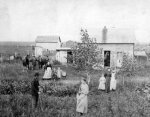 Sun, 22 Feb 2015
Independence, Wisconsin
June 5, 1884
Fried, Stutsman, Dakota Territory
Dear Kate,
This has been a year of weddings for my brothers. On January 21, my brother John married Julia Pampuch, who, as you will remember, used to live on the next farm. They moved to a farm 4 ½ miles southwest of town. Then on June 24th, my brother Thomas married Frances Gierok. They will be farming our original homestead.
Do you ever see my cousin JA Woychik who used to live with us? He has apparently gone to Dakota to do some farm work. Do you know who he is working for? As much as I was annoyed with him for running off and leaving us, I do still feel a responsibility for him and would like to know that he's all right. Perhaps once he gets himself settled somewhere, he will feel like he can come back here and visit - and then at least we can be on good terms again.
Have you come across the Lorenz family? They came here for awhile before they moved there. I know a bit about the family. They were farmers at Prockendorf going way back to 1743 and they had a very big family. But the parents of the current generation of Lorenz died from cholera in 1854 along with several of the younger children and five children were left as orphans: Joseph, Maria, Theresia, Franz, and Anton. They were cared for by various relatives, and each given a sum of money from their parents' estate at the age of 21. Anton is the one who came to the States. He is married to Elizabeth Marschke, a rich widow with two sons, Frank and Joseph. After her marriage with Anton Lorenz they had four more children. Anyway, in March 1882, they came to Wisconsin but they have now moved to about 12 miles southwest of Jamestown.
Best wishes
Susanna
Independence, Wisconsin
May 19th1885
Fried, Stutsman, Dakota Territory
Dear Kate,
I'm sure you remember Giles Cripps. He died in March this year. It was quite a funeral, done by the Masons, apparently, and his write up in the paper was most impressive. It said, "Mr. Cripps was a man of unimpeachable integrity, honesty and uprightness in every phase of his daily life. In society he was a truly valuable citizen, and in his family a kind and loving husband and father. His agreeable disposition, pleasing manner, and clearly defined principles gave him a wide circle of friends as well as many personal admirers. The death of no man in the community could be more genuinely or profoundly mourned, his premature decease was the cause of universal regret."
It's interesting, what you wrote about the Joseph Nogosek homesteading north of you there. You ask what I know about him and his family. I can remember his parents very well. They were Gregory Nogosek and Christina Skroch. They had been married in Poppelau sometime in 1860, in a double wedding ceremony with Casper Skroch, Christina's brother, and Hedwig Nogosek, Gregory's cousin. I was only six at the time, so didn't go to the wedding, but remember hearing my parents talking about how it was done to save money on the weddings.
After their marriage Gregory and Christina, quickly established a family in Poppelau. Maria was born August 17, 1861, Joseph March 18, 1864, and Elizabeth September 24, 1868, just after we moved here.
The Mathias Skroches (another of Christina's brothers) came here with his family at the same time we did. And in 1871 Gregory and Christiana decided to follow her brother here. They had a bad voyage which was stormy, and the youngest brother, John died on the journey.
Gregory Nogosek never owned any land around here as far as I know. He worked on the construction of the railway through Trempealeau County, and moved his family with him as he worked laying the track, living in a tent. After the railway was finished, he worked a farm about four miles north east of Independence. They had some more children after coming here. Frank was born in 73, Peter in 75, and Anna in 77.
I think where you were getting mixed up was thinking of them in connection with Pauline Nogosek, who married George Maule. That is a different family completely. You might remember that her sister Elisabeth married Casper Meinka. But as far as I know they are no relation to the Nagoseks you are talking about in Dakota.
I think they must have moved to the homestead north of Jamestown, near you, about two or three years ago. I know that their son Thomas was born before they moved there, and that was about Christmas time in 79, and then their last child, Hattie was born on the new farm in 82, and baptised at the Polish church there, Sacred Heart, I think it's called.
So that is all I can tell you about Joseph Nogosek and his family. You'll have to tell us more about him when you hear it.
I wonder how you folks are faring in Dakota. There are quite a lot of people here who think they might soon be joining you - including young Andrew Suchla. How likely is it that he can get a piece of land near you? He wants to be in Polish community with a church. He is sweet on Polly Nietchi. You remember I wrote to you how she came here sponsored by my aunt Frances. Well, she stayed and worked for cash after her passage was considered paid, and she has managed to save enough to send for her brother Joe. I don't know how she will feel about moving to Dakota with Andrew - unless Joe can come too.
Enough gossip for one time.
My second boy, Paul, will be starting school next year. Doesn't time fly?
Best wishes,
Your friend,
Susanna
December 1886
Fried, Stutsman, Dakota Territory
Independence, Wisconsin
Dear Susanna
Here it is time for Christmas cards yet again. Thank you for your letter. I am sorry that I have not had time to reply until now. The children keep me very busy.
Did I tell you that Joseph Nogosek has recently married Maria Weiss. That name won't mean anything to you. I don't think she's Polish. Now they live near us in the Fried area.
She had such problems when they arrived. Franz Weiss, her father, met a man who offered him a farm for $2000 and he didn't even investigate and paid him the money, and then found that it was all bogus, they didn't own the farm and the money paid for it was a complete loss. It just goes to show how important it is to not take things at face value, no matter how pleasant and honest looking that person might be. But they now do have a farm near Spiritwood.
Things are not going too well around here, despite the crops being better.
You asked if Fried was named after the Swiss people who came from Buffalo, just across the river there? That's right. They were the first settlers in this township. How about that getting a place named after you! Maybe there will be towns called Wojick and Filla soon.
Best wishes for the new year,
Kate
Independence, Wisconsin
September 20, 1886
Fried, Stutsman, Dakota Territory
Dear Kate,
We have another son, Albert, born on April 16. He is the spitting image of his brothers, and has so far behaved very well for us.
You say that your kids have a method of making their shoes last longer - carry them to the edge of town and then wear them only around town. And how much money to they get for those buffalo bones that they collect?
Things are not going well for Baron von Bismarck. I am surprised that people there wanted to name their capital city in Dakota after him A resolution is passed in the German Parliament, to condemn the Prussian deportations, the politically motivated mass expulsion of ethnic Poles and Jews from Prussia, initiated by him.
Thanks for the information on my cousin. You say that JA has a tree claim now. I suppose he is 18, and as such is entitled to it. I wasn't quite sure what a tree claim meant so checked up on it. This is how I think it works. TIMBER CULTURE - Commonly known as a 'tree claim'. A quarter of land can be acquired by planting and maintaining trees on 10 acres for four years according to the forestry rules.
You say he planted a grove of cottonwoods and box elders. I say, good luck to him. It seems so strange to be planting trees when we spend all our time chopping them down.
I'm pleased that his claim is quite near to you folks, and also my cousin, John Filla and his family. He will have friends nearby if he needs them. You say that John homesteaded 160 acres. That is a good sized farm for one still quite young. And he has been living there for two years now. How many children do they have?
If you see JA, tell him that there's a girl here that I think might make him a good bride. He should come and meet her. She's Mary Suchla, Rosalya's older girl. She is very quiet and sweet.
We are now getting the Polish paper, Wiarus, or the Faithful One, published in Winona. You should get it sent to you. It is so nice to have a paper written in our own language. The address of the office is Liberty and East Third Streets, Winona, Minnesota.
One of the Winona priests, Father Byzeswski, actually thought of the idea, but then the editor, Hieronim Derdowski took it over completely. .He himself is a literary man and poet. I have heard that he is a very large man weighing probably 400 pounds.
In his writing he always makes it evident that he has a firm belief in God and a strong loyalty for the United States. His poems are not only patriotic but very funny.
Our village hall has come into existence - a two story building the town purchased from John Sprecher.
Our new water system started in January. Last fall 1000 linear feet of wrought iron pipe was laid from the mill to Washington and Third Streets. The system froze last week because the pipes had not been laid deep enough. A pump had been installed at the mill and the water which provided power for operation of the mill was also used to provide it for the pump. Now we need a reservoir.
Hope all is well with you.
From
Susanna
Independence, Wisconsin
September 27, 1887
Pingree, Stutsman County, North Dakota
Dear JA,
I am pleased that you wrote to tell us about your good luck in getting the tree claim, and how well your trees are doing. Certainly I will pass your name and address on to Mary Suchla, and it she wants to, she might find the time to write to you and tell you a bit about herself. She is a pretty girl, but very shy, but a hard worker too. I think you would like her.
You say the Catholic Church near you burned down. How did that happen? But anyway it has now been rebuilt. I am pleased that you have found a community where you can continue to feel your Polish roots.
I am pleased that Pope Leo is making progress in sorting out the world. As you probably have heard, diplomatic relations were renewed, and a modus vivendi between Church and State was brought about. Bismarck proposed that Pope Leo should arbitrate between Germany and Spain.
Do you have any contact with Joseph Nogosek and his wife Mary? I know they have homesteaded a bit north of where you are. I heard that they had a baby just a few weeks ago. And the story is that Elizabeth Nogosek and her husband Frank Skroch have homesteaded near there too.
Mary Suchla's oldest brother, John, has got married to Mary Nowatzek. They are thinking of moving to North Dakota too.
We have a bit of news from around here. The Eau Claire Lumber Company have sold out completely now. Financially things do not look good for anyone at the moment.
We have some changes to report in the village. The Church have built a new rectory for the priest, so now the frame house became the home for the nuns who are teaching in the Catholic school here.
The boys miss you, especially Johnny.
Did you know that my brother Paul married Annie Sobata? It was on October 21st at St. Michael's Church in North Creek. She's a cousin, as her mother is Hyacinth's sister, Agatha. They moved here the same year we did, but Annie wasn't born until they had been here a few months.
Love
Cousin Susanna
Independence, Wisconsin December 20, 1887
Pingree, Stutsman, North Dakota
Dear JA,
Thank you for your Christmas card and note.
Yes, you can stay here with us when you come up to meet Mary. I am pleased that you think she might suit you.
Hyacinth's brother Jacob and his wife Mary have a new baby girl, Maria.
We now have a proper fire service. J. C. Taylor and J. W. Runkel were appointed fire marshals and the village installed a pump at the flour mill and laid 1000 feet of pipes in the business district for fire fighting purposes.
Hope to see you soon.
Love from Cousin Susanna