Two weddings in Marple - 2 Maybe a second wedding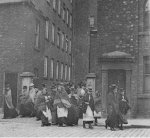 Fri, 17 Jul 2015
January  1, 5.30 a.m. Poplar Square, Church Lane, the home of James and Fanny Lund. James is a bricklayer's labourer.
"What time did you get in last night, Martha?"
"It wasn't too late, Ma."
"Not too late. You wasn't home by gone midnight, when we had the first footing,  I know that for a fact."
"Not much after, Ma. honest."
"And where were you all that time, I'd like to know."
"I was with Joe, me fella. You know that Ma."
"Well, I expect you were up to no good - that late at night. What sort of  example does that set for your sister, Fanny. I'd like to know that."
"Joe is a good bloke, Ma. He loves me, and he'll take care of me. You don't need to worry."
"Don't need to worry? And what if you get in the family way, what about that, Miss? Will he take care of you then?"
"Don't even talk like that Ma. You know we wouldn't do anything like that."
"I don't know it for a fact. Are you going to tell me that you were out past midnight with that lad and you weren't off canoodling somewhere?"
"Well, he kissed me, of course he did. He loves me, and I love him. But we  took care we didn't let it go too far."
"Easier said than done, my girl. You just watch yourself now. We don't want any extra mouths to feed around here. Now you get off to work. I don't want them docking your wages again. Every penny counts as you well know."
"'l'll run, Ma, and it won't take me anytime at all. And Mr  Sims will be watching at the door with his watch, making sure we are not late. He glories in those pennies he collects - and I can tell you, he isn't one to quibble with. If only we lived in Scotland, we'd have a holiday today."
"Off you go, Lass. See you at 6 or before."
"Bye Ma."