What's In a Smile?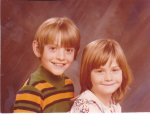 Tue, 07 Oct 2014
"It's so nice to see pictures where you are smiling," she said.
We were going through the picture album I had quickly assembled before I'd left on my visit. This new woman in his life had only known him a few years, so these views of him growing up were a revelation to her.
It was his birthday, so I told them both about the hours before and during his birth. "And
was he a cute baby?" she asked.
"Not really. Not then, but he became very cute before very long."
Another mistake – in my catalogue of huge mistakes in relation to my son. He wanted to
hear that he was cute, was loveable, was wanted. In fact his skull was rather misshapen and his face was covered with a rash, and he cried, and cried and cried.
"His father must have been very pleased that he had a son," she put in, hopefully.
"Oh, yes he was," I said honestly, but in the back of my mind I remember his frustration
with the awkwardness that seemed to be part of every aspect of our son's life.
We were looking at a very sweet picture taken when he was three weeks old. My father, made
single by the death of my mother a few months before, was visiting us for a few weeks. He had found a new love, and his main thoughts were with her – and how long he had to endure our cold house and miserable weather before he could go home again. He had come for our son's baptism – and we had given him his grandfather's name as his middle name, which pleased my dad.
He was wearing a dark blue velvet romper suit, and his sister, 15 months's older, was sitting on
grandpa's lap. I was holding the baby, and looked as exhausted as I felt. He looked vaguely alert. But nobody was smiling.
The next picture was black and white – my husband sitting in a chair holding our daughter, looking somewhat bemused. On the floor sat Thomas, the child of my husband's cousin, looking happy enough. How could any of us have known that when he had a child of his own, more or less the
same age, he would hurl himself under a train – feeling totally incapable of sustaining another moment of life. Our little boy was about six months by then, looking into the camera with wide eyes as if he were wondering what it was all about. But no smile.
On the next one, time had moved on. There was a new baby in the family, and I am holding
her on my lap, our eldest daughter by my back. The other grandparents are visiting, and we are all sitting on the ground having a picnic in early March. Our son, now aged three and a half, has his mouth in a tight line. I remember the day so well. He got it into his head that he wanted to run down the hill to the car park – which seemed a very long way away. I handed the baby to the grandmother and started to chase after him, shouting, worried. "Let him go," she said. "If he falls, it will teach him a lesson." But I ran on, and caught him just before he got to the cars. I had wanted the escape too – so I could hardly blame him for doing it. There were few smiles around when grandma came to visit.
The next one is of six children sitting on our couch. His fourth birthday party. He is the
farthest forward and looking straight at the camera – again his mouth in a straight line. None of the other children is smiling either. One has his finger in his mouth, one looks bemused as if he
was having a secret thought. That was William who died in a car accident in Africa – when he was in his mid 20's He was his best friend over many years, and I have never told him about it. I didn't
know about it myself for a long time as we had been abroad when it happened, and weren't close to William's family and had moved out of the neighbourhood. I met his mother in the travel agent and asked how he was doing. She looked like I'd slapped her. "He died, three years ago," she said, and went into the details. I felt so helpless and ashamed that I couldn't think or do anything to help. "And how is your son?" she asked politely. "He lives in America now," I said. "And he's fine, thank you for asking." I had no idea if he was fine or not, as he wasn't communicating with us.
I could hear her thinking that life was so unfair – that her William, who had been handsome and popular and clever was gone, and my son who had struggled to try to be normal from a very early age, was doing fine.
The next picture was taken in New Zealand in our glorious year there. The children had
built a snowman – the first snow in Christchurch for 25 years or something. They were not even wearing coats, and they all looked so happy. It was a good year.
The next was a school photo – aged about 9, and his younger sister is also in the photograph. The elder one would have gone on to high school by then. He is smiling, and looking happy. That surprises me. He was bullied at school – and suffered badly from a lack of friends. He never got
picked for teams. His teachers thought he was thick – and would never amount to anything in life. He read well, but his writing was almost unreadable, and his reports were always very negative.
About this time we were introduced to The National Association for Gifted Children, and when
he was tested to see if he qualified, his IQ came out at 148. So each Saturday we all went to Saturday Club where classes were taught in pottery and astrology and geology and whatever else the children wanted and the parents were prepared to offer. That was his happiest day of each week.
Skipping through a few photos, I'm looking at one with the grandparents again, in our back
garden in the spring. He has on his new uniform. We removed him from our local high school, where I was told he would never get any qualifications – and had put him in a private boys' school in a
town 30 miles away. He looks smart and happy, and I think he started the experience with great hopes, but after two terms, when he had be dragged downstairs and forced into the car, we decided that it was time to try something else, and for the next four years, he was educated at home. Educationally, that was just what was necessary – one to one attention from people who respected him. His handwriting improved remarkably and by the time he was 16, he took 6 O levels,
and got A's and B's in them all. But in the early days, when somebody unexpected came to the door, he hid under the table.
Then he went back to a regular school for A levels and again got very good results, and four
years later, he had his degree from a Welsh University. But life was still not good for him, and on the various pictures, showing holidays and family occasions, he is still not smiling.
The last pictures from this group I got together for him are from his younger sister's wedding. He had a girlfriend, an American woman, twice previously married and a good ten years older than him. He looks very strained and withdrawn on the pictures. Not surprising as he had been threatening suicide for some time. She was determined to save him from his controlling father who wouldn't accept that he needed to see a psychiatrist. Shortly after the wedding, she went home, taking him with her, and out of our lives for ten years.
I took a picture of him and his new girlfriend while I was there. And he was smiling in it – a wall to wall smile like I can hardly ever remember seeing from him. Finally he has found someone who understands him, cares for him, values him, wants him around, and actually loves him. No wonder he is smiling.