Yachta Mache - 4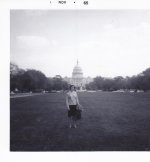 Sat, 23 Jul 2016
Our first week was made more exciting by our first visit to Happy Hour – at the Officers' Club. It was open on Fridays from 5 to 6, and it seemed like all of the interns from each of the disciplines congregated there to start their weekend in a good mood. I had a pink gin, and liked it so much, it became my regular drink for the rest of the year. I don't think I have had another once since.
I stuck with my new friends, but before long a group of men came over to introduce themselves. They were the pharmaceutical interns – about the same size group as we were, and also just starting out. I immediately was attracted to a tall, thin, dark, young man, John Morgan. He was from Boston, and had an English sounding accent. Another of his friends, Bob, from Nebraska, and he were discussing going to the Village – the section of Manhattan where the bohemian set live – very arty and free spirited. I had vaguely heard about this place, and Ruth and I quickly said that we'd like to go with them, if that was okay. They agreed, and the date was set for the following Saturday at 7.
But before the week was over (we sat with the pharmacists and dentists each night for our evening meal now) Bob had backed out, but John still wanted to go. Then Ruth backed out too, so it was just me and John. I wasn't going to argue about that, and neither did he.
I was certainly strongly attracted to John, and he gave the impression that the same was true for him. I had grown enormously in self confidence over the last year. First of all, I got contact lenses, so I felt that I looked more attractive. And I had had a boyfriend – although it had all gone pear shaped in the end, but I knew that I wasn't totally without some drawing power.
It was a glorious night and we had such fun. Dropping me back in the Nurses' Home, John kissed me and my evening was perfect. "I just can't help myself," he said, which I suppose I should have thought was a bit odd, but I wasn't about to question the whys and wherefores of it at that delicious moment.
So from then on, I considered myself John's girl. We ate together whenever we could, sat together at Happy Hour – went on walks – went to dances. I was in seventh heaven. The Beatles were big that year and appeared on the Ed Sullivan show in August. Their movie, Help had just been released.   In September, they released, Yesterday and later that month they were given OBE's by the Queen.
Sonny and Cher had a hit with "I've Got You Babe," Frank Sinatra won a Grammy award for his song, "It Was a Very Good Year," The Supremes sang "Stop! In the Name Love," The Righteous Brothers released their song: "You've Lost That Lovin' Feeling." They all fed into my romantic dream.
Then one night when he was taking me home, John kissed me, but then he said, "I can't do this anymore. I didn't tell you, but I have a girlfriend at home." I managed somehow to get to my room before I burst into tears, moaning about how unfair life was and how unlucky could I be to fall for a guy who was already committed. At dinner the next night, I made some childish remark, showing them all how hurt I was and hoping to shame John.
I'm actually skipping now to October – because my break up with John came just before Ruth and I were assigned to go for a three week placement at the National Institutes of Health (also part of the USPHS) in Bethesda Maryland, just outside Washington DC. We were the first of our group to go, and it was such an exciting idea, spending time in the nation's capitol, not only set up in a posh motel, but actually being paid for being there.
The pharmacy interns did the same sort of rotations and Bob and another man were in the staff dining room of the hospital when we got there for our first meal. As usual, we sat with them, and compared notes. Before the meal was over Bob said to me, "I need to tell you something, and you will not like it." I braced myself. "John is getting married next month. He's been engaged for a long time, and she's pregnant. He wanted me to tell you that he did really care about you and is sorry that he led you on."
Somehow the idea that he "had to get married" as we thought of it in those days, helped me cope with this new information. She had trapped him but he was doing the right thing by her. Even if in his heart he really liked me better, I thought to myself. He "couldn't help himself," I remembered.
On the weekends in Washington, Ruth and I did all the touristy things – going to the Washington and  Lincoln Memorials, the White House, etc. And we did loads of shopping too. I bought some wooden elephant book ends, which I still have in my dining room – minus a tusk or two, but the grandkids think they are very nice. We just wandered the streets and soaked up the atmosphere.
Now I said earlier that when we walked in Manhattan, I didn't feel nervous. But it was somewhat different in Washington because on the day we arrived, we found out that one of the dietitians that we were supposed to be working with had been shot and killed in a drive by killing. Somebody just shot her for the fun of it, while his car was passing hers. He didn't know her or have anything against her. This was a scary place to live, and although Manhattan probably was equally dangerous, we never went into the areas where the more frightening element lived.
Our work was mostly observing. We were given a project to write up pieces of research that was going on. I liked writing and found this no problem whatsoever. My topic as to do with using Methotrexate as a chemotherapy agent. This was very new research in those days, and we felt like we were in on the beginning of finding the cure for cancer. The patients were on balance studies, so we had to weight and measure their intake and outgoing food and fluid. We had to analyze the nutrient content of all of their foods. I met some of the patients who were on the study – and they had lost their hair, and looked very ill indeed. But I knew that we were going to cure them, and that made me feel much happier about the whole thing.
(As an aside, my current bridge partner has been prescribed methothexate for arthritis.)