NIGHTMARES by Johnbest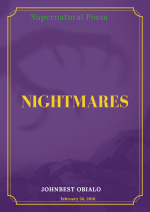 Mon, 26 Feb 2018
NIGHTMARES by Johnbest
Horrific was the night
I lay  on my bed.
it was passed twelve
Its presence... I did felt. 
It gave a wailing noise
Flute sung in darkness. 
Like the bees buzzing...
Silent voices in my head
Hum...humm..owooah.
Plip-plip-plop,
Click-clock-plop
Its claws grips my hair. 
Sleep paralysis
Stiff Stuff Still... 
Fear Shackled me
Alive but Devilled. 
I saw the man in black;
Faceless with a hat. 
Appeared with the lightning
Rain droplets on the zinc.
He walked... 
But no legs. 
He spoked... 
But no mouth. 
Sweat drift my face
I wished the scene would fade. 
Urine made its way
Down my groins... It sailed.
The voice terrifying.
Sound like million waters
Splashed by Apollos anvil... 
Arrow of silver. 
My heart beats its last
Awoken! I rose up fast.
Turned to both sides
Alas! It's just a dream. 
The poet expresses a bit of many nightmares, people have as they sleep at night. In this supernatural poem. Some die from nightmares, some woke up. Knowing... "it's just a dream".