XIX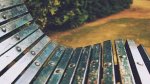 Thu, 11 Jul 2019
Ultimately there is a bench for everything in this life.
A bench to play chess, cards, talk, or trade silences.
A bench to find adjectives that escape you a tender
bench for that first kiss in whatever goes for moonlight.
A bench to sit with your father and forgive him.
And this bench here, where at last we sit together.
I don't want to have breakfast or move at all
just hold hands and never grow, never learn, never die.