Dipping Toes.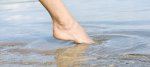 Sun, 28 May 2017
We looked at each other and smiled. It was time to take the plunge. The shy girl who whispers secrets in seashells and the lonely boy who hides from the world. The water felt cold upon our skin. Maybe we should have turned back, but we kept going and before long we were knee deep. The waters were cloudy and we both became scared. But we held hands and told each other to "Be brave".  There were people shouting "Come back, you'll both drown." But we never listened, too absorbed in the moment.  Waist high now and it was becoming difficult to catch our breath. Our teeth chattered but we carried on, the waters lapping at our torsos. It was time to take stock, continue or return? The calls were still coming from shore "You can't make it. You won't make it." We took our steps forward, ignoring the pleas of others. Both determined to succeed.  Up to our necks now and beginning to tread water. It was difficult to stay afloat but we kept going until we were out of our depth and starting to drown.
We turned and swam for safety. We parted company. Maybe we shouldn't even have tried.
No regrets... at least we dipped our toes.