Scattered Wounds: I should like to understand myself properly before it is too late
Image: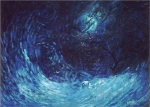 Tue, 06 Nov 2018
"Turn your wounds into wisdom." 
― 

 

 In the book you write, "The problem with life's purpose is that we know damn well what it is, but are unwilling to face the changes in our lives that a commitment to self-transcendence, to being the best human being we could possibly be, would entail." 

 

Having reached a point in life where my years of adventure and romance seem well behind me, I often tell people that now I'm "in it" for the wisdom ... Hidden in short phrases or quotes ... Speak less, say more
Be Brave: be hungry for your voice to be heard and to articulate your soul, no matter the cost... You live only once
Ernest Hemingway's "Iceberg Theory" deals with the basic principle that "less is more." 
If a writer of a prose knows enough about what he is writing about he may omit things that he knows and the reader, if the writer is writing truly enough, will have a feeling of those things as strongly as though the writer had stated them. The dignity of movemen of the iceberg is due to only one-eighth of it being above water. The writer who omits things because he does not know them only makes hollow places in his writing.  --Hemingway, Death in the Afternoon
Knowledge is like underwear. It is useful to have it, but not necessary to show it off

 

"If you have three people in your life that you can trust, you can consider yourself the luckiest person in the whole world."

– Selena Gomez
​Only trust someone who can see these three things in you: the sorrow behind your smile, the love behind your anger, and the reason behind your silence.
Wise people continue to doubt themselves (and that's part of what makes them wise)
Wisdom derives more from mistakes and failures than from success
  What Matters in Old Age: Rereading, Reconsidering and Reassessing  "Late-Life Love" is an easier read than "Memoir of a Debulked Woman," although there are moments when pain sears through. One night Gubar has an "accident" — her excrement-containing ostomy bag, girdled to her stomach, oozes with messy seepage. Cleaning up, she catches sight of herself in the bathroom mirror. There's "every mark of an old crock: a tall scarecrow with a balding head, no eyebrows or eyelashes, a bump on my chest where a port was embedded, abdominal surgical scars, no pubic hair, a plastic bag hanging from my belly, what little flesh there is hanging downward too. I don't look like the person I used to be; I am not the person I used to be."Well, as Bette Davis said, growing old ain't for sissies.There is also, as for life in general, no one-size-fits-all.
 "A wise man, recognizing that the world is but an illusion, does not act as if it is real, so he escapes the suffering".
~ Buddha
"He dares to be a fool, and that is the first step in the direction of wisdom." ~ James Huneker
"It requires wisdom to understand wisdom: the music is nothing if the audience is deaf."
~ Walter Lippman
"Just as a fire is covered by smoke and a mirror is obscured by dust, just as the embryo rests deep within the womb, wisdom is hidden by selfish desire."
~ Bhagavad Gita
But I could be wrong. Being wrong, I realised, is how I've spent most of my life: misinterpreting, misunderstanding, misjudging, miscommunication. Words slip and slide, as T.S Eliot said, or as Stow put it, 'words can't cope' ... 
"Remembering that I'll be dead soon is the most important tool I've ever encountered to help me make the big choices in life.
Almost everything--all external expectations, all pride, all fear of embarrassment or failure--these things just fall away in the face of death, leaving only what is truly important. 
Remembering that you are going to die is the best way I know to avoid the trap of thinking you have something to lose. You are already naked. There is no reason not to follow your heart. 
No one wants to die. Even people who want to go to heaven don't want to die to get there. And yet, death is the destination we all share. No one has ever escaped it, and that is how it should be, because death is very likely the single best invention of life. It's life's change agent. It clears out the old to make way for the new."
― 
For the first time, we and anyone else can reproduce Frost's iconic 1923 work without permission or restriction. And so we have:
Whose woods these are I think I know.
His house is in the village though;
He will not see me stopping here
To watch his woods fill up with snow.
My little horse must think it queer
To stop without a farmhouse near
Between the woods and frozen lake
The darkest evening of the year.
He gives his harness bells a shake
To ask if there is some mistake.
The only other sound's the sweep
Of easy wind and downy flake.
The woods are lovely, dark and deep,
But I have promises to keep,
And miles to go before I sleep,
And miles to go before I sleep.
The work's four stanzas — spare, musical and haunting — have been memorized by generations, dissected by scholars and beloved by presidents. And now that they are beyond the reach of copyright law, anyone can emblazon them anywhere, from inspirational posters to beach towels. Composers can lyricize them. Teachers can photocopy them. FedEx can paint "Miles to go" on its trucks. "Easy wind and downy flake" would make a good line of dryer sheets and laundry soap. Frost's words belong to the ages and to everyone.
"I think it's a wonderful thing," said Jay Parini, a poet and Frost biographer who teaches at Middlebury College. "I hope it's on mugs and T-shirts everywhere.
*** Robert Frost wrote this masterpiece in about 20 minutes; it belongs to all of us now | News | sentinelsource.com. 
  We shouldn't confuse 'Don't! Stop!' with 'Don't stop'. 
As Shakespeare noted:  "The devil can cite Scripture for his purpose."
 ​